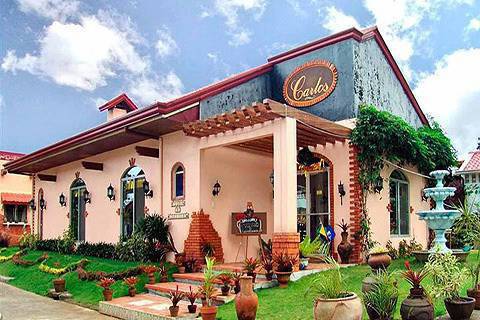 Timelessness, charm, and exclusivity are qualities of a space for a wedding that marrying couples dream about. For those who long to celebrated in a paradise that's all their own, Casa de Carlo offers an exclusive haven that guarantees an enchanting and intimate experience.
Garden weddings may be picturesque, but a celebration at an open space in the city might be disrupted by noise in metropolitan streets only a few meters away. Because of this, plenty of couples choose to hold their ceremonies outside the city. Nestled amidst the lush greenery and valleys of Tagaytay City, Casa de Carlo is only an hour's drive from Metro Manila, making it the perfect yet accessible getaway.
Casa de Carlo started in 2007 as a private weekend hideaway for the family. However, paradise cannot be kept under wraps; boasting of an eight thousand square-meter property, Casa de Carlo quickly earned its name as a restaurant, bed and breakfast and world-class celebrations venue. Its interiors are adorned with Spanish antique furnishings, giving guests a taste of old European charm.
ADVERTISEMENT - CONTINUE READING BELOW
At the heart of the compound lies Jardin Ma. Lourdes, a beautiful landscape bursting with floral wildlife that can seat four hundred visitors, is perfect for intimate and exquisite ceremonies. Amongst Casa de Carlo's other features are the Main Hall and the Queen Spa, where the couple and their guests can relax and unwind before or after the festivities. Casa de Carlo's lodgings boast of modern amenities as well, such as LCD televisions and wireless Internet provisions in the bedrooms.
Despite its romantic events space and comfortable accommodations, what truly sets Casa de Carlo apart from other venues is its personalized and exclusive service. Casa de Carlo is only accessible by reservation, prohibiting walk-in guests from disturbing any ongoing celebrations, and assuring the intimacy and privacy of the couple's special moment. The management is open to all suppliers, making it easy for couples to pull off the dream wedding that they had envisioned. Truly, it is clear that the staff behind Casa de Carlo not only provides quality service but loves entertaining guests as well, ensuring that the celebration is free from any worry or stress.
ADVERTISEMENT - CONTINUE READING BELOW
Casa de Carlo's personalized service, coupled with the compound's exclusivity and European charm, guarantees an intimate and elegant affair the couple can surely call their own.
Comments
Load More Stories