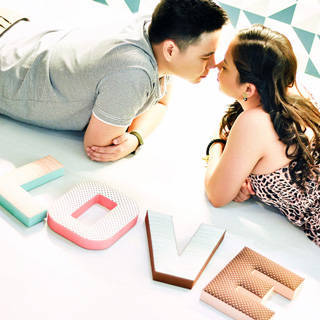 Wedding photos are keepsakes with magic: they are time capsules to that first dance, or that first kiss that seal a couple's life together. Ten, twenty, even fifty years down the road, wedding photos can coax laughter, inspire oohs-and-aahs, and move you to tears.
Husband-and-wife tandem Blizzard and Camille Suguitan know what alchemy photography holds. They explored the craft together in the early stages of their relationship, gifting each other's first digital single-lens reflex (DSLR) cameras, mastering their tools on their travels and, eventually, shooting various events as a team. Their engagement led them to wedding photography. Today, they use the instrument that brought them closer to tell stories of love and friendship between other engaged couples.
"Every couple has a perfectly designed story waiting to be told," says Camille. She and Blizzard love the challenge of working with each client's vision. To capture this faithfully, they check out the place before the occasion, and establish good rapport with their clients. The prenuptial sessions included in CamZar's packages are meant to put couples at ease with portraying their lighthearted side in front of the cameras as the photographers get to know their best angles before the Big Day.
ADVERTISEMENT - CONTINUE READING BELOW
On the day of the wedding, the whole CamZar team arrive decked in the couple-to-be-wed's motif, blending in the background as their lenses do the work of recording those meaningful glances, tearful vows, and the little details that flavor the occasion. Natural light is maximized (but they also bring their light stand, continuous lights and flash, just in case) and imaginative angles are created out of each wedding venue. What comes out are photos that are clear and crisp, whimsical and filled with emotions, and distinctly each couple's own.
What began as a simple "couple project" has become a full-time business venture. Camille and Blizzard personally tend to do everything, from answering initial inquiries to arranging the album delivery. Each wedding is given A-grade service and treated as if it's their own.
Through word-of-mouth, CamZar Photography's list of clients steadily grew. It has been three years since their first (free) wedding coverage, and they have only gotten more passionate. The couple hones their skills by attending workshops, studying the latest trends, and learning from the works of master photographers. On their wish list are more destination wedding assignments, their own studio, and the chance to develop younger talents in the industry. 
ADVERTISEMENT - CONTINUE READING BELOW
Wedding photography has given Camille and Blizzard the best seats in the house to view and share other people's love stories. But the biggest gift, they say, is the chance to work with each other. "When you do something you really like with someone you really love, I don't think there's anything greater than that," says Blizzard.
Click here to see CamZar's sample works and wedding packages.

Comments
Load More Stories