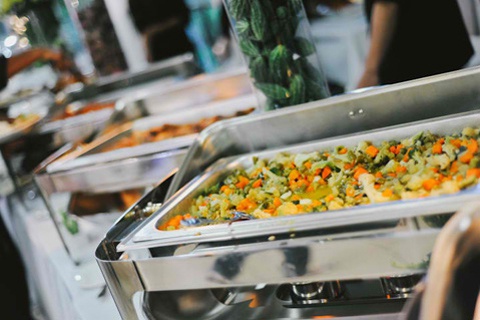 Food and food styling is at the heart and soul of every wedding reception. Great meals turn fun gatherings into unforgettable feasts, while elegant and sophisticated setups create lovely occasions. Carrying the promise of "homegrown taste dressed in simple, modern ways," Buffet Runners is on a mission to bring you and your guests a meaningful and memorable dining experience--one that reminds you of home, but perhaps in a fancier setting.
Describing themselves as "fun, quirky (sometimes crazy), and totally relatable," Sam Lim, Jeff Chan, and Kriska Santos-Lim are running buddies who put up Buffet Runners as an avenue for their varied but complementary interests. Sam is in charge of the kitchen, Jeff oversees finance, and Kriska takes care of food and event styling. This young catering team prefers to be hands-on with their business, choosing to handle inquiries themselves, and to offer advice and customization options to couples with different budgets.
ADVERTISEMENT - CONTINUE READING BELOW
With Sam and Kriska also being newlyweds, the Buffet Runners team understands the pressure that go with wedding planning. As a "business with a heart," they see themselves as partners and not just suppliers. In fact, while they prefer to pencil in bookings a month before the event, they wouldn't just turn down requests for receptions even if it was done only a week ahead. They know that unexpected glitches occur and, if they're available, they will gamely help.
CONTINUE READING BELOW
Recommended Videos
Lighthearted and innovative, these runners-turned-food entrepreneurs have hosted a variety of affairs, from shabby chic affairs to vintage romantic celebrations. Whatever the wedding theme, they know their task: to help couples realize their dream wedding menu, and incorporate the couples' quirks, hobbies, or love stories into the wedding reception setups. Recently, they took part in Two Hearts, One Soul, which entailed preparing a mass wedding reception event for fifteen couples at the Corinthian Gardens Clubhouse. Buffet Runners went with an eco-friendly theme, using fruits and vegetables to decorate their tableai. At the end of the affair, the edible decorations were given out to the couples.
ADVERTISEMENT - CONTINUE READING BELOW
With hearts set on running the race, the team behind Buffet Runners knows they are in the catering business for the long haul. They plan to be around for a long while and prepare food at your wedding, your children's baptism, even at your golden anniversary.
On September 1, join Buffet Runners at Tasteful Tastings, which will be held at the Blue Leaf Events Pavilion. Sample favorites like Korean Beef Stew with Monggo Sprouts, Pineapple Glazed Pork Roulade, Buffalo Style Chicken Legs, and Poached Fish Fillet in White Wine. Click here to pre-register!
Comments
Load More Stories