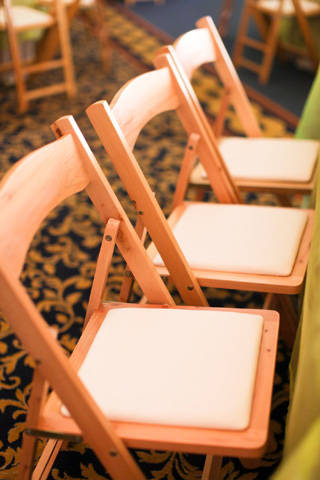 Creating a beautiful wedding is like orchestrating a graceful dance, in that every detail has to come together smoothly. The need for cadence of different elements is something that Botafogo, an event rentals company, understands.
Named after a move in waltz, Botafogo was put up by the husband and wife team of Mark and Sammi Tan. Mark is a finance specialist who also imports home furniture, and Sammi is an interior designer. While planning their wedding, the couple discovered that the folding chairs perfectly complemented the sporty Wimbledon wedding theme they wanted to capture. However, the chairs they wanted were unavailable locally, so upon their stylist's suggestion, the couple decided to take a chance by importing the chairs and rent them out later. Fast forward to today: Botafogo's folding wooden chairs is creating a buzz among stylists and brides who opt for streamlined chairs which could be used as is or dressed up in creative ways.
ADVERTISEMENT - CONTINUE READING BELOW
"A lot of people use our chairs to make their weddings look more personal, and to bring in a more relaxed atmosphere. They have been used for garden ceremonies and indoor venues. People who are more adventurous and creative have also used the chairs for their reception," said Sammi.
The beauty of Botafogo's chairs lies in their clean lines, which can complement a rustic but or contemporary backdrop. Possessing the kind of subtlety that makes them the perfect canvas for a variety of themes, they can be decorated with details like flowers, bows, or playful signs to reflect the marrying couple's individuality. Very formal set-ups are also given warmth through the laid-back feel that the chairs provide.
The chairs are not just easy on the eyes, and comfort-wise, they do not disappoint. The ergonomic chairs, which feature cushioned seats in white leatherette provide cushion, are conducive for long hours of sitting.
ADVERTISEMENT - CONTINUE READING BELOW
At present, Botafogo event rentals can service weddings of up to 400 people. Come September, Botafogo will also rent out chairs made out of white resin, which channel a more pristine or nautical look.
Currently, Sammi and Mark continue to source other event fixtures the wedding market may need, like specialized love seats for the bride and groom. And as Botafogo's clientèle grows, the couple prioritizes maintaining a good service. "We want clients to trust that we're going to deliver on time, every time. We offer a quick response with immediate feedback, as we've experienced the trouble of coordinating with suppliers whom you have to chase just for a quotation," Sammi says. She adds, "We want couples to feel relaxed and secure, to trust that they won't be left hanging."
Like the swaying and gliding motions in a dance, the lightness of Botafogo's folding chairs brings out what is lovely in all the other wedding details, and provide rest as guests watch new beginnings unfold. 
ADVERTISEMENT - CONTINUE READING BELOW
Click here to see photos of Botafogo Event Rentals' products.
Comments
Load More Stories