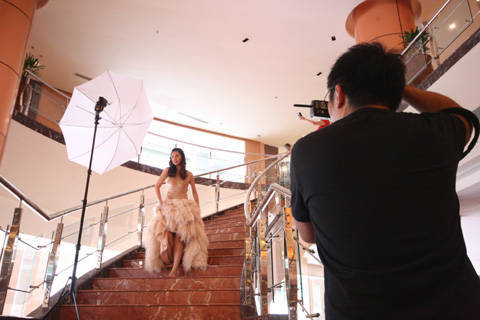 To say that the past months were quite busy is an understatement--I only got the time to blog about it now! (But I promise, I have a lot of other exciting stuff to blog about!) We've updated the site's look and produced a series of fashion shoots too! While it has been more than a month since our first shoot, let me share to you the amazing experiences I got then. And to make up for the time that I haven't been blogging, here's a super long photo-laden post!

For the first shoot, we trooped to the Legend Villas, which offers brides great wedding packages (Check out their Crystal Weddings here). I got the opportunity to work with the very talented Sir Paul Vincent and his team together with the fun, fab, and fashionable Feliz Lucas and Paula King of Lifestyle by Feliz. The shoot was also graced with the presence of makeup artists Cuckooh Calsado and Angel Tan-Hoese.


Our models got the fab chance of wearing gowns from Sasha Clothing Co. Inc., Religioso, Boda Ventura, and Joe San Antonio! Here are some never-before-seen photos by Sir Paul Vincent.


And just when I thought that I would just organize and take notes for the shoot, Feliz, at the last minute, comes up to me and asks me to model as well. Let's just say I never heard the end of it from my officemates.

ADVERTISEMENT - CONTINUE READING BELOW
But with this, I was able to experience first hand how these wedding suppliers make their clients feel good about themselves. Feliz and Paula were very meticulous in styling while Sir Paul was geared with the highest amount of energy to make you feel at ease and confident in front of the camera. Our makeup artist Cuckooh Calsado (who had already done modeling before) was was also asked to pose in front of the camera at the last minute!


By the end of the day, the shoot was able to showcase a variety of tasteful styles, portraying different personalities.

Check out the outcome of our shoot in these articles: Bridal Gowns Inspired by Different Personalities, Bridal Makeup Inspired by Different Personalities, and Ideas for Your Bridal Bouquet. As I write this, we're currently planning another shoot. Do wait for the photos in a few weeks!

Will say I do to chocolates,
Keisha
Comments
Load More Stories