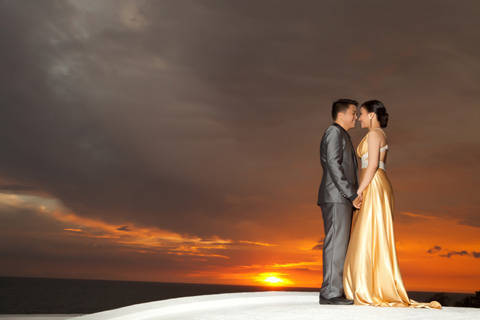 A photo can tell a story in one frame, these days, prenuptial sessions are means for couples to immortalize their love story, or even tell new tales with photos. While couples may have ideas for their engagement sessions, they need suppliers who can help them execute what they've visualized--and Fairy Tale Wedding Photography is among those who can do just that. This team prides itself in providing a hassle-free engagement shoot and wedding coverage in or out of the country.
Fairy Tale Wedding Photography's creative pool delivers quality outputs with every click of the shutter. The team can take care of the photography, makeup and styling services, allowing couples to enjoy themselves on the day of the shoot. Clothes may also be provided to the couple as part of their costume change. Whether the couple needs a big white ball gown for the bride and a black tuxedo for the groom, or a set of quirky themed outfits, this team of passionate photographers will make a way to help couples achieve their desired outcome.
Aside from lending their expertise to couples wishing for beautiful pictures, Fairy Tale Wedding Photography also caters to different budgets by offering packages that facilitate concept-driven shoots. Fairy Tale Wedding Photography's roster of packages--ranging from PhP15,000 to PhP55,000--cover the essentials of a prenuptial session.
For couples who want to avail their styling package in three different looks, A Whole New World is a package that offers such for PhP15,000. Make up and styling services are included, along with unlimited retouch and free rental of accessories and props.
ADVERTISEMENT - CONTINUE READING BELOW
On the other hand, the Once Upon A Time package offers unlimited shots with 3 make up and styling looks, shoots at two locations, and 25 edited photos. For the outdoor shoot, couples can choose a location within Metro Manila, while another portion of the photo shoot will be held at Fairy Tale Wedding Photography's studio. This one-day shoot is priced at PhP30,000, and also comes with an 8"x10" fiberglass album and a 12"x18" blow-up portrait.
Fairy Tale Wedding Photography also offers Happily Ever After package for PhP55,000. This package includes the wedding day coverage and the prenuptial session. The package comes with unlimited high-resolution shots in a DVD, a 40-page 10"x15" album with 100 to 150 images, a 16"x24" blow-up portrait, a slideshow of photos, and service of 2 photographers for the wedding. During the engagement session--which will be shot in the studio and in any location within Metro Manila--the couple can pose in three different outfits. The package also includes the make up and styling for the prenuptial shoot, and an 8 x 10 prenup album. This is an all-in package at a very affordable rate.
With Fairy Tale Wedding Photography's adaptability to an array of concepts and budgets, more couples can look forward to dreamy photos at prices they can afford.
For more information on Fairy Tale Wedding Photography's photos, click here.

Comments
Load More Stories