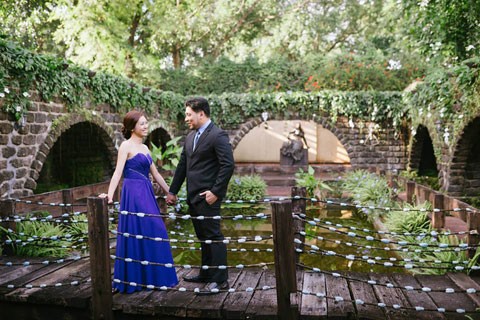 The pre-nuptial shoot is a popular practice wherein soon-to-weds create wonderful memories of their days just before the wedding. It captures the peak of their romance and the excitement of anticipation before the big day. Thus, the pre-nuptial shoot should be as dramatic and beautiful as possible - and this would need an appropriate venue.
While ensuring a beautiful pre-nuptial shoot includes setting the right theme -- this depends on the couple's common interests or their fantasies -- it's also important to consider the couple's idea of a "happy place." Some couples travel to far provinces to give their shoot as exotic a feel as possible. Others however are limited by budget and time. They still want something as unique without going too far or spending too much.
Jardin de Miramar may be your best solution for this. It's an exciting garden venue, safely tucked away in the hills of Antipolo, far from the hustle and bustle of the city, and boasts a high-class, lush garden environment designed by experts. It's the perfect place to have a romantic and dreamy pre-nuptial shoot.
ADVERTISEMENT - CONTINUE READING BELOW
CONTINUE READING BELOW
Recommended Videos
The Jardin has several garden and outdoor venues for a rich shooting experience. These include the Estacion, Paradiso and Pergola gardens. The Intramuros and Ylang-Ylang venues are appropriate for a Filipiniana setup. There is also the Galera spot with the remnants of an old fishing boat that also provides an interesting background. Most recently, they have added Isla Palma, which has also been a venue for commercial shoots. And for a 365 day celebration of Christmas in Jardin, one might want to include the Casa Santa in your shoot, making for a unique experience.
Use of the venues is reasonably priced, and many couples have made use of the Jardin for their prenuptials. After all, the pre-nuptial shoot provides the mementoes that the couple keeps, cherishes, and looks back upon when they have grown older. And Jardin de Miramar is the perfect backdrop for such beautiful memories.

To see pre-nuptial photos taken at Jardin de Miramar, please see our gallery below.

ADVERTISEMENT - CONTINUE READING BELOW
Comments
Load More Stories