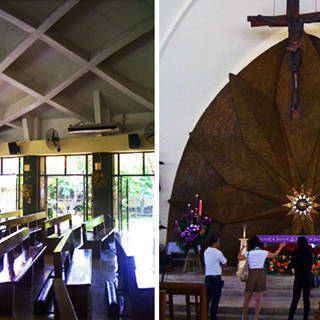 Originally, The Groom and I wanted the ceremony to be held at Malate Church because it's a beautiful place and we like the Irish priests who celebrate mass there. However, my coordinator, Rita Neri, pointed out that the lack of air-conditioning would be uncomfortable since May is a pretty warm month. Putting fans and Iwatas at the venue were also nixed because it would blow my veil and probably not look very good in photos.
So the next church that we knew of that was close by, air-conditioned, and available was Don Bosco in Makati. I remembered the church's design and thought the all white simplicity, gold altar, and vaulted ceiling was a perfect match to the equally simple design of the reception venue.

I like that it's not too big and how the glass doors on the side open up to little gardens. I suppose the only thing I won't have is the big reveal like in other churches, when the heavy wooden doors are opened and the bride is standing at the entrance.
ADVERTISEMENT - CONTINUE READING BELOW
Anyhow, Mum came with me to this particular consultation with Island Rose. I think that all moms want to be part of their daughter's weddings so I figured it would be good if she took the reigns on this one. She has impeccable taste after all.

I already specified that I just wanted rose petals lining either side of the aisle. I figured it would be dreamier to simply walk forward on petals. My thinking is that, aisle treatments, though pretty, are rarely memorable so I'd rather push the budget for that elsewhere.
Mum is much better at grander ideas than me. From what I caught of their discussion, she planned to put dozens of roses in large planters by the altar and the readers. Funny enough, we've seen this executed beautifully by Island Rose at family funerals. It will be nice to see a bed of flowers decorate a happier occasion instead.
I just reminded her to keep it fairly simple since The Groom and I are on a budget. She told me that it was important to "dress up the altar" as it would after all be the back drop for the ceremony and photos.

A few days later, I received this sketch via email. I asked for a mock-up to be made so that I could get an idea of what they discussed. If you'll notice, the sides are filled with red roses, red being my main accent color for the wedding, and there is a row of white roses beneath the altar.
ADVERTISEMENT - CONTINUE READING BELOW

The abundance of red made me think of the poinsettias that currently flank the church's altar. Not that it isn't pretty but I think white will make a stronger statement against the antique gold design of the wall. So, I've decided to switch to white roses for the church. The entourage bouquets will still be red, though. That'll be a nice contrast!
ADVERTISEMENT - CONTINUE READING BELOW
As for the row of roses beneath the altar, I've decided to move or remove it, depending on the final quote. The kneeler will be blocking the full view of the altar so filling that part up with flowers will hardly be appreciated.
I guess it will all boil down to the cost of it all. We're really trying to keep the budget in check. One of my maids of honor said that after her wedding, she realized that she didn't need to spend excessively on flowers. I'm hoping to find the balance between prettily simple and way too sparse.
156 days 'til the wedding and I've still got flowers on my mind
--Isha.
Load More Stories