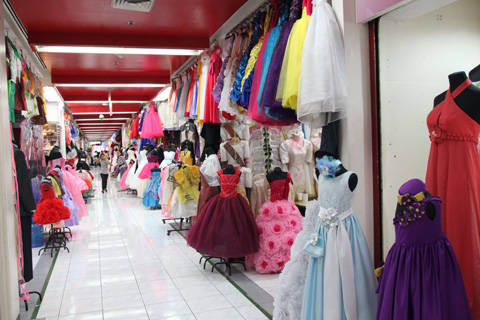 While Divisoria has long been known as the place to go to for affordable bridal wear and eveningwear, it is not known for its tasteful or elegant design. But that might soon change soon with the launch of Oh My Gown at the Tutuban Shopping Mall. Aside from having the usual bridal stores, the mall has managed to attract several designers to set up shops here--so even if other shopping centers and malls in the area are putting up their own bridal and formal wear sections, Oh My Gown presents an edge in terms of talent pool. Check out these five bridal shops that make braving the traffic to get to Tutuban worth it.
Here Comes the Gown

Cluster Building 2, 2nd Floor, Stall P-34 and 35
Phone number: 851-3848
Gowns from Here Comes the Gown stand out with their clean and simple lines. Gowns also feature embellishments like beadwork or fabric flowers. They don't offer off-the-rack gowns (unless you can squeeze into one of the display gowns), which is why if you like something here, you have to set an appointment with design duo Nina Celso and Paul Santos. A bridal gown designed by them starts at PhP15,000, while a bridesmaid's dress starts at PhP4,000. They will even throw in a free matching pouch.
ADVERTISEMENT - CONTINUE READING BELOW
CONTINUE READING BELOW
Recommended Videos
According to shop manager Arlene Aure, an evening gown takes a week to finish, while a bridal gown takes two to three weeks depending on the design. They also do men's suits, which cost around PhP8,000 per set. They admit that their suits are more expensive than the others found in the area, but Arlene explains that their men's suits use imported wool rather than synthetic "Armani" textile. According to her, the wool used is of better quality with its softer texture.
Here Comes the Gown offers a money back guarantee in case you're not satisfied with their work.
Barbie's Fashion Boutique
Cluster Building 2, 2nd Floor, Stall R-13
Phone number: 512-8164
Barbie's Fashion Boutique isn't related to the fashion doll, but the gowns here can surely make you feel as glamorous as one. The shop got its name from its in-house designer, Barbie, who's known for doing Grecian-inspired pieces accented with fine ruching and beadwork. Ready to wear gowns are available here, with prices starting at PhP2,500.
ADVERTISEMENT - CONTINUE READING BELOW
If you can't find a ready-to-wear dress in your size, you can have a gown made to order starting at PhP3,000. According to Barbie, it usually takes them a week to complete a gown. A bridal gown takes a lot longer to make, as those with beadwork can take two to three months to finish. Cost for bridal gowns starts at PhP30,000, and they'll even include accessories such as the veil, pillows for the rings, leg garters and tiara.
Verdeblanco
Cluster Building 1, 2nd Floor, Stall H-28
Phone number: 994-7046
A member of the Fashion Designer Association of the Philippines, Benjamin Verdeblanco still manages to cut the fabric of every dress he designs, despite having lost control over some parts of his body due to a stroke. Benjamin describes his looks as timeless and elegant, and he's at his best when he uses simple sexy silhouettes and minimal beadwork.
A bridal gown from his shop starts at PhP10,000, and will take about thirty days to produce. An evening gown, which starts at PhP3,000, will take a week or two to finish. He also does men's tailoring--a barong and pants ensemble by him will cost around PhP7,000.

ADVERTISEMENT - CONTINUE READING BELOW
See more shops on the next page.
To see what these shops offer, see our gallery below.
VCK Bridal Shop
Cluster Building 2, 2nd Floor, Stall U-7 and 8
Phone number: 546-9917
While VCK Bridal Shop offers similar designs found in other bridal shops, the staff here claims that they are flexible and willing to collaborate with the bride to produce her dream gown. Price of a gown starts at PhP15,000, and it can take three to four months of production.
VCK Bridal Shop also does bridesmaids gowns starting at PhP2,000 with a ten-day production time. Moreover, they do menswear, and prices for either the barong and pants ensemble or suit start at PhP8,000.
Len and Bernie Bridal Boutique
Cluster Building 2, 2nd floor. Stall U-9
Phone number: 692-9194
Don't be fooled by Len and Bernie Bridal Boutique's small space, as this bridal shop presents a lot of possibilities. In-house designer Benedict Guirigay's bridal creations start at PhP10,000, and takes three to five months to finish. On the other hand, a formal gown will take one in two weeks to produce, and prices start at PhP3,500.
ADVERTISEMENT - CONTINUE READING BELOW
While the shop offers traditional barongs and suits, they also do barong coats. A barong coat is basically a barong but with a lining--perfect for those chilly wedding venues. Prices for this particular kind of barong start at PhP3,500.
To get to Tutuban Shopping Mall, take the MRT 2 to Recto Station. From there you can take the jeep to Divisoria. Tutuban Shopping Mall is along CM Recto.
To see what these shops offer, see our gallery below.

Comments
Load More Stories