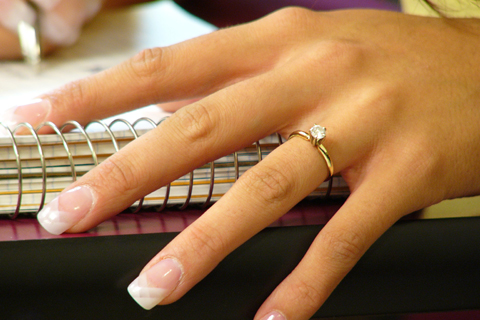 You're engaged, and naturally, you're excited about getting married and spending the rest of your life with the man you love. Now that tying the knot is in the immediate future, you're probably itching to tell family and friends the good news. Before you do, check out our list of things to remember when announcing your engagement:
Do's:
Tell your parents and family first.
Breaking the news is best done in person, and if you live at or somewhere near your parents' home, this shouldn't be a problem. However, if you live too far away to meet and tell them in person, a phone call will do. With the technology available today, you can even give them a video call via cellphone or webcam.
Tell your closest friends and relatives next.
Again, letting friends know in person is the best way to go, but a phone call is perfectly fine. Do think about which group of friends to inform, since some of them might already expect to be invited to the wedding.

Send out announcements.
Once you've told your parents and close relatives and friends, you can send out a general announcement. Traditionally, engagements are announced through newspapers, formal engagement dinners, or save-the-date cards (if you already know when you'll be tying the knot). However, you can also tell people about the wedding via e-mail, digital save-the-date reminders, or a wedding website. Make sure you keep the announcement short and sweet, with a happy yet relatively calm tone.
ADVERTISEMENT - CONTINUE READING BELOW
CONTINUE READING BELOW
Recommended Videos
Don'ts:
Don't forget to be gracious.
When people offer their congratulations and best wishes, remember to thank them for sharing in your happiness. When people start asking you about the wedding, and you're not sure if they'll be invited, just say you haven't finalized the details yet.
Don't ramble on about the proposal or your wedding details.
While your loved ones are happy for you, it's not flattering to keep talking about the proposal, the ring or your wedding plans. Keep yourself in check--some brides don't realize that they end up monopolizing conversations by constantly talking about the big day. Discuss the wedding plans in detail only with those directly involved in planning, such as your mother, mother-in-law, or maid of honor.
Don't ask other people about their own engagement plans.
You might mean well by asking other friends or relatives about their own plans to get married, but this may be a sensitive topic, especially for those who might be feeling pressured to follow suit.
Don't send out save-the-dates if your wedding date hasn't been finalized.
The purpose of a save-the-date card is to help people clear their schedules in advance so they can attend your wedding. It would be a great hassle to them if you sent them save-the-date cards before the date for the wedding was finalized, and then you changed your mind. Be considerate and remember that guests might have other commitments, too.
Don't send out save-the-dates to people you aren't inviting to the wedding.
Be honest--you can't invite everyone you know to your wedding. Save-the-date cards are meant for those who you will be inviting, so that they can make time to attend your wedding. Sending someone a save-the-date and not inviting them will definitely make them feel bad.
ADVERTISEMENT - CONTINUE READING BELOW
You might also want to check:
Load More Stories