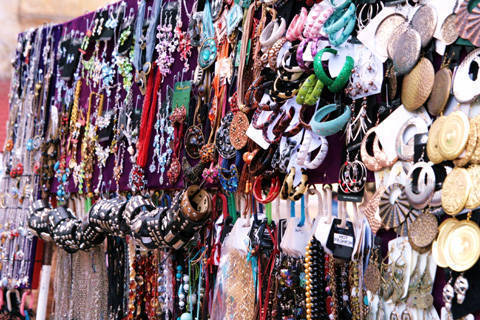 Divisoria is a well-known haven for bargain-hunters. If you're like most brides who are in search of nice affordable goodies, you'll find everything you need--cheap wedding attire, fashion accessories, ceremony accessories and a variety of souvenirs--in Divisoria.
If you're not familiar with Divisoria, dealing with the myriad of tiangges and sidewalk vendors for the first time might turn out to be an overwhelming experience for you. However, our guide will help you find the different Divisoria hot spots so you'll know where to scout for your wedding needs.
Divisoria Mall
If you're shopping for souvenirs, you'll surely find what you're looking for in Divisoria Mall. The great thing about Divisoria Mall is that it's air-conditioned--you can shop comfortably for your party needs, décor and souvenirs in this mall. The retail system here is wholesale, so you can get bigger discounts if you're buying in bulk; the line "Marami naman akong bibilin" is always irresistible to vendors. However, you'll need to pay for your purchases in cash; credit cards are not accepted in most shops.
Tabora and Ilaya Streets
The whole stretch of these streets is home to stalls of different craft materials and souvenirs, so Tabora and Ilaya are well-loved haunts for crafters. If you plan to do DIY projects for your wedding, you'll find materials here at very budget-friendly prices.
Buildings along Tabora and Ilaya are havens for fabrics, ready-to-wear (RTW) gowns, and seamstresses. Most of the stores here offer cheap made-to-order wedding attire. You can just bring a photo peg of your wedding gown and have one of the
seamstresses create a more budget-friendly version of your dream dress. And with fabrics at affordable prices, you can have the longest veil or train you can imagine!
168 Mall
If you're on the look for affordable fashions, head to 168 Mall. The air-conditioned mall has four floors filled with stalls of great fashion finds--you just have to come armed with patience since 168 Mall can get pretty packed. If you're looking for chic RTW dresses for your entourage, a number of stalls in 168 Mall sell a variety of dresses at surprisingly low prices. Most shops here also sell affordable shoes too, so if you're feeling extra generous, you can also buy pairs for your entourage. Again, don't forget to haggle especially if you're buying in bulk!
ADVERTISEMENT - CONTINUE READING BELOW
CONTINUE READING BELOW
Recommended Videos
Comments
Load More Stories