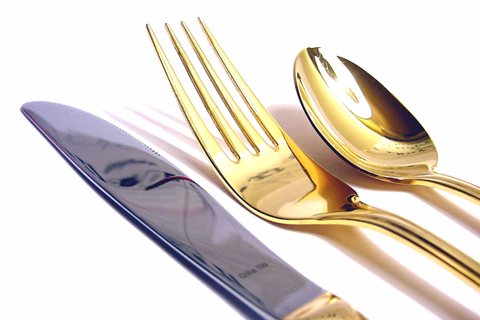 When considering what time to hold your wedding ceremony, keep in mind that it will also affect your wedding reception. Some reception set-ups and menus work only for certain times of day, so it's best to take note of what elements you'd like in your reception and see where it fits.
Read on for the different reception times and styles and see which works best for you.

BREAKFAST RECEPTION
If your dream wedding involves greeting the sunrise as husband and wife then a breakfast wedding might be just the ticket.
Most people have a breakfast wedding to cut costs on food or even the venue but some just do it to make their wedding a touch more memorable. The pros of having a reception early in the day are: it's usually less expensive than lunch or dinner receptions; your guests have more time to schedule other things later in the day; plus, you can get an early start on the much-awaited honeymoon. Some cons are: there's less time for you and your entourage to prepare, and your (out-of-town) guests might find the early call time a tad inconvenient.

ADVERTISEMENT - CONTINUE READING BELOW
Keep in mind that breakfast receptions should be short and sweet and shouldn't spill over to lunch time, but that doesn't mean serving dishes that won't tide them over until then. Breakfast is the most important meal of the day so make sure to serve your guests filling dishes.
CONTINUE READING BELOW
Recommended Videos
Depending on how you approach it, breakfast receptions can be laid-back and quirky or elegantly executed. For a more up-scale take, try putting a spin on breakfast classics by serving them as hors d' oeuvres or incorporating some expensive items into a sit-down menu on fine china and silverware like caviar, steak and salmon. If you want a more casual feel, think an assortment of tea, pastries, quiches or even a station where guests can customize crepes, pancakes, and omelets. Placing bread baskets on each table is also a nice idea. Presentation can do wonders for the tone you're trying to set.
ADVERTISEMENT - CONTINUE READING BELOW
LUNCH RECEPTION
If you and your hubby-to-be are not really morning people but you're also not keen on going overboard on the budget for a lavish evening banquet then maybe a lunch reception is the right choice for you.
Lunch receptions are often overlooked because they tend to feel rushed, but if done properly you could end up saving a lot and still have the reception you've always dreamed of.
The upside to having a lunch reception is more prep time and leeway for your guests to make it to the ceremony and reception on time. You can also get most of the dishes you might have wanted for an evening reception minus the steep prices. The challenge, however, is in being more creative with the program as some guests might find it a staid affair and tend to leave right after lunch. That said, don't plan anything too elaborate either. No one will want to dance right after lunch and song numbers and the like might go unappreciated.

ADVERTISEMENT - CONTINUE READING BELOW
You might also think that a lunch menu just means the usual rice and viands, but you will be pleased to note that an interactive menu also works well during lunch. Beef up your menu with a carving station or offer an on-the-spot cooking station. Entice your guests with a dessert buffet so that they'll stay a bit longer. Alcoholic drinks are not really associated not expected at lunch receptions, but make sure to give the guests an option of either coffee or tea afterwards as most people enjoy a warm cup after a filling meal.
DINNER RECEPTIONS
If you're more of a classic and traditional bride or the type who would want to party and dance the night away with your guests then a dinner reception is the answer for you.
Dinner receptions are often known for being the most expensive type of package whether it's a lavish buffet or sit-down dinner.  They're also regarded as the longest and most formal type of reception starting with cocktails, then dinner, followed by cake-cutting, bouquet toss and so on.  Mobile bars, DJs, lights, fireworks, and other add-ons to a dinner reception also up the expense factor.
ADVERTISEMENT - CONTINUE READING BELOW
Some pros of having an evening reception are: you can really take the time to make your guests feel special and entertained; you have the luxury of preparing for your wedding the whole day; and, you can celebrate your wedding by partying the night away with your loved ones. On the other hand, venues and most menu selections do cost more for dinner receptions, and some venues may have a limit as to how long you can stay, especially if they have another event the next morning.
Because it also takes the longest, make sure the food you serve is filling enough to keep curb the guests' hunger pangs. This is especially true if they will be waiting for quite a while before the reception starts. Serve pass-around appetizers or place snacks on their table such as nuts or biscuits. Be mindful that some people avoid heavy meals at night so be ready with lighter yet just-as-sumptuous options, such as a salad bar, for example. For guests partying the night away, a "late-night snack" a couple of hours after the dancing starts is a pleasant surprise.
ADVERTISEMENT - CONTINUE READING BELOW
Whatever time of day (or night) you choose to hold your reception, the most important thing is that it is the time that you and your groom are at your best.  Don't be afraid to bend the rules a little in terms of what's conventional to make the celebration truly your own.
For listings of caterers, click here.

You might also like to check:
Comments
Load More Stories