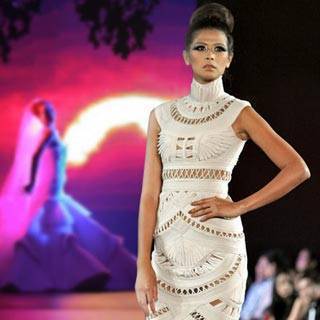 Birds have inspired fashion designers aplenty. From the late, great Alexander McQueen, whose childhood ornithological obsession frequently swooped through his lifetime's work (resulting in his avian Spring/Summer 2001, 2003, and 2008 collections), Alber Elbaz's feathered millinery for Lanvin Fall/Winter 2009, to Miuccia Prada, who presented upbeat, sparrow-strewn creations for Miu Miu's Spring/Summer 2010 lineup, our feathered friends have served as design inspirations not just for their plumed beauty but also for what they symbolize: freedom, voyage, loftiness and grace, among a vast number of things.
In our corner of the fashion globe, one of our design maestros have likewise had an abiding love for avian allure. "I've always had a fascination with winged creatures--especially the Philippine Eagle, and birds of prey," says Cary Santiago, the master couturier whose name has become synonymous with magnificent lasercut work. "In fact, my winning collection for the Young Designers Competition in 2004 was inspired by the Philippine Eagle. And I presented a bird-inspired collection back when I was in Beirut, but it had a different treatment," he says.
ADVERTISEMENT - CONTINUE READING BELOW
He's embarking on a new phase in his design career (nearing its 25th anniversary), one where the doily design isn't so dominant anymore. The doily design has extensively "inspired" many young designers, he feels, thus his desire to set it aside for now and showcase his other perfected techniques. And how appropriate for him to call forth his avian enchantment to signify his creative shift.
From their mesmerizing structure to their dignified function, wings have always enthralled Cary. His mastery of the plissé technique has allowed him to imbue his most recent bridal collection, Avian, with a distinct ornithological feel without the use of actual feathers. For this collection, Cary became a plumassier who crafted his own kind of couture plumage through that meticulous pleating technique, signifying at once his own design migration and a bride's graceful soar to wedded bliss.
To read more about Cary Santiago, see the full article and his collection's photo gallery on StyleBible.ph.

ADVERTISEMENT - CONTINUE READING BELOW
Comments
Load More Stories