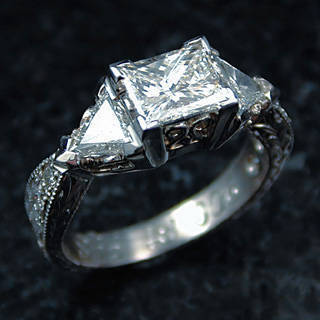 Picking out a diamond involves considering the four Cs of diamonds . One of these four Cs is Cut, which stands for the way a gemstone is shaped and polished in order to reflect the most light, given the stone's original form. We sat down with Joanna Joble of Marry Me Bridal Jewelry, who studied in the Gemological Institute of America (GIA), and she told us all about diamond cuts.
Aside from considering the four C's, you also have to consider the diamond's proportion and finish.

"Shape [refers to the] form of the stone, while cut means proportion and finish of the stone," Joanna says. "Proportions are the angle and relative measurements of a polished gem's facets. This is where we grade if the stone has an excellent cut or poor cut. On the other hand, finish [refers to] the quality of the polish and precision or symmetry of the cut. Polish is the overall condition of the diamond's facet surfaces. Symmetry refers to the exactness of the shape and placement of the facets."
A diamond's cut is different from a diamond's shape.

According to Joanna, the diamond's cut has more to do with the how a gemstone is formed to be able to maximize the reflection of light, adding to a diamond's brilliance and fire. You can tell that a cut is good when the diamond has more brilliance. In short, the more it sparkles, the better.

The diamond's shape affects how it is cut.

Joanna also tells us that grading the cut--telling whether the cut is of excellent or poor quality--depends on the shape of the diamond. "There are some additional considerations for grading fancy cuts like oval, marquise, pear, heart, step cut (rectangular), princess and triangle." Depending on the original form of the stone, cuts are paired with certain shapes to maximize the brilliance of each stone. There are several types of diamond cuts, each one representing a different number of facets that are cut into the stone:
o Brilliant cut - This cut is often used for round diamonds, and it is one of the most popular cuts for wedding and engagement rings.

o Princess cut - This cut is squarish in shape, with the brilliance coming out of the sides.

o Emerald cut - This cut is a window-type cut, meaning that it is transparent, which is why it is usually rectangular or square with truncated corners.
The cut reveals a lot about the quality of a diamond, so the more it sparkles, the higher the quality of the cut. While there are many things to consider when choosing a diamond for your ring, it all boils down to personal preference. But keeping these points in mind will help you get the best value for it and know which diamond is best for your ring.

Comments
Load More Stories