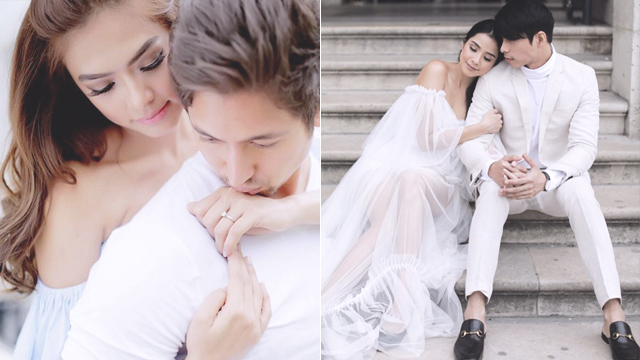 Unless you do it for a living, not everyone can easily churn out 20 glamourous poses a minute in front of a camera. If you're nervous about your prenup shoot, don't panic. Remember, the first few minutes will always be the toughest. It's normal to feel awkward and camera-shy, but as with anything, you just need to fake it 'til you make it! But of course, if you're going to spend money on location, hair, makeup and more, might as well make the most out of it and don't take the shoot for granted. Here are some tips so you can better prepare for your big day (before the actual big day, that is).
ADVERTISEMENT - CONTINUE READING BELOW
CONTINUE READING BELOW
Recommended Videos
1. Find a photographer who gets you.
Each couple is different, and a good prenup photographer knows how to adjust to different personalities (as well as how to make the shy ones feel comfier!). Don't be afraid to set a casual meeting with your potential photog to see whose vibe will go well with yours. A friendly relationship and a relaxing atmosphere will go a long way in creating natural shots! Remember that prenups are still very personal events, and you'll want a photographer who knows how to direct you.
2. Use props.
A lot of people pose awkwardly because they don't know what to do with their hands. If you're holding something, that already eliminates half of the problem! Find props and other accessories relevant to you as a couple—do you like cooking together? Reading together? Do you play sports? See if you can develop a concept revolving around what you already love doing, so you can also be more relaxed and familiar with the environment.
ADVERTISEMENT - CONTINUE READING BELOW
But also, if you really want to work with a bare set, then don't be afraid to reach out to your partner. Hold hands, run your hands through his hair, or find different ways to lean on each other. Highlighting your physical connection will be a good way to show off some intimate moments. That said...
3. Practice, practice, practice!
It helps to try different poses beforehand. Posing alone can already be nerve-racking, and while it's good to have someone doing it with you, shooting with another inexperienced person can be harder to coordinate. Try standing in front of a mirror and find positions you're both comfortable in. And if you're in need of some inspiration, take cue from these fabulous celebrity couples who aced their prenup shoots:
Hold hands and face each other. Keep the conversation going so that your smiles look more vibrant. 
ADVERTISEMENT - CONTINUE READING BELOW
For a more romantic twist, try wrapping your arms around your fiance.
Lean on his shoulder for an intimate effect.
Position your hand above his to show off your engagement ring.
Take turns standing or sitting behind each other and let your partner take the spotlight for some shots. When it isn't your turn, avoid looking at the camera and pay attention to your partner instead.
A kiss on the forehead makes for a tender photo.
So will a kiss on the hand.
Have your groom lift you up. For a less daring pose, you can go on his back.
Allowing yourselves to get candid is key! Find a comfortable position, and let what's natural take over. Sometimes, the best shots are unplanned.
And don't forget your beauty shots!
Load More Stories