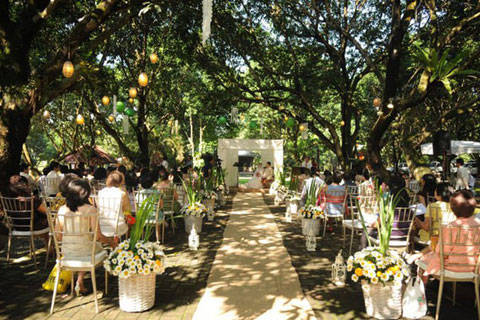 Planning a destination wedding and still unsure which suppliers to get? In forming the right team to supply you with the products and services that best fit your requirements, you can either bring in vendors, or hire local suppliers. Below are some questions that you should keep in mind when forming your dream team.
How remote is your chosen location? How familiar is the supplier with the area?
Here's a general rule of thumb: the more far-flung the chosen wedding venue, the more you'll need to hire an expert to handle the nitty-gritty for you. Unless you know of a friend or relative that is willing and able to do the legwork for you (as you obviously can't do all of these on your own), consider hiring a wedding planner.
Your wedding planner doesn't have to be a local; s/he simply needs to be very familiar with the locale and has successfully done numerous weddings there before. Look for one that can work with your priorities and budget, and also has the right network and resources to produce the wedding you've always wanted.
ADVERTISEMENT - CONTINUE READING BELOW
How easily and often can you correspond with the vendor?
If you need to be constantly updated by your suppliers about their progress, then perhaps those based near you would be a better choice. Unless you have the resources to take regular trips to your selected destination, having nearby suppliers would be easier to coordinate with and check up on.
CONTINUE READING BELOW
Recommended Videos
However, in destinations where you're faced with a language barrier, even the best suppliers that you want to bring in can feel like fish out of water. Should you decide to go local, bring pegs to ensure you're both on the same page, ask for mock-ups when you can, and insist to put all your agreements in writing.
How did you hear of the supplier? Who referred these suppliers to you?
Do ask close friends and family for referrals. Chances are, you'll unearth a gem in the locale, and contribute to boosting the destination's economy.
ADVERTISEMENT - CONTINUE READING BELOW
For suppliers that you've already booked (whether local or from where you're based), ask them too for recommendations. You'll find that most vendors prefer to work in conditions wherein they're familiar not only with the location, but also with co-suppliers. With that in mind, their input is really valuable.
For suppliers you'd want to bring in, how much is the out-of-town (OTT) fee?
Many couples have saved on money by going local. On the other hand, if you feel more secure and will sleep better at night if you bring in your chosen supplier, then maybe paying extra for your suppliers' transport, accommodations, and food is the way to go.
How easily perishable is the product? How easily can the service or product be replicated?
For highly perishable products such as food, cake and flowers, couples most often opt for local suppliers. However, going local isn't the only way to go. If you're looking for a highly specific dish, cake or floral arrangement for your wedding, you may need to bring in expert suppliers to make that happen.
ADVERTISEMENT - CONTINUE READING BELOW
What's on the fine print?
As with any vendor-client relationship, make sure you've fully understood what's on the contract. Check if there are hidden costs that you'd need to account for (such as taxes, even communication expenses). If you're bringing in suppliers into another country, what are the necessary documents that your supplier must fulfill? In cases of flight delays, typhoons or other unforeseen event, how flexible is your supplier when it comes to such contingencies?
Make sure too that you know whom exactly to talk to should problems arise, and what the process is to come to an acceptable solution.

At the end of the day, you want to book suppliers who'll make planning a lot easier for you. Since preparing for a destination wedding is an even greater challenge than planning a regular wedding, you'll need suppliers who'll go the extra mile to help you out.
You might also want to check:
ADVERTISEMENT - CONTINUE READING BELOW
Comments
Load More Stories