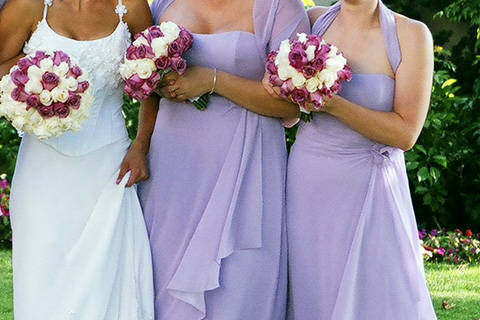 Wedding preparations can be stressful at times, and for sure, you're hoping to get some help from your entourage. But what if they're not helping at all? Is it okay to replace members of your entourage if they're not performing their roles?
MAREX'S ANSWER: 
Yes, you can replace them, but you have to consider two things:
First, when you invited them to be part of the entourage, did you tell them your expectations? Did you specifically inform each one of them what his/her responsibilities are? To be perfectly honest, normally, when you invite someone to be part of the entourage, the person more often than not says yes, even without knowing his/her responsibilities. Some are not aware that it is more than just seeing their names on the invitation or showing up all glammed up at the wedding. This may be their first time to be part of a wedding entourage, and so they're totally clueless. Or even if they have been part of a wedding entourage in the past, the couple then may not have been as keen as you are.
ADVERTISEMENT - CONTINUE READING BELOW
You cannot assume that they know what their roles entail. Since they cannot read your mind, have a talk with them and share your thoughts. You may also give each one of them a list of specific things to do, together with a timetable. However, the responsibilities that you'll give them should be realistic. You have to understand that their lives do not just revolve around your wedding, and they have other important things to do either at work or at home. Hopefully, once you've made them aware of your expectations, you'll see a positive change in them. If, after all your efforts and reminders, they still seem uninterested, or they do not make an effort in helping out, then by all means, replace them! 
Second, is it possible that shortly after agreeing to be part of your wedding entourage, some of them are now faced with situations that make it difficult for them to actively participate in the preparations? You know, maybe one is suddenly being sent abroad for work, or one is mourning the sudden loss of a family member, or one is having a delicate pregnancy and is being advised by doctors to have complete bed rest. In situations like these, it's best to just replace them. For sure, they'll understand since they're not even certain if they will be able to go to your wedding.
Whether it's the first or the second scenario, once you have made the decision to replace them, make sure to politely inform everyone concerned. This will avoid any kind of misunderstanding on your wedding day, which should be as close to perfection as possible.
About Marex Gaba:
Party Planner Extraordinaire Marex Gaba is a consummate events expert with more than a decade's worth of experience in events planning, management and directing. Creative, meticulous and versatile, his main objective is to translate his clients' ideas and requests into fabulously elegant, well-designed, and totally hassle-free events.

Marex has been a member of the Philippine Association of Wedding Planners (PAWP) since 2007. He is a member of the Board of Trustees, and is currently the Vice President.

ADVERTISEMENT - CONTINUE READING BELOW
Load More Stories