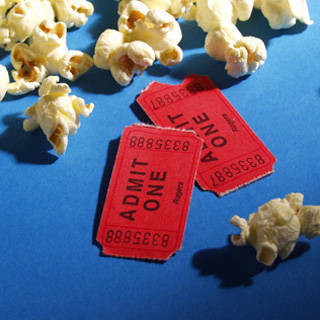 Doing your research is very important when you start planning your wedding, but that doesn't mean it has to be boring or stressful. Learning about wedding etiquette or how to deal with sticky situations, and finding tips and tricks to help get you started on the next step of your wedding preparations can be both entertaining and informative. One fun way of gathering ideas is to curl up on the couch with a bowl of popcorn and watch your favorite wedding movies. Aside from enjoying the funny quips and heartfelt moments, some of these films have got a lot to offer in terms of wedding advice. We've unearthed bits of advice for brides that we've gotten from watching well-loved wedding flicks.
Have a place where you keep all your pegs and information on possible suppliers.
Compiling a binder or folder with your pegs is a good way to get organized. At the very least, have a checklist of all the things you need, along with your suppliers' contact information. If you've seen My Big Fat Greek Wedding, Sweet Home Alabama, or Bride Wars, you'll find that the brides in these movies didn't go about planning their weddings blind. Toula, Melanie, Emma and Liv all had some kind of folder or binder with their pegs and information about suppliers that helped them with their preparations. In 27 Dresses, Jane's organizer was filled with little notes about her friends' wedding details that she had to take care of. Having your own organizer or folder of pegs, or both, can help you keep track of everything you've already done, everything you still need to do, and everyone who can help you get it done.
ADVERTISEMENT - CONTINUE READING BELOW
Pick a supportive and trustworthy friend as your maid of honor.
This is partly why, in Bride Wars, Emma and Liv had initially wanted to have the other as her maid-of-honor at her wedding, and why so many women had gotten Jane to be a part of their entourage in 27 Dresses. Emma and Liv were best friends since they were kids, and Jane knew how much it meant to her bride-to-be friends to have someone with them every step of the way. In Made of Honor, Tom made sure to accompany Hannah while she ran different errands before her wedding as he tried to be the best maid-of-honor she could ever have. It really pays to have a good support system while making your wedding preparations, and who best to help you through such an important time in your life than your sister or best friend?
Let your entourage get to know each other better.
The mishaps in the movie Bridesmaids stemmed from Annie and Helen's rivalry, both members of Lillian's entourage, as they tried to outdo each other whenever possible. While your bridesmaids should ideally be mature individuals who can at least be civil towards each other, it would also help if you organize a small get-together to help them get acquainted. Find an activity you all love and do that together--some ideas are watching a movie, or getting pedicures done.
ADVERTISEMENT - CONTINUE READING BELOW
If you're planning a destination wedding, it's a good idea to have activities planned for when your guests arrive in town.
In The Wedding Date, Kat flew to her sister's wedding in England a few days before the wedding, and they had lunches and picnics and a hen party. The wedding festivities in My Best Friend's Wedding and Made of Honor were also preceded by a slew of events for the guests who arrived at the destination a few days before the big day. Keeping your guests occupied even before your wedding shows them that you appreciate their traveling all the way to be with you on your special day.
Remember to take your family's wishes into consideration, but don't forget that it is your wedding.
It can be overwhelming when you have all these decisions to make yourself, so it's fine if you get advice from your friends and family, like Toula did in My Big Fat Greek Wedding. In The Wedding Singer, there was a scene where Julia was planning her wedding with some of her friends, her cousin, and her mom, and they helped her make decisions about the cake and her dress. In Sweet Home Alabama, Mayor Henning, Andrew's mother, was the one who gave Melanie suggestions about her ceremony and reception venue, which Melanie hadn't thought of herself at the time. While other people's advice can be helpful, don't forget to make your own observations as well before making a choice.
ADVERTISEMENT - CONTINUE READING BELOW
Be patient with family members. They just want the best for you.
In Father of the Bride, Annie's father, George, had trouble accepting his daughter's engagement at first. He came up with different antics that drove his daughter and her fiancé mad, but towards the end, he came to accept that Annie will eventually get married. If you experience resistance from either set of parents, talk things over and help them see things your way. Don't forget to listen to their advice, too.
When looking for your wedding dress and planning your hair and makeup, it helps to imagine your entire bridal look.
Maggie Carpenter, in Runaway Bride, knew that she wanted a bell-shaped skirt for her fourth wedding, even if she didn't bring her shoes and accessories. In Made of Honor, Hannah had her wedding dress on a hanger right behind her during her hair and makeup trial. To make it easier for you to visualize your look, bring your shoes, accessories, and the proper undergarments during fittings Knowing what you want to look like on your big day will not only make you feel more at ease when you start getting ready on the day itself, but it will also help motivate you while you're still in the planning process.
ADVERTISEMENT - CONTINUE READING BELOW
Make sure to communicate with your fiancé.
Reverend Frank, in License to Wed, kept stressing this point throughout the movie, trying to teach Sadie and Ben that arguing with each other is an inevitable part of making decisions with someone other than yourself. Quarreling with each other was something that Kat's sister, Amy, and her fiancé Edward had to learn in The Wedding Date, but it helped them discover more about their relationship. Expect to have little disputes while you're planning your wedding, but learn to agree to disagree. Fighting fairly is a skill that will help you even long after the wedding.

Aside from getting part of your research done, you also got a moment to relax and chill out before going back to the actual wedding planning. And once you're done, you'll be up and ready to take on the next step of planning for your big day.
Comments
Load More Stories