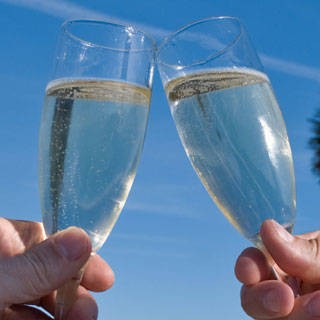 A large part of weddings consists of the practices that have stemmed from tradition. These traditions are not necessary, but you plan on having them because they're done at every wedding. But if you're looking for a way to make your wedding uniquely yours, then why not change a few things here and there?
Instead of walking down the aisle, you could...
Dance down the aisle.
One of the most popular YouTube videos of 2009 was of the wedding entrance where the entourage and the couple danced down the aisle to Chris Brown's Forever. Dancing to get to the altar, as opposed to walking, could symbolize the joy that you feel during the moment, and the joy you will have in your married life. Pick a song that's important to you and your fiancé and that can only make it all the more meaningful. (But be sure to ask your parish priest first if it will be allowed.)
ADVERTISEMENT - CONTINUE READING BELOW
Instead of doing the garter and bouquet toss, you could...
Have a scavenger hunt.
Bouquet and garter toss? Why not turn it into a scavenger hunt for your single friends who're still hunting for the love of their life? It still coincides with the old saying that whoever gets the bouquet or garter will be the next to marry, and it will get your guests to mingle with each other more. You can also find other wedding reception practices and give them a little twist, or turn them into a game.
CONTINUE READING BELOW
Recommended Videos
Instead of cutting the cake, you could...
Cut the kakanin.
The tradition of cutting the wedding cake is supposed to symbolize the couple's unity, and having cake at a wedding symbolizes fertility. In Filipino tradition, rice is symbolic of fertility. Different kinds of kakanin come in different colors, so a bilao of colorful kakanin could be a nice alternative to a wedding cake, especially if your wedding has a Filipiniana theme. Or simply try other alternatives--like cupcakes or pies--instead of cake.
ADVERTISEMENT - CONTINUE READING BELOW
Instead of being mellow on your first dance, you could...
Try doing choreographed moves.
Most couples choose a love song to dance to as their first dance. But if you and your fiancé are looking to liven things up a little, there's no harm in dancing to the songs you love as a couple. Have a mix made of your favorite dance songs and choreograph a fun routine, which won't only be meaningful to you, but will entertain your guests as well. This way, you still keep the tradition of having a wedding dance, but whether it's to Michael Buble's rendition of The Way You Look Tonight or to Lady Gaga's Just Dance is all up to you.
Load More Stories