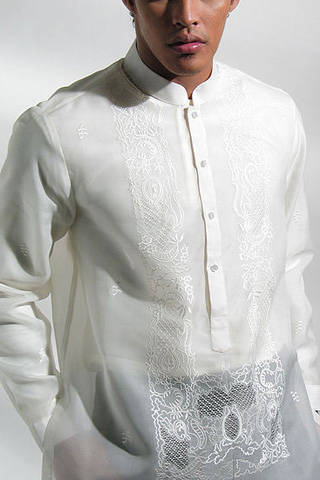 A garment that traces its roots to pre-Hispanic times, the barong Tagalog is now the preferred attire for important Filipino gatherings like weddings. The barong has remained in vogue even in modern times, and it's highly likely that your groom will be donning one for your big day.
To help your husband-to-be choose the best barong for your wedding, we asked Sasha International Clothing Company Inc.'s Creative Director (and our featured bride) Mimi Ferrera-Lazaro to teach us some barong basics.
Barong Fabrics
One of the factors that determine a barong's quality (and price!) is the fabric used. Mimi shares that barongs usually come in local fabrics like piña, jusi, piña-jusi, silk cocoon and ramie linen. Piña, the most popular and most expensive fabric, is made from pineapple fibers. On the other hand, jusi is banana silk. The silk cocoon can be dyed various shades and is also softer (and in effect, less irritating) than the piña. The ramie linen is a good choice for beach weddings since it lends a casual look to the barong.
ADVERTISEMENT - CONTINUE READING BELOW
Collars
Barongs are traditionally half-open and feature either an executive or dress collar. However, Mimi says that button-down barongs with Mandarin collars are also becoming more popular.
CONTINUE READING BELOW
Recommended Videos
Details
Barongs are usually adorned with intricate embroidery, and those that feature elaborate detailing are more expensive. Mimi cites the Suksok and Calado as the two kinds of weaving used for barongs. The Suksok is a special kind of hand weaving, in which an embroidered patterned is woven with the main weave of the barong, thus the term "suksok." On the other hand, Calado is a net-like hand-woven design, in which weavers tie knots to piña to create the pattern. (See examples of the Suksok and the Calado.)
Production Time
Mimi says that barong weavers or designers usually need at least three to six weeks to produce a barong. However, some grooms are more particular with their barong's embroidery or embellishments--such special requests need three to six months lead time.
ADVERTISEMENT - CONTINUE READING BELOW
Load More Stories