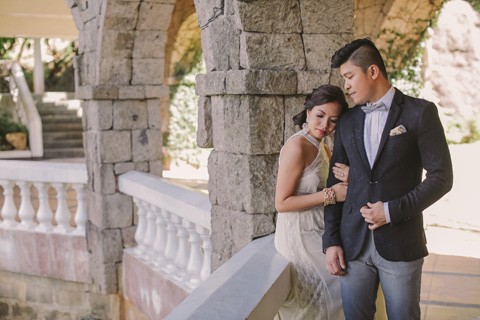 It's not every day that a bride gets a chance to have her wedding immortalized in photos and videos by stalwarts in the wedding industry. So when Colgate Optic White announced it was giving away a wedding package by no less than creative masterminds Jason Magbanua and Pat Dy, brides quickly sent in their 40-second video answering Colgate Optic White's question: "What's your biggest wedding worry?"

Among all the entries, Precious V. Pasia's dream of having a wedding in a small chapel on a bright, sunny day with all her loved ones present captured the Optic White Team's attention.
"Of course there are things that you don't have full control of-" she starts. "Flower girls not walking because they have sumpong, someone spilling coffee on my wedding gown and of course, my groom not showing up."
Fortunately, Precious did not have anything to worry about when she finally tied the knot with her husband Aljoe. "At the end of the day, having all my family, all our families, and loved ones present became the most important thing for me on my wedding day," she confessed.
ADVERTISEMENT - CONTINUE READING BELOW
That, and making sure that she could actually enjoy her wedding and stop worrying about the little details that could potentially ruin her big day.
Leading up to the special occasion, Precious made sure that every single thing was in place-from her wedding dress to her smile.
"I went into just as much effort to ensure that my dress was perfect to making sure that I had the perfect, white smile to go with it on my wedding day-a task made all the more easier with Colgate Optic White," she shares. "After using the product for a week, I really saw a difference, my teeth became whiter. And that gave me the extra confidence I needed for the big day."
As for the bride's biggest wedding worry? Precious happily reports that her husband was eagerly waiting for her at the altar-and that's definitely something to smile about.
Colgate Optic White promises to give you one shade whiter teeth after one week* so you have one less thing to worry about on any occasion. Try it now!
ADVERTISEMENT - CONTINUE READING BELOW
Check out the gallery below to see Precious' pre-nuptial photos by Pat Dy.
*For extrinsic stains. Use as directed on pack.
Recommended Videos
Comments
Load More Stories