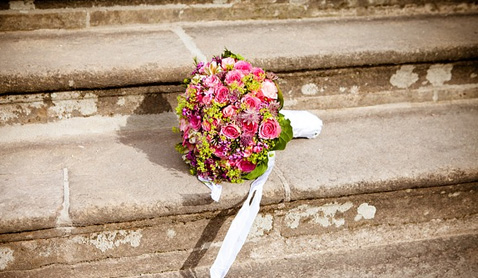 Ah, the bridesmaid. Apart from the bride and groom, no other nuptial character is as fabled. Whether it's Katherine Heigl in 27 Dresses or even Claudine Barretto in Got 2 Believe, the role of the perennial bridesmaid has inspired countless pop culture references. But what's a girl got to do? Weddings are supposed to be a landmark event in your friend's life. When you first receive that phone call asking you "Will you be my bridesmaid?" the best thing to do is say "I Do." But what goes on in your head as a bridesmaid really?

Thought #1: SHE'S GETTING MARRIED! When the bride breaks the news to you, you are beyond ecstatic. She's in love! They're in love! They will be together for the rest of their lives! Naniniwala ka na sa forever!
Bridesmaid Tip: That's the spirit, girl.



Thought #2: KELAN KAYA AKO? Because at the end of day, you are still human right? All perennial bridesmaids have been there: the urge to indulge in life envy. This creeps up on you when you least expect it, and the intensity of this question varies depending on your relationship status.
Bridesmaid Tip: Acknowledge the feeling, but keep in mind that this is a celebration of the love between the bride and groom. This is their day. Bukas ka na humugot. Hindi mo moment to.



Thought #3: SO! THIS is what I'm wearing. Your gown was meant to be worn for the wedding. Whether your gown makes you look like you've stepped out of the pages of Preview or a Santa Cruzan is entirely irrelevant. Accept that this is your dress. Rock it nonetheless.
Bridesmaid Tip: NEVER criticize the gown. You are to wear it, but it is not for you. THIS IS THEIR DAY. REPEAT THIS UNTIL D-DAY.

Thought #4: I need to diet NOW. Something about walking down the aisle, even as part of the entourage, inspires most girls to get fit NOW. As with anything that requires a long gown (prom, 18th birthday parties, elaborate office gatherings), we all want to look our best. We're all for keeping a healthy lifestyle, but looking your best shouldn't mean killing yourself with a crash diet. We want you to fit into the dress, not die in it.
Bridesmaid Tip: Crash dieting is not the solution. If you really want to look your best, just keep a realistically healthy lifestyle until the big day.



Thought #5: My feet hurt.
What is it with sexy shoes being painful? That silver five-inch pair may look absolutely smashing when you're fitting it for the first time, but think about how you're going to feel five hours after. If you think you're just walking down the aisle, think again. There are photo shoots with the entourage. There are games. There are opportunities to dance. Be kind to your feet.
Bridesmaid Tip: You can always find a compromise between comfort and style. The kindest thing you can do to your feet would be to wear wedges. Your feet will be hidden under layers of fabric anyway. Height without pain is the way to go.

Thought #6: What time is dinner?
This may surprise you, but we find that this is mostly true. If the wedding is at 3:00 p.m., chances are you're not going to eat until 7:00 p.m. Between post-ceremony photo shoots and sitting in traffic en route to the reception, there will be at least three more hours until the food gets to you.
Bridesmaid tip: Don't forego the meal before the actual wedding. You don't want to faint in the middle of the vows. Keep a small packet of crackers in your clutch. Trust us, you're going to need it.



Thought #7: Single girls' games at the wedding? HIDE.
In the Philippines, single women tend to shy away from the tossing of the bouquet. Whether you're hoping to catch it or not, there is a huge possibility that you will be expected to participate. Don't be that girl who hides in the ladies' room when this happens.
Bridesmaid tip: Nobody likes a party pooper. For the love of all things fluffy, PLAY.

Thought #8: Ako na sana ang sunod. What did we say about your hugot?

PHOTO: Pixabay ; GIFS: Giphy


ADVERTISEMENT - CONTINUE READING BELOW

CONTINUE READING BELOW

Recommended Videos
Comments
Load More Stories