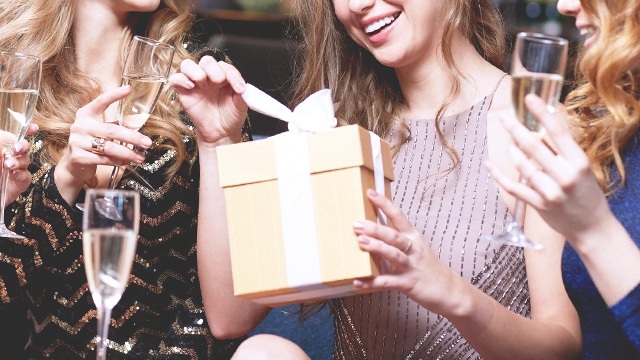 Bridal showers and bachelorette parties traditionally happen behind closed doors with overflowing food and drinks, interesting games, and at times even a naughty activity or two. But as the concept of despedida de soltera evolved, brides and their families and friends have taken on more creative routes, which ups the fun level a few notches.
ADVERTISEMENT - CONTINUE READING BELOW
CONTINUE READING BELOW
Recommended Videos
If you're planning to throw a party for one of your friends and still find yourself at a loss as to what to do, why not plan it in a place where you have lots of options to choose from? Here are a few inspirations from the myriad of venues at the new Ayala Malls The 30th in Pasig that you can try:
A Celebration of Kikayness
Indulge in a massage, makeover your tips, and try organic waxing (if you wish) for an all-girls day out with your besties!
Nail Tropics offers Spa Soirees where you can enjoy an organic mani spa of your choice, a classic pedicure, and a 15-minute therapeutic head and scalp massage.
Spa Soirees are accommodated by appointment with a minimum of 10 individuals. For more information, visit NailTropics.com.
If you're opting for a place where you can do everything from nail care to waxing, you and your crew may want to drop by Beeswax. Aside from carrying the all-organic Zoya nail polish line for fabulous tips, they also have waxing services that uses totally vegan and environmental-friendly products.
ADVERTISEMENT - CONTINUE READING BELOW
Follow BeesWax on Facebook for more information.

After all that pampering, allow yourselves to enjoy comfort food from Conti's. Don't forget to order their famous desserts, such as Mango Bravo and Turtle Pie!
A Heart-pounding Adventure
For groups that love a good mystery.
"One room. One mystery." Get your hands dirty and your brains working as Mystery Manila launches two new themed rooms at The 30th: Rebel Resistance for those can't get over the Rogue One hype, and the Sorcerer's Stone for Potterheads looking for a Hogwarts-like experience.
For more information, visit MysteryManila.com.
Morganfield's
After a suspense-filled experience, chill out at Morganfield's and order their Ribs Sampler, which features pork ribs cooked in three ways, fries, sausages, corn bread, grilled corn, and garden salad. Pair this hefty meat platter with their refreshing Begonia – a mix of kiwi, strawberries, lime, and lemon lime soda topped with passion fruit syrup, or with your choice of wine and beer from their bar menu.
For reservations, call 09176333979 or (02) 9750589, or follow Morganfield's on Facebook.
A Retro Indulgence for The Kid in You 
Before sending your friend off to get married, party like it's 1990 one last time!
Here's something for those who want an afternoon punctuated by competitive fun. Head on to Timezone for a wholesome day of arcade and carnival amusement. 
Timezone offers party packages and video machine rentals. For more information, visit Timezone.com.ph.
ADVERTISEMENT - CONTINUE READING BELOW
No one is ever old enough for LEGO. For the geeky kid inside all of you, psych yourselves up for a visit to the LEGO Certified Store, opening at The 30th on January 28. This branch will feature a Pick-a-Brick wall where you can handpick LEGO pieces to build anything from your imagination, an interactive play area, as well as fully-assembled LEGO sets to inspire you.
 They're also offering 30% off on 30 carefully curated and hidden LEGO Golden Bricks from January 28 to February 28, which will be an awesome surprise if you're lucky enough to get them.
Follow LEGO Certified Store PH for more information.
Get that kiddie vibe going until dinner at Genki Sushi, where your orders are served on a train! Aside from their fresh kaiten sushi (try their Seared Salmon with Black Pepper), they also serve rice and noodle dishes including Black Pepper Chicken Don and Oyako Don.
ADVERTISEMENT - CONTINUE READING BELOW
Comments
Load More Stories