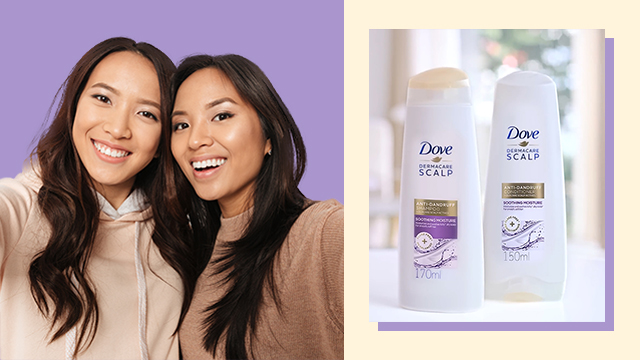 Many of us aspire to do many things simultaneously but find that we lack the time or the resources to do so. There were probably times when you have compromised or left some unwanted decisions to fully incline yourself in one pursuit. These days, you will find more people–women, in particular–joining their voices to prove that you can love to do more things at once and thrive at the same time!
Like the new Dove Dermacare Anti-Dandruff Shampoo, you don't have to compromise because you can achieve the dual benefits of having zero dandruff while maintaining soft and nourished hair. You can relieve itching and dandruff thanks to its Olacare Scalp Actives. It also has a mild, pH-balanced formula that will not disrupt your scalp and keep your hair smooth and soft.
Here, we've rounded up these ladies who have tried and tested this new anti-dandruff shampoo. They also shared why you shouldn't stop yourself from thriving and becoming the multi-faceted woman you ought to be!
No need to choose between two passions
Musician and bike enthusiast Chelsea Ronquillo said you don't have to settle for just one, but you can also do both.

View this post on Instagram
You can be whoever you are, whenever you want.
Both content creators and doctors, Kara Gonzali and Ian Sta Maria prove that you can juggle two titles at the same time! "If anyone has ever pressured you to make a choice between two passions, let me be the first to tell you that you don't need to," Gonzali said.

View this post on Instagram
View this post on Instagram
#YouCanDoBoth
Mother and beauty queen Kristine Aplal and artist Gen-Zel Aplal believe in #YouCanDoBoth. Kristine, in particular, shares that she loves sharing her insights with an audience while also juggling her family life. Gen-Zel asked the same question "Why compromise when #YouCanDoBoth?"

View this post on Instagram
View this post on Instagram
Why choose when you can have both? Try the new Dove Dermacare Anti-Dandruff shampoo now.
Shop Dove Dermacare Soothing Moisture Ant-Dandruff shampoo online via Shopee, Lazada, and UStore. Follow Dove's official Facebook for more info.
This article was created by Summit Storylabs in partnership with DOVE.