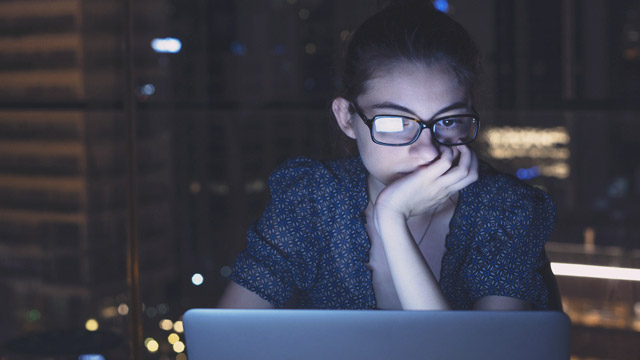 The regular eight to nine-hour shift always seems too short with the amount of work that you need to, which is why you always find yourself clocking in an additional two to three hours in the office just to finish your tasks for the day. Oftentimes, you probably don't even mind when you do—either for the extra pay or to wait out traffic—it's a win-win situation, right? Well, not exactly, because making overtime work a habit is actually taking an immense toll on you, even if you don't notice it.
ADVERTISEMENT - CONTINUE READING BELOW
This isn't to say that you shouldn't pull long hours ever, but you shouldn't do it regularly, because:
It's slowly destroying your body.
It sounds macabre, but it's true, especially if you have a desk job. A study featured in Entrepreneur by researchers at the Colombia University Medical Center on adults above 45 years old "found that employees who were sedentary for more than 13 hours a day were twice as likely to die prematurely as those who were inactive for 11.5 hours."
Another study featured in the same article found that those who worked 55 hours or more in a week (that's 11 hours a day for five working days) were approximately 40 percent more likely to develop atrial fibrillation, which is, according to Mayo Clinic, "an irregular and often rapid heart rate that can increase your risk of strokes, heart failure and other heart-related complications."
If you still need convincing, there have already been many documented cases of "death by overwork" so much so that the Japanese already have a word for it—karoshi.
It's causing you mental anguish.
Karoshi also pertains to suicides caused by overwork, and this sadly isn't just happening in Japan, but also in other parts of the world. Constantly pulling long hours increases one's chances of developing mental issues. A CNN feature notes, "Working long hours appears to substantially increase a person's risk of becoming depressed, regardless of how stressful the actual work is," citing a study showing that those who crunched "an average of at least 11 hours per day at the office had roughly two and a half times higher odds of developing depression than their colleagues who clocked out after seven or eight hours."
A video uploaded by the South China Morning Post shows a body cam recording of a man who had a breakdown after getting caught by traffic enforcers. The man explained that he had to bring his girlfriend's keys to their apartment, and then still go back to work.
ADVERTISEMENT - CONTINUE READING BELOW
"I'm under so much pressure," he cried. "I work 'til 11 p.m. or 12 a.m. every day."
It's increasing your chances of making mistakes.
Working long hours doesn't mean higher productivity. In fact, it may just mean the opposite. When you do overtime work daily, you don't give your mind and your body enough rest, and believe it or not, you're less likely to actually finish much. Long hours that cause fatigue become more dangerous when your line of work includes manipulating machinery, as noted by economist and researcher John Pencavel in his paper, saying, "employees at work for a long time may experience fatigue or stress that not only reduces his or her productivity but also increases the probability of errors, accidents, and sickness…"
ADVERTISEMENT - CONTINUE READING BELOW
It's depriving you of having a life.
Cheesy as it is, it's true that you work to live, and it shouldn't be the other way around. You really need to find the right balance between your personal life and your professional life because as a feature on HRM Online notes, "Time for family and friends is an essential part of feeling fulfilled and satisfied at work. Providing that time for staff will increase happiness and in turn productivity."
Seriously, is it worth it?
Ask yourself this question every time you plan on doing overtime work. Is what you're about to do actually going to help you finish your pending tasks? Do you really think you'll be efficient and productive during the additional hours you'll spend in the office? Is what you're about to do worth the extra hours you could have used to spend time with your family and to actually rest?
ADVERTISEMENT - CONTINUE READING BELOW
If the answer to these questions is a resounding no, then better shut that PC down and head home. You'll thank yourself for it later on.
Load More Stories