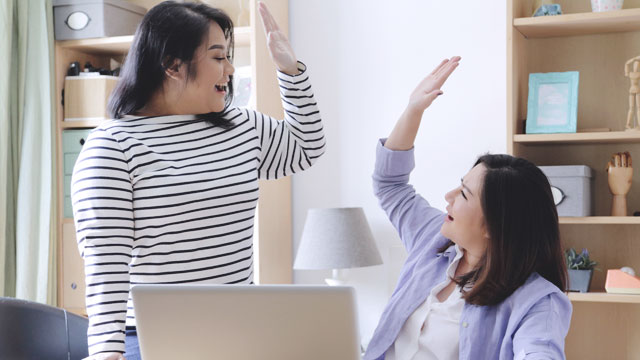 You've probably already heard of the term "work wife." In case you haven't, a work wife or husband isn't based on a romantic connection, instead, they are colleagues you constantly interact and form tight relationships with—pretty much your office BFF who is not necessarily your out,side-the-office BFF.
ADVERTISEMENT - CONTINUE READING BELOW
Having a work wife is a common occurrence and it makes sense: you spend a lot of your waking hours nurturing your career that it's almost impossible that you don't at least form friendships in your place of work. In fact, a survey by Simply Hired featured on Fast Company revealed that "more than 50 percent of female employees and 44 of male employees said that they had a work spouse," and that discussions with them encompass everything from office to home issues.
CONTINUE READING BELOW
Recommended Videos
The perks of having a work wife
It's been said that if you want to succeed in your career, it's important to have a work wife. As with any healthy relationship, you act as each other's support, and since you move in the same professional environment, you can more or less relate to what the other is going through. A work wife also lends you an ear whether you're talking about a new idea that you're brewing, or looking for suggestions for where to take your real spouse out for a date. Your relationship is actually built on mutual respect that still nod to the boundaries of professionalism.
ADVERTISEMENT - CONTINUE READING BELOW
When does having a work spouse become problematic?
We mentioned boundaries—and this is what a feature on Insider highlights when it comes to cultivating your relationship with your work wife or even your office BFF: "As for whether this close bond is healthy, that all comes down to how you approach the friendship, and how strong your boundaries are." Drawing the line is important, because first off, you're still in a professional setting, and second, if you're currently in a relationship, it's definitely a bad idea to push your platonic companionship towards romantic intimacy.
Psychologist, dating coach, and founder of Rapport Relationships Jennifer B. Rhodes weighs in: "There is a tendency for people to have an emotional affair with their work wife or work husband when things are not really going well at home. And I think they really need to be cognisant that an emotional affair can sometimes be worse than having a physical affair with someone."
ADVERTISEMENT - CONTINUE READING BELOW
Long story short: don't cross the line.
How to maintain a healthy relationship with your office spouse
Aside from boundaries, you also have to acknowledge that while your work wife is someone you know you can find support and confide in, you also have other colleagues who make things work for the team. Don't give preferential treatment to your office BFF—it's simply not the most professional thing to do. Learn to cultivate relationships with other people and appreciate each person for their own strengths.
That being said, take advantage of your dynamic as a duo. While being work spouses doesn't necessarily mean that you do your day-to-day tasks together, the simple act of pulling each other up will always be beneficial to you both. At the end of the day, it's a friendship, and one that's based on mutual appreciation and respect will lighten even the most stressful of days.
ADVERTISEMENT - CONTINUE READING BELOW
Load More Stories