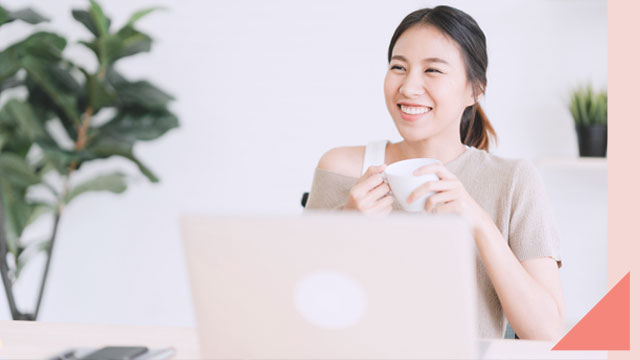 If you live in a major city—especially if you're right smack in the middle of Metro Manila—you know how bad traffic can be and how much it can affect one's life. This is why more and more, work-from-home jobs are becoming everyone's ideal, even if it means that it may cost a household more when it comes to electricity. 
Earlier this year, the Republict Act 11165 or the Telecommuting Act was signed into law, and it has instutionalized "telecommuting as an alternative work arrangement for employees in the private sector." These means that companies may offer remote working alternatives to their employees, as long as the terms and conditions are agreeable to both parties. Under this law, all salaries and compensations of those who have work-from-home jobs are the same as those who have to report to offices, and this includes holiday pay.
ADVERTISEMENT - CONTINUE READING BELOW
More and more employers are offering home-based options, and while not every professon can easily and successfully make the transition, it's promising to see the options available in the job market. Here are a several openings you may want to pursue of you're looking to work remotely, based on searches we did on JobStreet Philippines:
Writers
Salary range: 15,000 - P23,000
While writing is a pretty tough job contrary to popular belief, compensation for writers are not as competitive as other jobs; however, do note that listings that you commonly see aren't the end-all and be-all of this career path. Sometimes, it's what company you approach: networking is key.
Virtual assistants
Salary range: P15,000 to P40,000 
Virtual assistants provide administrative support to clients. In general, they are in charge of organizing the team's workflow, but depending on what the client needs, they can also handle bookkeeping and social media monitoring. If you're an organized person who loves efficient processes, then this may be the home-based job for you.
Marketing assistants and specialists
Salary range: P15,000 to P35,000
While marketing positions are often seen as office jobs, there are companies that are already willing to have this open for those who wish to work remotely--and this happens most often for digital marketers. 
SEO Specialists
Salary range: P35,000 - P45,000
According to Dictionary.com, SEO or Search Engine Optimization are "the methods used to boost the ranking or frequency of a website in results turned by a search engine, in an effort to maximize user traffic to the site." This means that you'll need search engine know-how as well as the ability to read trends and analytics if you want to be a highly sought SEO specialist. Luckily, there is a lot of information you can absorb online, and Google even has the Analytics Academy, which offers online learning tools for free to help get you started.
Language teachers
Salary range: P15,000 - P70,000
Becoming a language teacher is a popular home-based career, especially for those who are proficient in two or more languages. Salaries depend on the languages you know and can teach, as well as the amount of training you've had.  
Software developers
Salary range: P40,000 - P80,000
Developing software is no easy feat, but it's something you can do from the comfort of your home as long as you have a reliable PC rig and fast internet. Companies are looking for everything from mobile app developers to .NET and SAP ADAP developers: whatever your specialty is, there's bound to be someone who needs it.
How do you maximize your work-from-home arrangement?
While some openings offer ample compensation, some may leave you wanting the position but not the salary. While it's important to always negotiate for pay, know that this isn't the only thing you can talk about—if your remote company can't give you the price you want, you can always ask if you can be allowed to work on other projects as long as there's no conflict of interest and you don't do it within company time. Remember, these are full-time positions: the only difference is that you don't clock in an office. Treat these jobs as you would a regular nine-to-five, and treat your side hustles as side hustles. 
It takes a bit of adjusting, but once you've settled into your own schedule, you'll realize that your work-from-home job can afford you more time for yourself, as long as you're disciplined enough not to go beyond your set working hours. That being said, you can take care of yourself more and do things you've always wanted to do but couldn't (because you're still stuck in traffic). As long as you're with a stable company, it's also very much possible for you to go up the ranks (and even be sent abroad, should the institution you're working for be out of the country), so, as with every opportunity, do your best and make the most out of it. 
ADVERTISEMENT - CONTINUE READING BELOW
Load More Stories