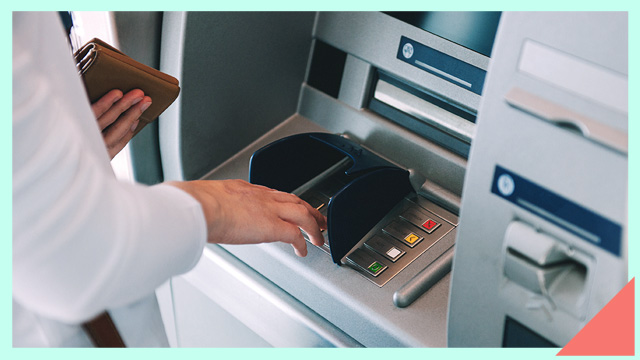 We've all been there: your wallet's empty and you need a few hundred or thousand pesos to pay for lunch or just to replenish your pocket money. You go to the ATM and fall in line. But for some reason, the guy at the front is taking his sweet time. 
You wonder, how long does it take to withdraw cash? Four, maybe five minutes? But some people take double that amount of time, sometimes even more. The line gets longer and you can't help but feel annoyed and antsy.
It's always been a mystery: why exactly do some people take so long at the ATM?
A cursory Google search will reveal that it's a universal pet peeve. Whether its people from First World or developing countries, a long wait at the ATM is high up on the list of things we all get irritated at.
ADVERTISEMENT - CONTINUE READING BELOW
On Reddit, there've been quite a few posts about the issue over the years. We thought we'd scrounge up the most logical, levelheaded reasons why people spend more time than they should at the ATM.
1. People check and re-check their balance
Most people will check their balance once, decide on how much to withdraw and then do just that. Maybe they'll ask for a receipt. But according to Reddit users, some people will check their balance twice or ever three or four times when they're at the ATM. 
U/ganmatthew said: "Check Balance --> Check kung may tao sa likod mo --> Withdraw --> Check kung may tao sa likod mo --> Check Balance --> Check kung may tao sa likod mo --> Withdraw --> Check kung may tao sa likod mo --> Check Balance --> Check kung may tao sa likod mo." 
2. People make multiple withdrawals
One of the obvious reasons people take too long at the ATM is that they need more money than what is allowed during a single withdrawal. Most banks have a limit on how much money account holders can withdraw per transaction and per day. BDO, for example, allows a maximum of P25,000 per single transaction for BDO ATMs, and P10,000 if you're using other banks' ATMs. The limit is P50,000 per day. For BPI, the range is P20,000 to P50,000 per day, depending on what type of card you have. 
That means a person will need to insert their card a few times if they want to withdraw a relatively big amount, which, of course, leads to delays.
3. People make multiple transactions
As most of us know, ATMs have progressed from merely being money withdrawal machines. One can do many things on an ATM these days: check your balance, change your PIN, pay bills, deposit and transfer cash, and others depending on your bank. 
Of course, most people in line at the ATM are there for one thing, which is to get cold hard cash. Unfortunately, we sometimes encounter people ahead of us in line who need to do other things than just take out money.
4. People have multiple ATM cards
Similar to number 2, some people carry multiple ATM cards with them, which of course means they need to do separate transactions for each one. 
Reddit users have posted instances of encountering people who carry a belt-bag full of ATM cards, which apparently is a system of ensuring payments for payday or salary loans. The lender will "confiscate" the borrower's ATM and withdraw the loan payments themselves, which they often do during payday (commonly on the 15th and 30th of every month).
We can just imagine the exasperation those behind these people in line feel.
5. People are just unfamiliar with how ATMs work
Most of us have become so used to transacting through an ATM that we often forget that there are those who are using the machine for the first time. According to the Bangko Sentral ng Pilipinas, less than 30 percent of Filipino adults have an account with a bank or formal financial institution. That's about 22 percent or 15.8 million, leaving over 50 million of us unbanked.
ADVERTISEMENT - CONTINUE READING BELOW
As you can imagine, there are those among us who are wildly intimidated about using an ATM for the first time and might be a bit unsure about how the whole thing works. In these cases, if you're behind them in line at the ATM, maybe just ease up on the annoyance and put yourself in their shoes. You may even ask a security guard or bank personel to help them if you see them visibly struggling (might not be advisable to offer help them yourself). 
It's at this point that we would suggest that you go cashless and use bank apps for online transactions. But we know cash is still king here in the Philippines, so we recommend just stocking up on loads of patience the next time you find yourself looking at your watch, tapping your heels, and giving the guy taking way too much time at the ATM the evil eye.
Load More Stories