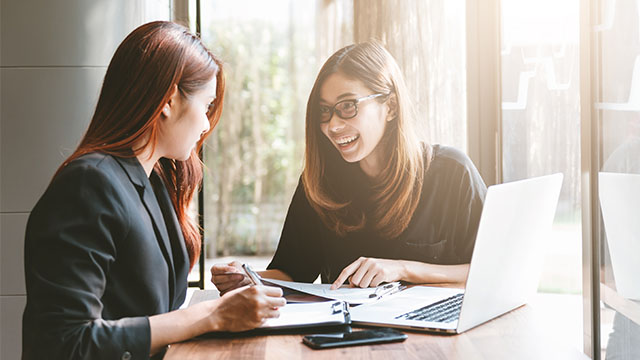 These days, jobs are more than just a way to make a living and pay the bills. People want to grow in their careers, and they're more likely to consider working for companies that make them feel valued. Companies that invest in other potential revenue generators are practical, but companies that invest in their own stakeholders—their employees, to be more specific—are hard to come by.
Investing in employees can be done in a number of ways, like through scholarships, training programs, and inclusivity, all of which JG Summit advocates across its business units. Through these initiatives, JG Summit employees are informed of the potential trajectory their careers can go, should they choose to pursue it. Take, for example, the John Gokongwei Institute for Leadership and Enterprise Development, which is a leadership program that keeps its employees always learning through courses designed for each leadership level.
Below, we list JG Summit's companies and the comprehensive programs each of them have for their top-performing employees, as well as scholarships and continuing education for hard-working students and professionals to help them excel and grow in their careers.
1. Universal Robina Corporation
Anyone interested in a career in the FMCG industry will benefit from the many programs offered by the Universal Robina Corporation. The three-month-long Leadership Assimilation Program aims to train newly promoted leaders and their teams so that they can work harmoniously and effectively.
The Excellerate Program is a six-month learning journey for senior leaders. Through this, they learn who they are and who they can become through assessments, team coaching, and structured learning experiences.
Lastly, the Revitalized Management Trainee Program aims to train future leaders and start their careers with URC.
2. Cebu Pacific Air 
Filipinos who have always dreamed of becoming a pilot can enlist in the Cebu Pacific Cadet Pilot Program. The pilot training aims to recruit and create 240 commercial pilots for Cebu Pacific Airlines to fulfill its expanding fleet. The integrated program lasts for 56 weeks and takes place in partner school Flight Training Adelaide in Australia, and upon completion of their training, cadet-pilots graduate as First Officers and join the pilot corps under Cebu Pacific. While the dream to fly an airplane sounds exciting, so is their "study now, pay later" scheme: Cadets have the option to attend flight school first and worry about paying tuition until after the program through salary deductions once they're employed by Cebu Pacific.
Non-pilot personnel of Cebu Pacific are also given growth opportunities through a mandatory, five-stage development program under Cebu Pacific University. This knowledge hub houses opportunities and continuous education in partnership with higher educational institutions, consulting firms, and technical and functional training schools in order for employees to develop their leadership skills and grow further in their careers.
3. Robinsons Land Corporation
Robinsons Land Corporation has created a three-month program for its Lease Management Trainees to produce Lease Officers in a short amount of time. It aims to impart the necessary skills and knowledge they need to handle negotiations and increase their productivity. They're also assigned a coach to guide them through their new career.
4. Robinsons Retail Holdings Inc.
The Supervisor's Enhancement Training (SET) program conducted under Robinsons Retail Holdings Inc. is a six-day workshop that aims to develop the soft skills of employees taking on supervisory roles. The program encourages supervisors to hone their creativity, people skills, and problem-solving abilities to manage customers and lead their teams more effectively.
RRHI is also implementing different programs that promote inclusivity in the workplace. In a mission to break barriers and foster inclusivity, drugstore chain Southstar Drug began a PWD hiring program in 2016. The job-matching process for PWDs is no different from the application process of all other applicants, and while they aren't given special treatment, Southstar Drug offers reasonable accommodations when necessary (for example, application forms with bigger font size). Providing jobs for PWDs can help them feel less limited by their own challenges and inspire co-workers to see PWDs as equals in the workplace.
5. Robinsons Bank
Robinsons Bank's learning and development are supported by its own RBank Academy, which ensures that every employee's learning experience is effective, engaging and relevant. RBank Academy offers training programs classified into four specialization areas: Self Mastery (Institutional), Sales and Relationship Management, Technical and Functional, and Leadership, where each module is designed and anchored on targeted competencies.
In September 2019, in its effort to deep dive into customer-centricity, RBank launched CX Fortified (CXF)—a module designed to create and strengthen a customer-centric mindset amongst employees. The goal was to ensure that each RBanker, regardless of rank and function, learns about the seven disciplines of a customer-centric individual. To date, only two months after its launch, RBank has reached almost 90 percent completion rate bank-wide.
6. 
JG Summit Petrochemicals Group
First-time leaders under Petrochem undergo the Foundations of Leadership Program (FLP)—an in-house designed program that has a modular approach that encourages learning. Participants, who are emerging leaders in the organization, attend a two-day core program focused on teaching different leadership styles that lead to better team climate and engagement. It is anchored on the research that 30 percent of organizational performance is attributed to the climate the leader creates and cultivates for his team.
Afterward, a series of half-day to day-long skills-build sessions are conducted, where the program participants share their learnings and the challenges they face. Complementary leadership skills to help them become more effective in their leadership roles, such as EQ, Performance Conversations, Owner's Mindset, Coaching, Change, Accountability, Delegating, Problem Solving, Influencing, and Planning/Organizing, are likewise taught.
To ensure the program's sustainability, internal trainers are accredited through a train-the-trainers workshop. A unique feature of the program is the sharing of experience by a senior leader who is invited and allotted time during the 2-day program. The senior leader's insights make the program come alive.
7. Summit Media
Having completed its full digital transformation last year, Summit Media continues to create data-informed quality content for its readers and craft effective and relevant messages for its advertisers on numerous digital platforms. This compelled a reskilling of incoming digital talent and upskilling of its current workforce to meet the needs of an online audience.
Under Summit's Digital Enablement program, initiatives were launched to enhance the skills of key groups and are done with internal subject matter experts to leverage their digital expertise. Employees interested in sales benefit from workshops on digital client servicing and product-specific modules such as Programmatic 101 and Selling Video. Creatives, on the other hand, are schooled on insights mining and native advertising under Summit StoryLabs, the company's brand marketing unit. These programs allow employees to gain a mastery of digital skills and thrive in the modern workplace.
Besides these training initiatives, JG Summit also offers scholarships under the Gokongwei Brothers Foundation (GBF), which is funded by brothers John, Johnson, Henry, and James Gokongwei. It currently partners with South Star Drug, JGS Petrochemical, URC BCFG, Flour, SURE and AIG, Cebu Pacific, Robinsons Land Corporation, Robinsons Savings Bank and Robinsons Retail Holdings, Inc. and external partners like Philippine Business for Education to deliver quality scholarship with education to employment path. Right now, it sponsors 500 active scholars.
As part of its commitment to education, the Gokongwei Brothers Foundation has also established the 4,000-square meter GBF Technical Training Center, which houses the TechVoc Scholarship for Mechantronics and Instrumentation under the Iskolar Ni Juan Programs. It serves as a continuing school where young engineers and technical professionals can further train and hone their industry skills.
GBF also aims to make a lasting impact on education by collaborating with the country's leading educational institutions and education partners to improve teaching, research, and best practices.
Much of your career growth depends on the effort you give and the company you work for, but you can only go so far in your career as your company will allow. JG Summit and its holdings value its employees by providing sufficient training they need to succeed by investing in their employees, emphasizing the value they give to them, and providing the environment and culture they need to help them excel in their desired professions.
Find out more about JG Summit Holdings, Inc. here.
This article is sponsored by JG SUMMIT CORP.