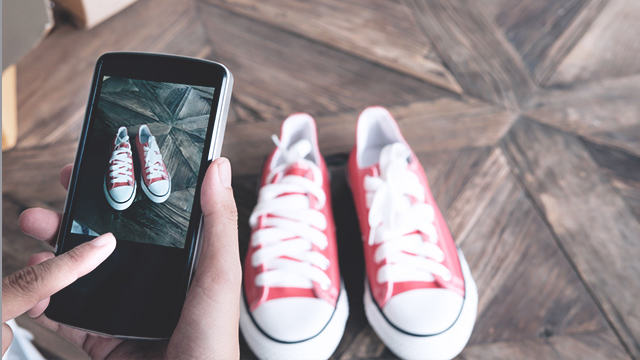 A breakup is not an easy thing to move on from, especially if it's caused by something unexpected, like a third party and a betrayal of trust. But as with any other tragedy, heartache can be turned into a weapon, a stepping stone, and even a profitable endeavor—if you have the guts and the humor for a not-so-usual form of revenge.
ADVERTISEMENT - CONTINUE READING BELOW
Thirty-one-year-old CeeCee, a law student and "TheHugotSeller" on the online selling platform Carousell, knows exactly how to make an investment out of a botched relationship: Sell your ex-boyfriend's stuff.
Her story started when her ex flew to Manila to surprise her. "Foreigner siya," CeeCee shared. "We were introduced by friends. Tapos he got here—parang he surprised me during the Bar. During the Bar, ha. In the middle of the Bar exam." This was back in November 2016, and it was her first time to go through it. "You know how people are in the Bar exam? 'Ako nandito lang ako huwag mo akong guguluhin.' And then here he comes, 'Surprise! I'm here!'
"Oh my god, what do I feel? 'I'm happy because you're here!' Sino ba naman… Ang ganda ko, 'di ba? Nilipad ako, guys! From the U.S. to the Philippines, nilipad ako! Girl! Pero sabi ko sa sarili ko, 'Oh no. Bar exam ito eh. This is my dream!'
ADVERTISEMENT - CONTINUE READING BELOW
Recommended Videos
The sudden visit pushed Cee to rearrange her schedule, despite the fact that she had to take tests every Sunday. "Gusto niyang i-meet parents ko. My parents are in Mindoro. I had to bring him to Mindoro and introduce him to my parents. And then sabi niya, 'I'll come back in January. We'll fix everything. We'll plan the wedding.'"
CeeCee admitted to being caught in a whirlwind romance with a man she had been dating for eight months. "Bumalik na kami ng Manila, nag-exam ulit ako the next Sunday… Sobrang distracted ako! Hindi ako nag-aaral, sabi ko, ''Di bale na, bahala na! Love muna! Bakit ba? Ang Bar puwede kong i-take ulit, pero siya baka mawala.' Gan'un 'yung una kong mindset."
She already had a wedding song in mind. Whatever happened, she promised herself that she'd walk down the aisle to the tune of "Makita Kang Muli" by Sugarfree. The lyrics, she said, pertained to their long-distance relationship, and at that time she thought it was perfect.
ADVERTISEMENT - CONTINUE READING BELOW
Her story was almost like an Angelica Panganiban movie, and as it was with many of them, there was a point where everything just went down the drain: Her ex flew out, and two weeks after, the fights started.
"Sabi niya, 'You're too far, blah, blah, blah, blah…'" The breakup happened just after her Bar exams and she was one of the last people to find out. "Meron siyang ni-reveal through his Facebook without telling me, without communicating with me… Merong nakalagay na lang diyan na, 'In a Relationship' with another girl, another Filipina.
"So parang ako, 'What? I thought it's tayo?' Like Angelica Panganiban levels. I was trying to call him also, pero hindi ko na mahagilap. Tapos minessage niya ko, and he was saying, 'Yeah, I was meaning to tell you but you were taking the Bar, ganyan-ganyan,' or parang 'This wouldn't have happened if you weren't far from me, blah, blah, blah, blah.' Kasalanan ko pa!"
ADVERTISEMENT - CONTINUE READING BELOW
The worst part was she failed the Bar exams, so in true Angelica fashion, she escaped to Baguio. "I really shouted there—pero hindi na ako umabot ng Sagada. Banaue Rice Terraces lang. I was really shouting there. Totoo 'yon.
"I did everything! That's when I learned diving. I did it for myself. Sabi ko, 'Bahala ka sa buhay mo, I can do this.'"
When CeeCee finally came back to Manila, she realized that somehow, she managed to piece herself back together. When she saw the things that her ex-boyfriend left, she decided not to throw them out as any woman scorned would. She needed the money, so she sold them online.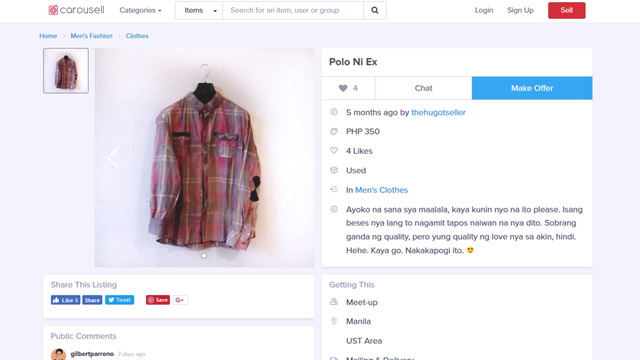 ADVERTISEMENT - CONTINUE READING BELOW
"Actually, may mga regalo 'yan sa 'kin, pero hay nako ang mahal, ayokong ibenta," she joked. "Sayang nga hindi umabot 'yung engagement ring eh, eh 'di sana mas mahal! Mas gusto ko sanang itago tapos ibenta!"
Selling on Carousell was therapeutic for her, as it was for 58.9 percent of Filipinos who were willing to sell their ex's items for extra cash; but while it wasn't her main crutch for moving on, it helped her realize that she had indeed turned a new leaf.
"Imagine, taking pictures of those. Hindi madali 'yon kung hindi ka pa nakaka-move on. Imagine, like, writing captions about it. That's not gonna be easy if you haven't really moved on. So 'yon, mas na-realize ko lang… na 'Ah, okay. Move on na ako.' Nakakatawa na ko. Nabebenta ko na 'to na nakakatawa na siya sa 'kin. Ayon, that's how it felt."
ADVERTISEMENT - CONTINUE READING BELOW
As for the money she got from her ex's stuff along with the other things that she didn't anymore need: "It was able to fund me for the Bar exam. I didn't make it at first, so I can't ask money from my parents and I can't work. Kasi the Bar exam's super demanding. It's like a jealous mistress—if you do anything other than it, it's going to kill you. So 'yon, nagbebenta ako… I took it last November. I'm waiting for the results ngayon."
CeeCee's story isn't only a great basis for the next hit romance movie, it's also a lesson in finding your own person and making the most out of a painful situation. "[Selling] doesn't require much of your time, but it makes you busy," she said. "It's a distraction from the moving-on process. Instead of doing a lot of things to move on, do this, and then all of a sudden—'Ay, move on na pala ako. Ay nakalimutan ko na siya.'"
ADVERTISEMENT - CONTINUE READING BELOW
Load More Stories