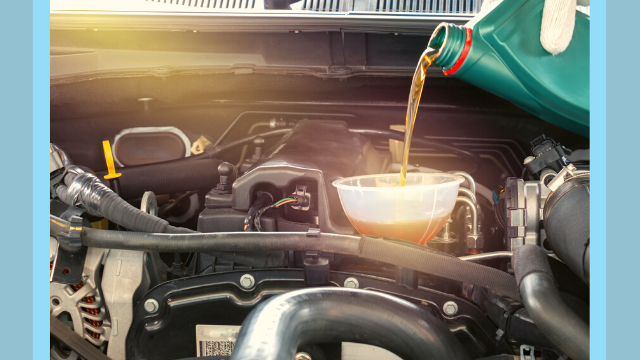 Having a car has a lot of benefits. With our traffic situation getting worse, having a ready ride is still better than enduring the long lines of the MRT, the sprinting to get to jeeps and buses, or enduring two hours of trying to book a ride. And when you need to get somewhere in a hurry, nothing beats the privacy and convenience of your own vehicle.
ADVERTISEMENT - CONTINUE READING BELOW
Of course, owning a car comes with costs, and that's why it's important to care for it so it won't conk out on you at the most inopportune moment. It goes without saying that checking the water in the radiator, oil in the engine, and air in the tires are the most basic things to do regularly but sometimes, there are things that are beyond your expertise. You can learn how to change a tire sure, but for most of us, changing the engine oil is something else.
That's why you should know the number of a talyer near your house that you can trust.
If you have a new car, sure, by all means, go to the casa. Casas provide complete service for your vehicle and trained mechanics and technicians check every single part of the car to make sure it's roadworthy when they release it. A casa maintenance check up, however, may take a few days and could cost you up to P15,000.
Sometimes it's just a 12,000km check up with change oil. No real parts replaced or repaired, but the cost is still around that amount. Sometimes you're in an emergency situation at home and the casa is far away. Who comes to the rescue? Your trusty talyer.
For older cars, even those that are just a few years out of warranty, having a talyer you know and trust is a great boon. Aside from the abovementioned emergency situations, having a group of people who know your car inside out and can determine what's wrong just from driving it around the block a couple of times can save you a lot of time and leaves the guesswork out of the whole thing. Did we mention you also save a lot of money?
We talked to the owner of Forcedspeed Motorsports, a talyer along Kamias Road in Quezon City, about the cost benefits of having a talyer on speed dial. Jeffrey De Leon, or "Boss Jeff" as he's known by the regulars, has been fixing and modifying cars as a professional mechanic for 17 years and the shop has been open to the public for three. Before that, he only offered his services and expertise to a select group of customers and their referrals.
ADVERTISEMENT - CONTINUE READING BELOW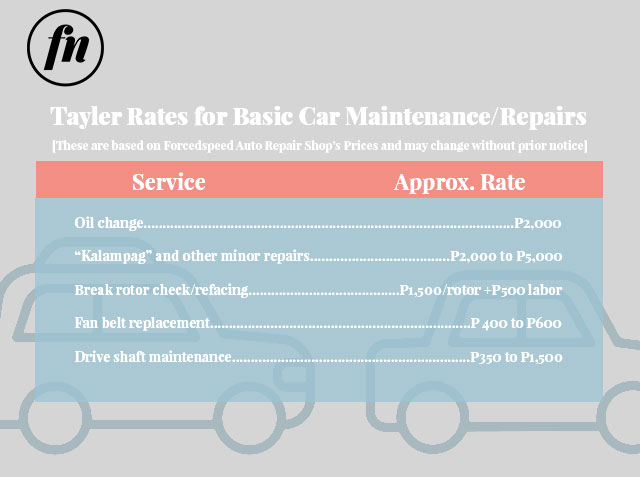 According to Boss Jeff, the usual concerns first-timers have when they come to his shop would almost always be maintenance related. Most customers who avail of oil change services are charged around P2,000. It's definitely cheaper than having it done in a gas station (around P3,000) or at the casa. Other customers take their under chassis concerns to the shop. From minor kalampag to more serious work, these repairs can run from P2,000 to up to P5,000 depending on severity. 
ADVERTISEMENT - CONTINUE READING BELOW
Of course, having your car checked at the first available opportunity lessens the risk of problems getting worse and getting more expensive. Having your brake rotors checked is a must after your car's warranty period expires, and auto repair shops can do that for you. If it has shown signs of wear, you may have the option of having it refaced, a term mechanics use when they take the brake rotors to a heavy duty sanding machine to remove irregularities on the surface and make sure that your brake pads make contact on the widest area possible. The service can run you about P1,500 per rotor with P500 labor.
Fan belts are another car part that may unnerve first time car owners, especially when it starts to give you its warning signs: high-pitched whining when you start the car then fades away or a persistent whirring sound when you drive the car. Boss Jeff says the belts can be re-attached if they are still thick enough but if it's come to the point where it's making sounds, then replacement is the only option. Serpentine belts cost P600 while the normal version is P400. 
ADVERTISEMENT - CONTINUE READING BELOW
Another symptom a car may display to let you know it needs a trip to the auto shop would be an issue related to the driveshaft. This piece of hardware is the component that transfers torque (spinning power) from the engine to the wheels. Since it spins at high speeds, it needs to not vibrate in order to be as efficient as possible.
When there are strong vibrations throughout the vehicle, or there are abnormal grinding sounds or you notice it's harder to turn the car, it might be a driveshaft issue. Boss Jeff says early detection is the key for your car and your wallet's well-being. Re-greasing the bearings inside the mechanism only cost P350 with labor. Repacking the axle can run you P1,000 but that step comes with checking the bearings and greasing them anyway, so you're paying less than P1,500 for peace of mind.
ADVERTISEMENT - CONTINUE READING BELOW
Brakes, fan belts, and driveshafts are just some of the common issues motorists have in terms of maintenance. It would be wise to have these components checked the next time you come into your favorite auto shop for an oil change. For fan belts: when they snap while the engine is on, can run you the risk of wrecking your whole engine, and replacing the whole thing may be a better option than checking and replacing parts that broke as a result. The cost can easily run up upwards of P100,000 and that's not considering the availability of the engine parts.
The same can be said for the driveshaft. Replacing the whole assembly can run you hundreds of thousands of pesos outside of the fact that you will be without a working vehicle for a few weeks. For brakes, the consequences of leaving problems and symptoms untreated can get you into accidents. 
ADVERTISEMENT - CONTINUE READING BELOW
Having a talyer that you can rely on isn't just for convenience. Befriending the mechanics and actually making an effort to remember the problems you've encountered or the sounds you've heard (and there they seem to come from) will help you out in understanding how cars and their parts work together. One problem, if left unchecked, can definitely affect other parts of the vehicle, making it more costly to fix. Just like our bodies, preventive maintenance in cars is better for you and your wallet because repairing or replacing a small part is miles better than replacing big assemblies. That's where your trusted auto repair shop comes in. As a trusted client of the shop, you'll have priority and you'll be secure in the fact that when the job's done, you'll be ready to brave the traffic without that noisy fan belt worrying you to the bone!
ADVERTISEMENT - CONTINUE READING BELOW
Forcedspeed Auto Repair Shop is located at 081 Kamias Road, Quezon City
Load More Stories