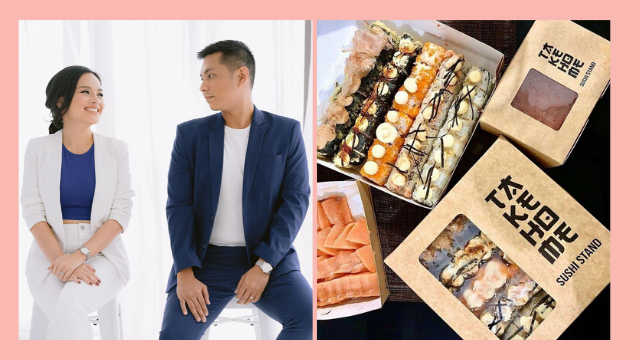 What do you do when you and your husband share a love story that sounds like something out of a Taylor Swift song?
ADVERTISEMENT - CONTINUE READING BELOW
Start a business together—or at least that's what food and beverage specialist Kelly Parreño-Librojo and her husband, Dr. Miguel "Migo" Librojo, did.
The couple met, dated, and broke up in high school. Then they met again as adults and worked on their second chance at love while setting up several businesses, including the 16-branch Ta Ke Ho Me Sushi.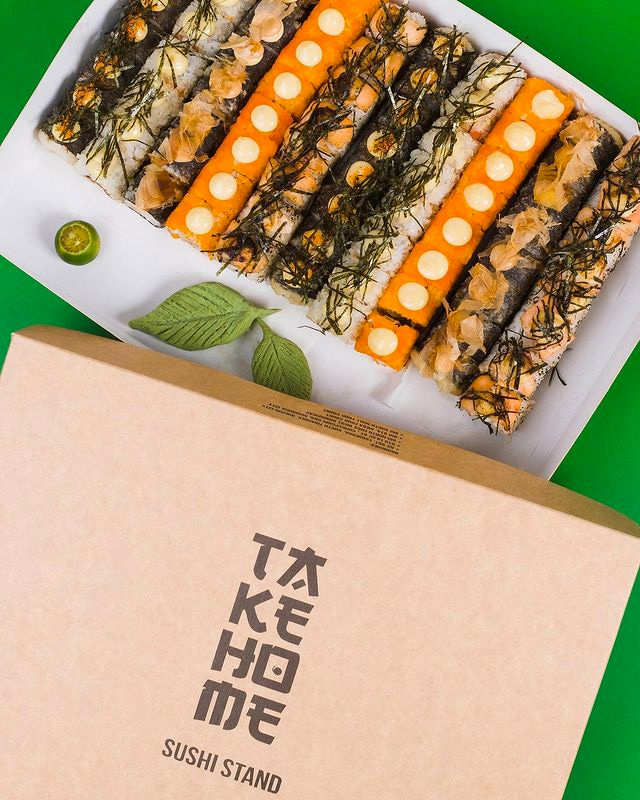 ADVERTISEMENT - CONTINUE READING BELOW
Recommended Videos
Keep reading to find out how this couple makes sure all is well in love and business.
A Teen Romance Worthy of Love Songs
Theirs is a meet-cute straight out of a Disney movie. In fact, we wouldn't be surprised if the soundtrack to their teenage romance featured Demi Lovato and the Jonas Brothers.
"It was my high school fair in Miriam [College]," Kelly explains. "Migo's from Ateneo, so our schools were like neighbors. I was tasked to man the soda booth. Migo was with another friend. They went up to me, and they were asking the usual questions—what's your name, may I have your number? Then I said, 'Okay, I'm going to give you information as long as you buy soda from me.' So I think he ended up buying seven sodas!"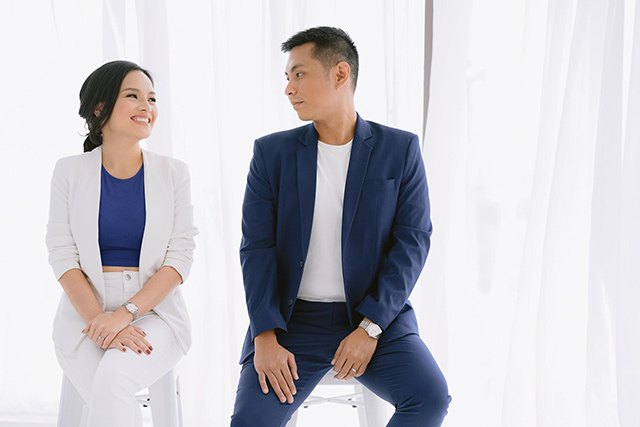 ADVERTISEMENT - CONTINUE READING BELOW
Miguel laughs at the memory. "Yeah, because it was one soda per question!"
Kelly's unrepentant about her business-mindedness. "So he wanted my name, he would buy one soda. He wanted to ask for my number, he would buy another one."
Was it love at first Sprite? Maybe not, but Kelly says they got together very quickly. "I think in the same year, we were together, then the whole sophomore year. But we broke up before we reached our junior year."
"She was my first girlfriend, I was her first boyfriend!" Miguel says proudly.
"We never fought in high school," Kelly remembers. "It was like all butterflies and rainbows and all of those nice things!"
Breaking Up, Then Making Up… Years Later
Even after they broke up, the couple says, they remained friends—"Or, well, Friendster and then MySpace friends!" Kelly jokes.
"And then when Facebook became a thing, I'm not sure who added whom, but we remained friends and sometimes we would still see each other randomly. Because our high school circles were quite small, so we would bump into each other…. Like there was this one time when I was with another boyfriend and he was with another girlfriend."
ADVERTISEMENT - CONTINUE READING BELOW
They ended up in different universities, with their paths diverging even further.
Kelly took up hotel and restaurant management and majored in culinary arts at a local university before taking a double degree at the Emirates Academy of Hospitality Management in Dubai. She moved on to spend some time in California and then Singapore.
Miguel held up the family tradition. "We're a line of dentists," he says. "My father, my lolo, and my great-grandfather, then me. So it's in our family."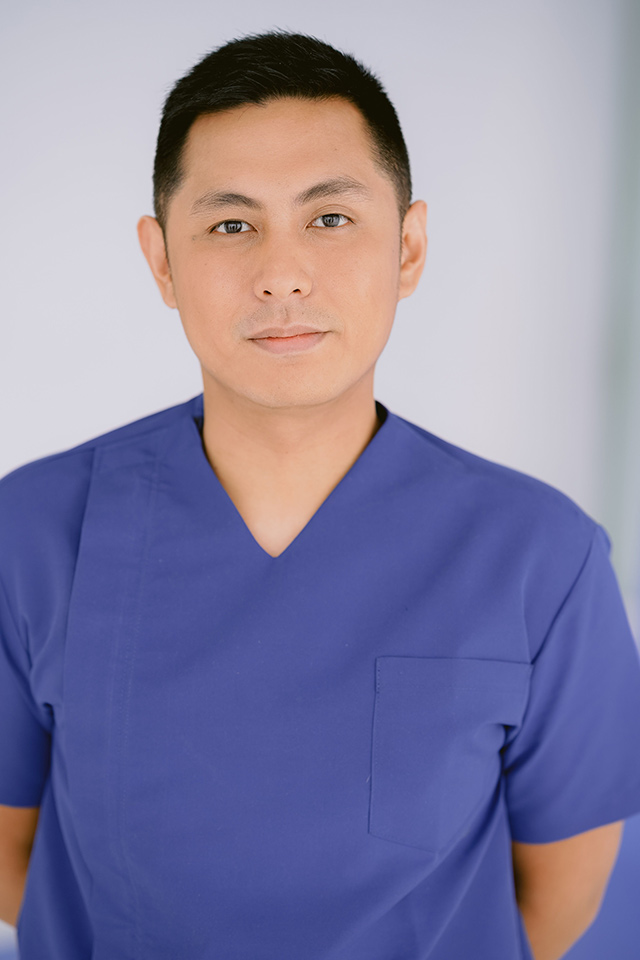 ADVERTISEMENT - CONTINUE READING BELOW
In 2015, fourteen years after they first met, Kelly and Miguel found their paths crossing once more. It was at a party they both attended while she was on a visit home from Singapore.
"I'd decided to try to go back here," Kelly says, saying that she had been having some doubts about what she wanted to do in life. "I was like, maybe I'll just live in Manila for a few years and figure things out from there. And then I bumped into him! You know, the friend he was with was the same friend from when we met in high school."
The serendipity didn't end there. "It was my last night in Manila. And my flight was an early morning flight. And so we were drinking, having fun. And then Migo was there! My siblings were also there—he met my siblings when they were still babies! And my siblings were like, 'oh, why don't you just get back together?' So it started as a joke. And then all our other high school friends who were also  there [got in on it], and mind you, I still had a boyfriend back then!"
ADVERTISEMENT - CONTINUE READING BELOW
Kelly's sister made a point of telling Miguel she didn't think Kelly was happy and that they were probably breaking up soon.
"And then Migo was like, 'Well, in a perfect world, we'd still end up together. But maybe it's not time yet.' And my sister was like, 'Oh my gosh, where did that come from?' So now we make fun of him for saying that."
"She had a boyfriend," Miguel explains, in a bid for manly dignity. "I was single, and I didn't make a move at that time because I respected the guy."
Kelly went back to Singapore, but she ended up deciding almost immediately to come back to Manila for good. "It actually made me think like, what am I still doing here? 'Cause I've been traveling since 2008, and I hadn't really been back home since then. I just felt that I wasn't really in the right place anymore. So I decided to just leave everything behind, like that rocky relationship, my job there—everything. I went back here and pretty much started everything again."
ADVERTISEMENT - CONTINUE READING BELOW
Three months after that fateful party, Kelly was single and back in Manila. And another romcom-worthy moment happened just one month after that.
"My best friend was visiting from Canada, and we got drunk," Kelly says, smiling sheepishly. "So I drunk-texted Migo and asked him out. And then he showed up! And when I sobered up I was like, 'Oh my God, what are you doing here?' So yeah. That kind of happened."
As before, the two were quick to commit. Within another three months, they were boyfriend and girlfriend again. And one month later, they started their first business, Fair Grounds Organics, where they sold peanut butter and sugar at bazaars and online.
The next year, they started their first Ta Ke Ho Me Sushi shop, only to find themselves opening several more branches. "We were really, really so busy in 2016. And then we started planning our wedding even before he proposed to me. In 2017, on my birthday in February, he proposed."
ADVERTISEMENT - CONTINUE READING BELOW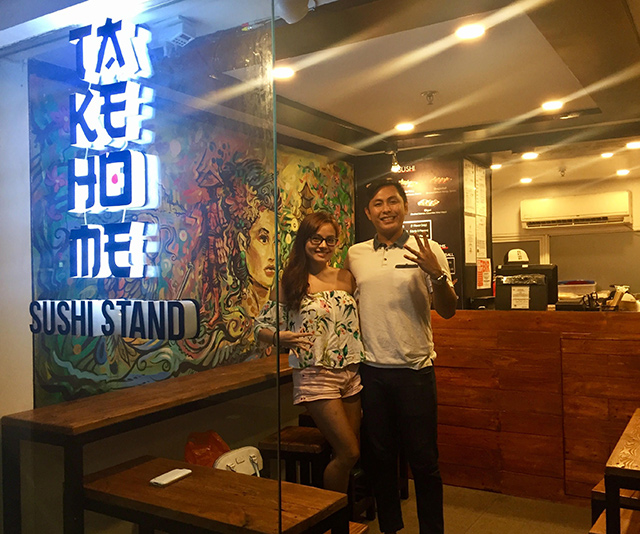 "We actually got married three times!" The couple had their civil wedding in August 2017, followed by a Catholic wedding and a Christian wedding later the same year. Two years later, they were parents.
"We have a two-year-old son named Luch who has unlimited energy, and we plan to have one more, hopefully soon," Miguel says.
ADVERTISEMENT - CONTINUE READING BELOW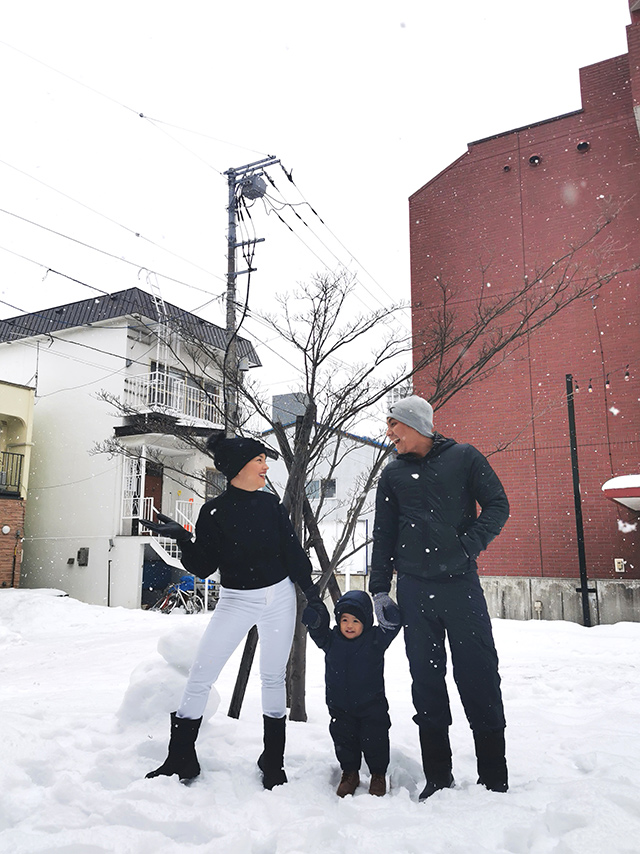 Equal Partners in Love and Business
"Butterflies and rainbows" may have characterized their first shot at love, but Miguel and Kelly's second chance was a bit of a bumpier ride.
"Oh, it was so hard to do business together when we were starting out," says Kelly. "We started Fair Grounds Organics early in our relationship, named after the place where we first met, and it was really manual labor. We didn't have staff and we had to do everything on our own, so we would clash. Both of us were trying to do so many things at once and there was no proper delegation of tasks."
ADVERTISEMENT - CONTINUE READING BELOW
Still, with a little help and a lot of work, they managed to get on the right track. Kelly shares, "Our business mentor once told us to always have clear distinction of tasks to avoid unnecessary conflict. We started communicating better, and we would assign tasks based on one's strength to maximize time and energy. It is also important to draw a line between being personal and professional."
"When we disagree in business, sometimes it gets carried over to tampo," Miguel says. "We just make sure not to go to bed mad at each other."
The couple is also quick to point out a few perks to being business partners.
"One advantage is that we both work to achieve a common goal, we are aligned," Miguel points out. "We do goal-setting dates twice a year and it guides us on the path we want to take not only in business but also as a married couple."
ADVERTISEMENT - CONTINUE READING BELOW
"The major advantage for me is the fact that we are so comfortable and we basically know we can support each other," Kelly says.
Their history can only make this power couple stronger. For example, a shared grief and desire to honor their loved ones was the root of a winning business concept. "Ta Ke Ho Me Sushi was inspired by our late mothers' love for sushi. Migo and I both lost our moms to cancer more than a decade ago, and we wanted to honor them by starting a business together in memory of them."
Kelly goes on to share, "I remember my mom telling me that she and my dad used to save up money to go on sushi dates since Japanese food has always been pricey. We wanted to bridge the gap between cheap bilao sushi and the ones from expensive Japanese restaurants. The concept is fresh and healthy fast food that's affordable and can be consumed while on the go."
ADVERTISEMENT - CONTINUE READING BELOW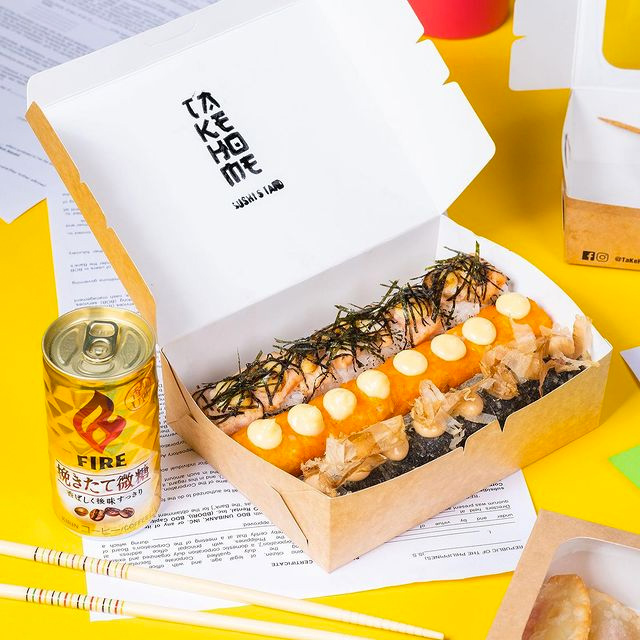 Ta Ke Ho Me Sushi opened its first branch in Quezon City in April of 2016, and in the years since, they have expanded to sixteen branches around Metro Manila as well as nearby areas like Pampanga and Olongapo, Zambales.
ADVERTISEMENT - CONTINUE READING BELOW
They are known for their affordable price points (you can get an eight-piece sushi roll for just PHP 99) and their deep-fried sushi. Kelly laughs about this, saying, "I'm a chef by profession. I was like, I would never, ever fry sushi. But we have two fried sushi on our menu! And now those are our best sellers. Two years in, I was doing all the stuff that I promised not to do."
Their businesses and the work they put into them also presented them with opportunities to expand. Miguel brought this entrepreneurial spirit to his dentistry, and the couple started a business importing high-quality dental implants from Israel. Difficulty sourcing nori (dried seaweed) for their sushi stand led to them finding a supplier and then distributing these to other businesses as well. Foodie trips that have let them indulge in the name of research also led to their latest endeavor, launching carbonated cocktail Rio Strong in the Philippines.
ADVERTISEMENT - CONTINUE READING BELOW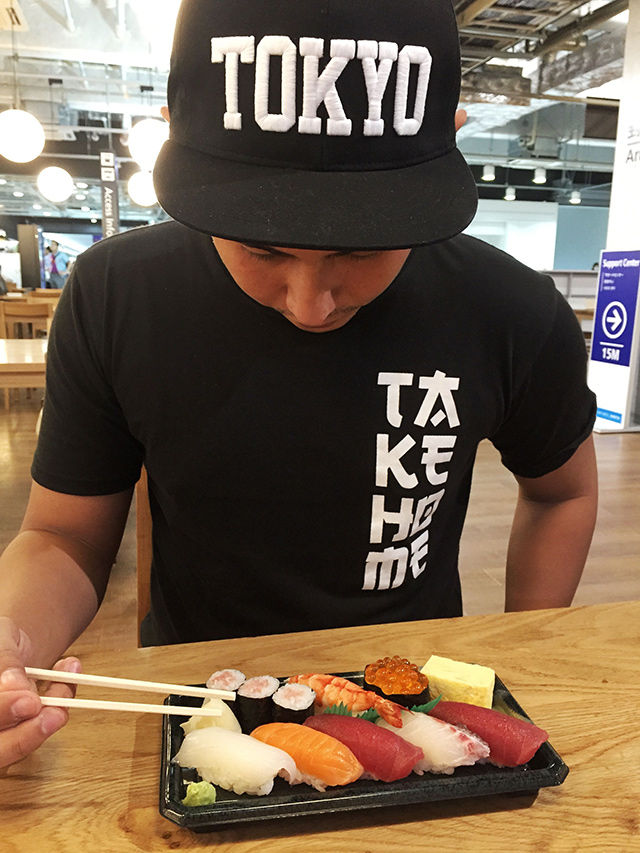 Finally, Kelly and a friend based in Singapore developed a line of bacon-based snacks, which they launched in 2018. Baken products include bacon chips, bacon brittle, bacon jam, and bacon cookies. Their success in Singapore has the business slated to launch in the Philippines, Taiwan, Australia, and New Zealand soon as well—we should see Baken treats in the country this year.
ADVERTISEMENT - CONTINUE READING BELOW
While their efforts have undeniably rewarded this couple, they are frank about the challenges starting a business can pose, especially when partnering with your spouse.
When asked what they might say to other couples looking to become entrepreneurs, Miguel jokes, "Are you sure you want to?"
"It's a lot of work," Kelly says. "You just have to really put time and effort into it."
Miguel advocates discipline and knowing your priorities. "Kidding aside, it's doable as long as both of you make sure that you set boundaries. Make it a point to put your relationship over business."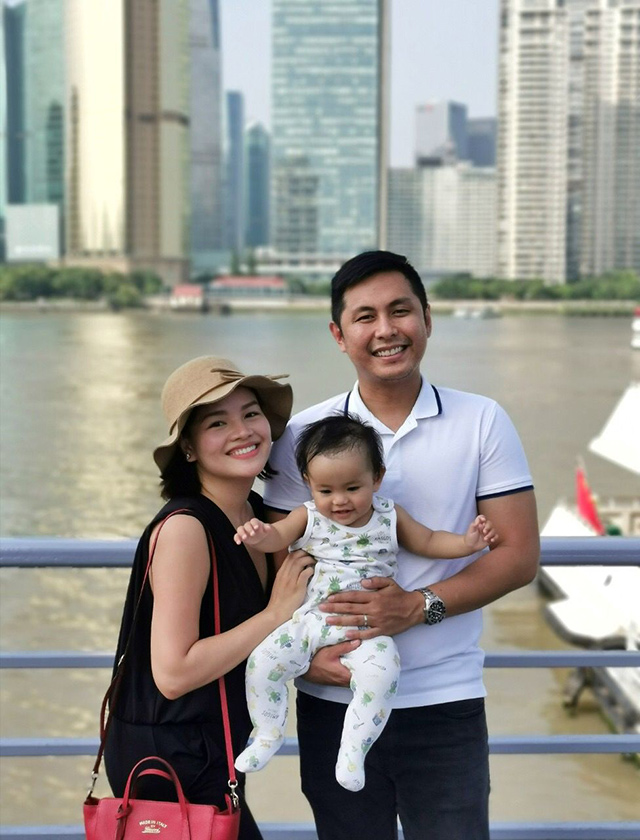 ADVERTISEMENT - CONTINUE READING BELOW
Kelly agrees wholeheartedly. "This, your business, could fail, right? And marriages can also fail. So choose your battles [and ask if you'd rather] have a failed business or a failed marriage. Or both."
She stresses the importance of talking to each other. "Communicate openly always and in all ways. Respect your partner and strive to still grow as individuals. It easier to salvage a damaged business than fix a broken relationship."
Female Network is now on Quento! Click here to download the app and enjoy more articles and videos from Female Network and your favorite websites!
Load More Stories