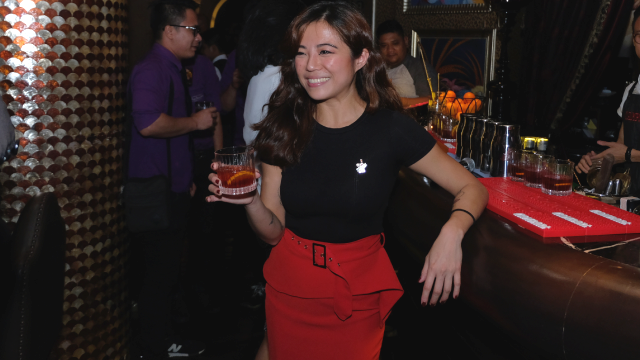 Singapore-based, Malaysian bartender Sympony Loo's beginnings are as interesting as the  Negroni she serves ("3 cl. Campari3 cl. Sweet Red Vermouth—Campari recommends 1757/Cinzano—3 cl. Bulldog Gin, garnished with an orange peel"). Her name, she says, has been decided on long before she was born, and how it came about was actually quite pragmatic.
ADVERTISEMENT - CONTINUE READING BELOW
"My name was not influenced by music," she starts. "We came from a very quiet, poor family, and my dad used to work part-time while studying in Malaysia. So if you can research Symphony Computer Software…" She laughs, implying that she was actually named after the company her father worked in, explaining how he had master his English pronunciations. "He struggled so much to pronounce 'Symphony.' He tried to learn this word to sell the computer software to his customers." And when he finally learned how to say it right, "He was like 'One day, when I have a child, I will name him or her Symphony.' It was not romantic at all!"
But in reality, there's something romantic about becoming a bartender. From this career's humble, historical roots which has been elevated into a very specific form of art through the centuries, bartenders are often seen as alchemists—sometimes even psychologists—to those who come to their table.

"I had a good mentor," says Symphony who works at the Four Seasons in Singapore. "He [taught me] not just how to make drinks, but how to be a bartender."
She recounts how her love story with the F&B started: her mother's family ran a Chinese restaurant, and as a child, she had always enjoyed being in the kitchen.
"I love cooking. Maybe [it's] part of my blood… I love ingredients. I love to smell, I love to touch ingredients, that's me. So what made me join them is that I'm really passionate… It's not just about—to make drinks. It's about creating something different."
Her passion has brought her to the frontlines, later on becoming the face of Campari, a classic brand with a long-standing history. In fact, she was recenly in the Philippines to help promote Negroni Week which happened from June 24 to 30. The goal was to invite bars, restaurants, and other food establishments (whether starting out or already established), to create their own Negroni variations and submit them to the Negroni Week website. Each submission is equivalent to a donation to a specific charity—and donations are still being accepted until now.

ADVERTISEMENT - CONTINUE READING BELOW
Not everything was peaches and cream for Symphony, however, as she admits that it was difficult to start out in the industry, especially one that was as male-dominated as bartending.
"I started five years ago in Singapore, we only had six female bartenders. We had to support each other. We just wanted to make what we love. It was tough to be honest," she shares. "I still remember I had a customer reject me to make [his] drink. I was training in the Martini Bar within Four Seasons by Javier de las Muelas—they're very famous in Barcelona...

"So I was in the Martini Bar, and the customer rejected me to make [his] martini. He didn't say 'male,' he said, 'No, do you have any other colleagues?' 'What do you mean? Yes, I have colleagues.' 'Do you have any men bartenders?' I was like, 'Okaaay...'
"That was five years ago. It was tough, but I think one thing I have to say is you just need to follow what you like. Don't overthink that it's always male dominated—yes it is—but you do as much as they do, it will be equal."
ADVERTISEMENT - CONTINUE READING BELOW
Interestingly, the same customer has become a patron years into her practice. "He followed me from Four Seasons to the Cufflink Club… He became our investor who funded the group I used to work [with]."
Symphony seems to be the kind person who takes things in stride and who creates every drink with love. "The idea of I can actually improve a recipe to the right client...that was my motivation, until today." And to those who wish to seriously get into bartending, she waves away the wrong notion that it's only for the young.
"You can always start later," she says. "I don't think there's a maximum age to learn bartending, but if there's one thing you have to always remember, F&B is very tiring. It's a limitation on yourself—if you can still hold beer kegs, then go ahead."
Load More Stories