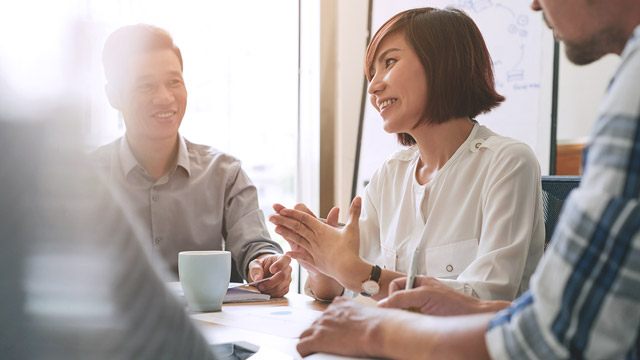 There's this belief that promotions are hugely affected by the amount of time spent in the same company—the longer you're on board, the higher the probability of you going up the corporate ladder. But while tenure is a factor, a recent report by Seek Asia in which Jobstreet.com.ph represented the Philippines notes that tenure only comes in fourth when employers decide on someone's promotion, with the greatest factor being leadership skills.
ADVERTISEMENT - CONTINUE READING BELOW
Interestingly, the same report notes that while "rewards for promotions [include] salary increments of an average of 20%" (which is the second highest in the Asian region), only 43% of those who are given higher positions are also granted additional benefits such as additional allowances, car plans, and others.
CONTINUE READING BELOW
Recommended Videos
Promotions generally happen around 32 months from when you were given your current position, so you may want to check with Management if you've been stuck in the same position for more than four years without any mention of career growth. Here are a few ways on how you can possibly get that much coveted corner office.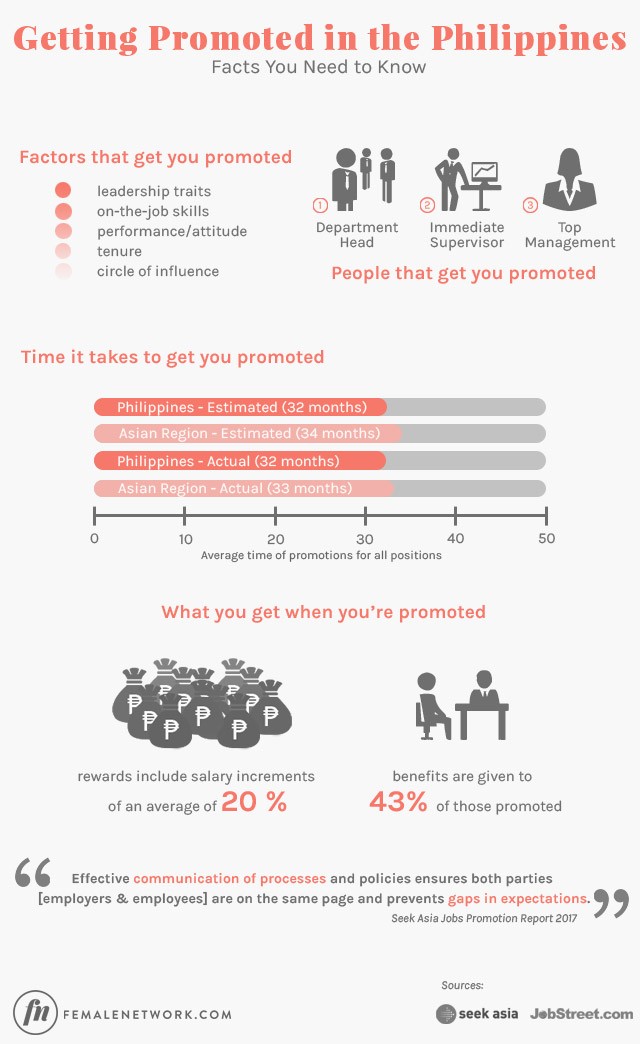 ADVERTISEMENT - CONTINUE READING BELOW
Know who you should be talking to.
And we're not talking about connections, as Seek Asia has cited that "having influential friends or relatives do not help with promotions." Even if you know people who got in the company through the people they know, don't feel too bitter about it—it only means that they have more to prove with less to work with. Employers in fact like to play fair when it comes to promoting people since after all, putting someone in top management can make or break a company.
If you're gunning for a promotion, best talk to the people who you know can help you with it, but don't suck up. Instead, sell your wares and offer what you can skill-wise. Whether it's your department head or direct supervisor, putting yourself on their radar and showing how much of a value you are to the team can help boost your chances of forwarding your career.
ADVERTISEMENT - CONTINUE READING BELOW
Stop doing too much overtime work.
Contrary to what most people think, putting in additional hours a day does not give your career as huge a boost as you would want it to. Employers are into people who are productive than those who are busy: It means that they get things done by using their time in the office efficiently instead of running around without clear priorities in mind. So instead of looking like a martyr and being the last to leave work, do as much as you can during your shift and leave as soon as you finish your hours. Aside from showing your managers that you're capable of handling a lot within a set timeframe, you're also giving yourself enough time to enjoy your personal life.
Learn to handle responsibilities early on.
As leaderships skills are held in high regard by Management, then you need to understand that wanting to move up the corporate ladder also means stepping up your performance. Seek Asia says that "employees across the [Asian] region link increased responsibility and expanded job scopes to promotion." Aside from doing your best with your current job description, you'll also need to accept that at some points, you'll need to handle other tasks beyond that. This isn't to say that you'll say yes to your employer even to the point of abuse—you'll need to talk to HR if things are starting to get unfair and uncomfortable—but doing a few things beyond what you normally do and doing them well can show your bosses that you're really ready to take on additional responsibilities.
ADVERTISEMENT - CONTINUE READING BELOW
Load More Stories