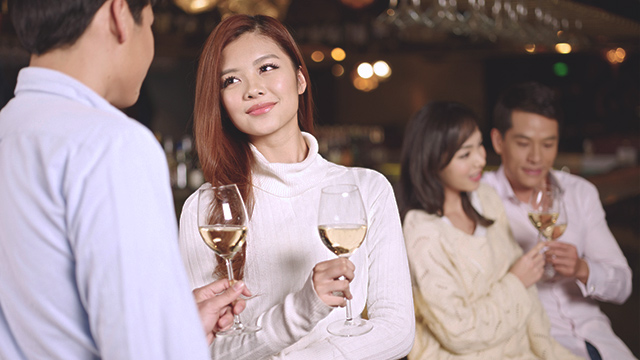 This new year, don't be afraid to socialize and meet new people. Networking is an important part of your personal and professional life, after all. So let's start with facing the fear of going out, because it's real. 
ADVERTISEMENT - CONTINUE READING BELOW
It's a common misconception that socialization should come naturally to people; social anxiety ranks among the top mental health disorders that manifest in 30-something-year-old women. (If you're not sure what we mean, think of it like stage fright before a social event or after an unexpected turn of events.) Thanks to the responsibility that comes with being an adult and the pressures of social media, the crippling effect of anxiety can really take its toll. Now is a good time to remember that you're not alone and you can get professional help when anxiety keeps you from doing the things you enjoy and have to do.
For those days when you need the tiniest, littlest nudge to get your foot out the door, though, just tick off these three basic rules to looking more refined at social gatherings and, trust us, you won't have to worry about much else!
CONTINUE READING BELOW
Recommended Videos
1. Google it
The truth is that it's not cool to be unaware in this day and age. Prepare yourself for the socialization by Googling the Who, What, Where, and When of the event to show that you care. Don't take the old school invitation for granted as it should have the purpose of the event and the dress code, too. 
Your boss is hosting cocktails for a non-profit organization she loves? Expect a small gathering and the likelihood that you'll be standing, so wear comfortable shoes. (It always helps to choose the right height of shoes for the kind of event you're attending.) Read up on the cause. Maybe think of up to three things that you find interesting or want to learn about their work. Whether you end up speaking to your boss or a volunteer, it shows that you're not just attending for the free booze and pass-arounds.

FN TIP: Set a goal for yourself. It can be as simple as, "I'll stay here for one drink with my team." That will help you manage the time and energy you expend at the event so you can at least relax while you're there. Or it can be, "I want to meet someone I can learn from and talk business with at this event." That can really motivate you to turn on your charms and actually enjoy yourself!
ADVERTISEMENT - CONTINUE READING BELOW
2. Fit in
...into your clothes, that is. Looking sharp and presentable is key to these networking events, and it won't matter what brand of outfit you're wearing as long as you can look polished. It helps to invest in a go-to pair of dress pants that are the right length and cut to always look professional and to show that you came prepared. At the same time, don't be afraid to be stylish and show off your personality.
Layer and play with textures in your look, or plan your OOTD around one or two statement pieces that you want to highlight.
FN TIP: Spray on some dry shampoo. It's a godsend for those times when you want to look put-together, but not right out of the salon. It's the perfect beauty product to get an easy chic tousled look! Keep your eyebrows in check and add some color to your lips, then your hair can frame your pretty face.
ADVERTISEMENT - CONTINUE READING BELOW
3. Be present
Remember that you're responsible for the energy that you bring into a room. Walk in with confidence and calm, not with the feeling that you can't wait to leave. That being said, start the event by looking for the host and greeting them. Let them know you made it and say something pleasant. (Remember the research you did before coming? That comes in handy now!) After the greeting, it's okay to grab some refreshments and start mingling. Look around, don't be afraid to make eye contact, and smile. If you're relaxed, people around you will be relaxed.
FN TIP: Take photos and use the hashtag, but don't stay on your phone the entire time. Hosts always appreciate guest content about their event. On this alone, you could get another invitation and be well on your way to a healthier, more active social life!
ADVERTISEMENT - CONTINUE READING BELOW
Load More Stories