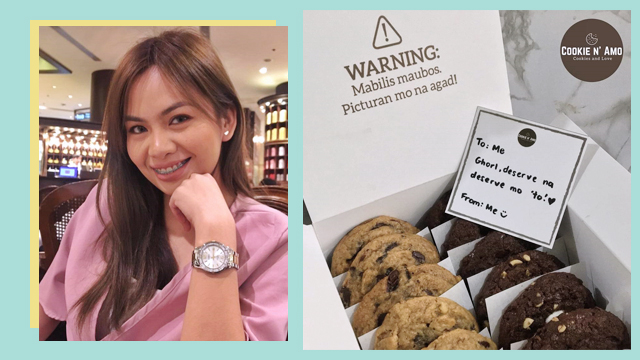 After losing her job due to the pandemic, 28-year-old teacher and bride-to-be Kath Vicente and her fiancé started their witty cookie business, Cookie N' Amo, during the pandemic. Ahead, she shares her story with Female Network:
ADVERTISEMENT - CONTINUE READING BELOW
I'm Kath, a professional teacher, and a soon-to-be Mrs. Before the pandemic, I was teaching pre-kinder students at a private school in Quezon City. I'm also planning my wedding this coming December and that's what kept me busy at the start of 2020.
Other than being a teacher, I bake occasionally, usually for family and friends but most of the time for myself because I love to munch on snacks, cookies in particular. At dahil gutumin talaga ako, I want and need to satisfy my sweet tooth. Most of the time, my friends would always request me to bake.
Why I started my business
Unfortunately, the school I was teaching at decided to make retrenchments. This gave me more time to plan my wedding and to make my baking fantasies a reality. It drove me to legitimize my cookie business.
I've been baking since college, starting with pastries like cupcakes, brownies, and cookies and I used to post them on my Instagram just to make myself feel proud na nakakain yung nabe-bake ko at masarap siya. I constantly improved my product by trying out a variety of cookies and recipes until I found exactly how and what I wanted my own to taste like. 
One time, one of my friends messaged me saying "Girl, nagcrave ako," pertaining to the cookies I baked and posted on my IG. I decided to give her half-a-dozen, even placing it in a Ben's Cookies tin can. Of course, I didn't want her to think na galing Ben's yung bigay ko sa kanya na cookies kaya sinulatan ko yung tin can ng "NOT Ben's Cookies". Natawa si friend, kasi alam niya na funny and witty ako. Her affirmation also sparked my strong desire to start my own cookie business.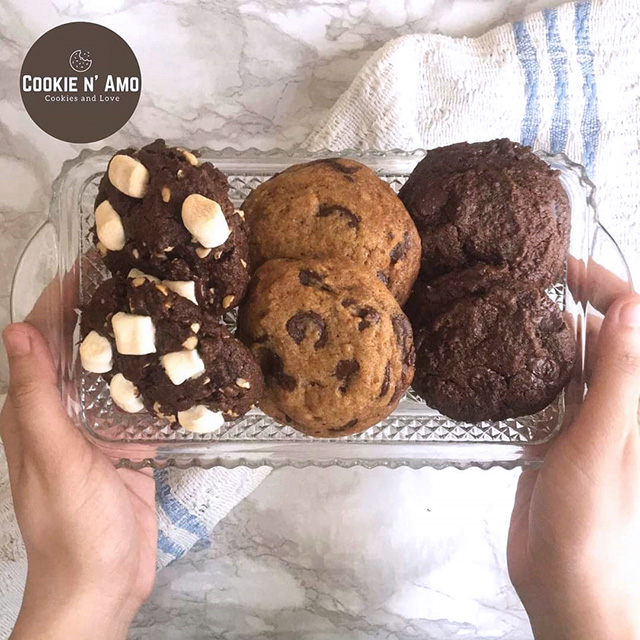 ADVERTISEMENT - CONTINUE READING BELOW
Starting with a P5,000 capital
I just started my business recently, the last week of May to be exact. When my fiancé Jovie and I sat down to conceptualize a name, sobrang dami naming naisip. I really wanted my business to show my personality. Lo and behold, the word cookinamo came to mind. My fiancé just tweaked it and said why not Cookie N' Amo para it's cookies and love, which, technically shows two meanings: My love for cookies, and my cookies together with my love! Later on, I also chose to make the names of my cookies short and easy to remember. Makakalimutin din kasi ako haha!
Utilizing a portion of our wedding funds, our starting capital was 5,000 pesos. Since lockdown at mahirap kumuha ng supplies, I had to source my materials through the internet. From my baking tools to my packaging, it's all sourced online. I used the money to perfect my recipe, too, and I knew I perfected it when my family and friends could already say "Cookie N' Amo! Ang sarap!"
ADVERTISEMENT - CONTINUE READING BELOW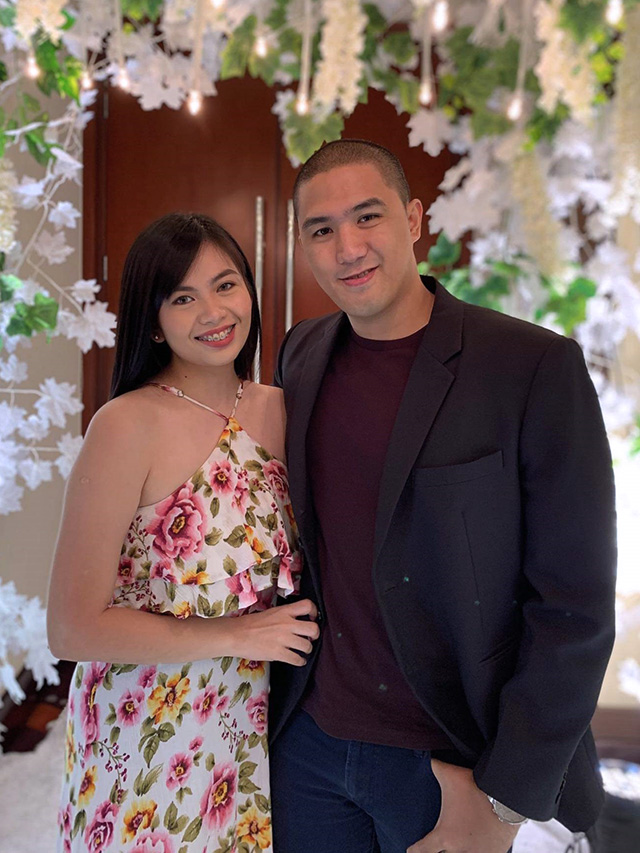 Speaking of my family and friends, I'm so lucky to have them to help me with my business. To start with, my fiancé Jovie yung COO (Si oo ng oo) is good with numbers. He manages the financial aspects. Ayoko kasi ako sa math kaya sa kanya ko na binigay. LOL! And I have friends who happen to be knowledgeable in digital marketing, and they help me out in planning my marketing messages and ideas (captions, creating layouts, and spreading the word about my brand). Last and definitely not the least, my family. Bukod sa pagkain ng mga nabe-bake ko they have always been supportive and they are my ultimate no. 1 fans!
ADVERTISEMENT - CONTINUE READING BELOW
Dealing with business hiccups
I really am very thankful that I have supportive friends. Sila talaga yung mga una kong suki. Especially because the competition is tough na parang The Voice Philippines. Marami rin talagang cookie business online and I do think this is caused by the quarantine situation in Metro Manila. No hate though, I'm happy to see people exploring their baking skills and thriving to earn despite the pandemic. Yung small business community naman, we support each other and I also buy from them, too. Support support lang kumbaga.
That said, I guess besides the texture and flavor, the name and my story sets Cookie N' Amo apart from the rest. Also, since I envisioned my business to be relevant, I always insert puns and witty lines in my messages.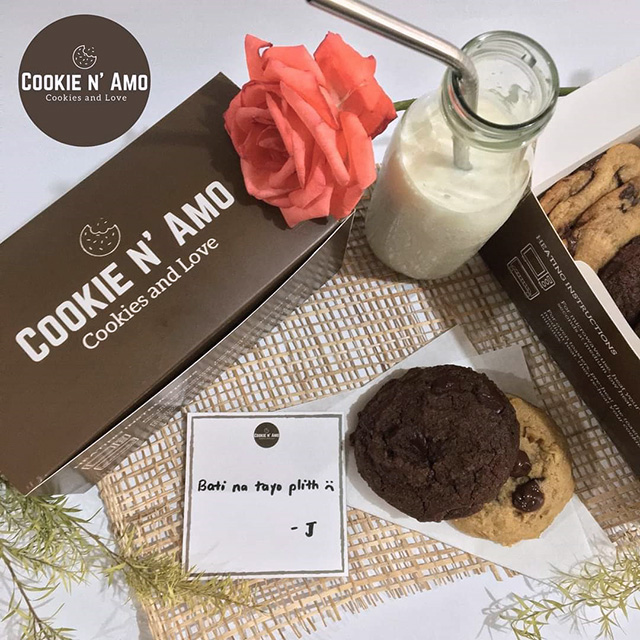 ADVERTISEMENT - CONTINUE READING BELOW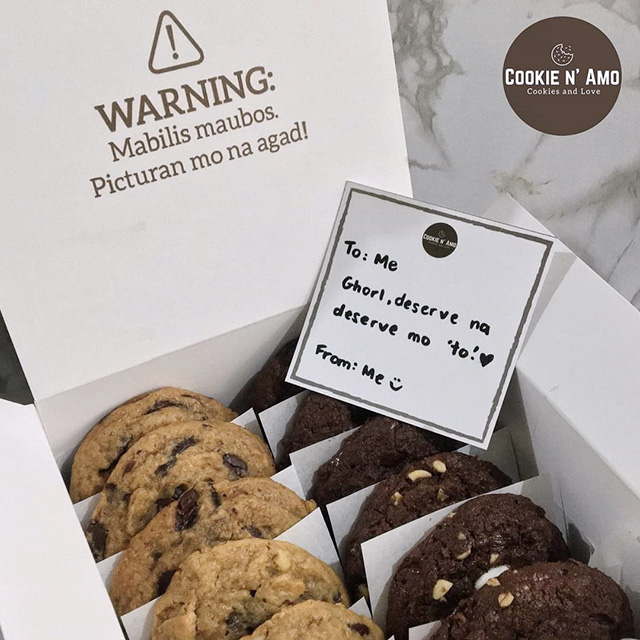 How we're keeping the business alive
Right now, the business is doing okay, but just like other businesses, we encounter ups and downs at times but nakakabawi din naman. One good thing I was able to secure is a trusted baking supplier. I've been getting my supplies from them ever since. Less hassle na since suki at kakilala na kami. As we grow, our pool of customers would also ask for special requests, like other flavors and cookie sizes, which is currently the newest addition to our roster of products.
ADVERTISEMENT - CONTINUE READING BELOW
Since hindi ako talaga mahilig sa math, we encountered a slight mishap once with the expenses but we were able to correct it along the way. There was also feedback about the consistency of our cookies. We worked on it right away. Importante kasi sa amin yung voice ng customers namin so that we can make our product better for our craving customers.
We also developed a system wherein we prepare the cookie dough in advance and then bake them to make it just in time for the delivery. We also make sure that our social media posts remain consistent and relevant so we can attract more customers.
ADVERTISEMENT - CONTINUE READING BELOW
Staying positive during uncertain times
As cliché as it sounds, I guess it's true what they say that when one door closes may bintana o butas sa bubong na pwede mong pasukan. Tough times will really squeeze the best out of you. Also, I learned to be prepared especially in these uncertain times. One thing I'm sure of now though: masarap ang cookies namin!
For more information about Cookie N' Amo, visit their page on Instagram.
* As told to Nicole Arcano. This interview was condensed for clarity.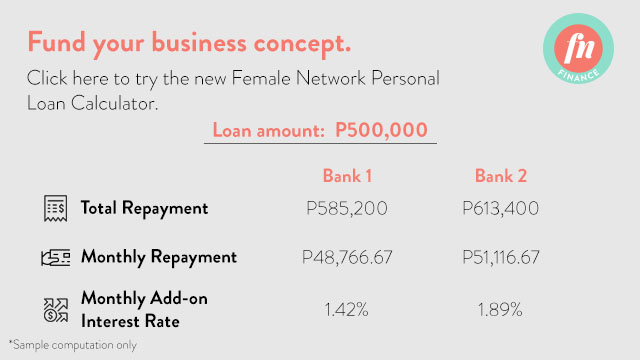 ADVERTISEMENT - CONTINUE READING BELOW
Load More Stories