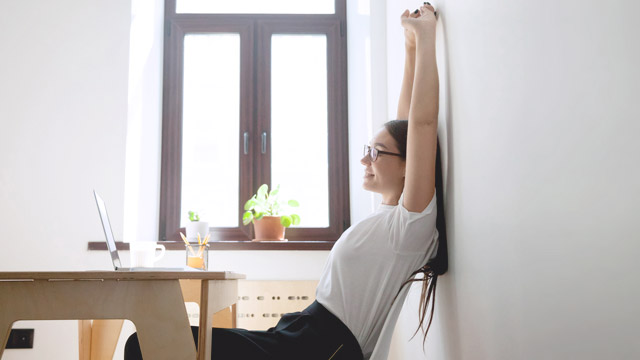 You probably have several officemates who never seem to get ruffled by anything—not by your hot-headed boss, and not even by your unforgiving client. While a huge chunk of it can be attributed to their personalities, here are things they do that add to their "Keep Calm and Carry On" vibe. Don't get us wrong—they do get stressed. They just manage it better than the rest of us.
ADVERTISEMENT - CONTINUE READING BELOW
1. Sleep as much as you can.
Yes, you love to sleep, but admit it: you barely make time for it. People who never seem to get stressed actually have a full-night's rest, enabling them to be totally awake and fully-prepped for what they need to face the next day. If they do miss sleep, they take naps—so if you can, sneak in a couple of minutes or ZZZs during lunch break.
CONTINUE READING BELOW
Recommended Videos
2. Don't make mountains out of mole hills.
That uncouth lady who hit your shoulder hard on the way out of the MRT while giving you a nasty side-eye? Forget about her. Chill people don't sweat the small stuff because they're simply not worth their time. Learn to let go of minor annoyances and you'll see that it makes such a huge difference in how you perceive your day.
ADVERTISEMENT - CONTINUE READING BELOW
3. Focus on the now.
They know exactly what they're doing at the moment and are 100 percent in it. They don't think of what will happen the following day, or ruminate about things they've already done. One of the reasons why people get stressed is that they overthink, and while it's great to plan for what's to come, sometimes, you just have to take a deep breath and be present.
4. Get excited instead of getting nervous.
According to research from the Harvard Business School featured on Reader's Digest, nervous people who choose to be excited rather than calm actually deal with stress better. Excitement means you're looking forward to what you have to do—may it be a speech, or a presentation, or even something as simple as doing your usual tasks. Instead of forcing yourself to calm down before something big, try to translate your energies into something more forward-looking.
ADVERTISEMENT - CONTINUE READING BELOW
5. Cut yourself some slack.
There's nothing more nerve-racking than things not going your way and catching the fall-out. When everything you've worked for goes haywire, it's pretty normal to feel angry and stressed; however, calm people don't stay in that phase for long. They accept the situation and focus on finding the solution. After all, the faster things get fixed, the faster your worries disappear.
6. Disconnect.
Sure, you need to be on top of everything at work, but when things are getting too crazy, learn to step away. Calm people know when to disconnect from things that are causing them stress. Taking a breather won't only calm your nerves, but also give you time to organize your thoughts.
7. Laugh things off.
A lot of times, laughter is the best medicine. An article on Huffington Post notes that laughter can reduce the count of cortisol, the stress hormone, by 39 percent, so if you want to stay chill, have a healthy sense of humor.

H/T: Reader's Digest, Bustle
ADVERTISEMENT - CONTINUE READING BELOW
Comments
Load More Stories