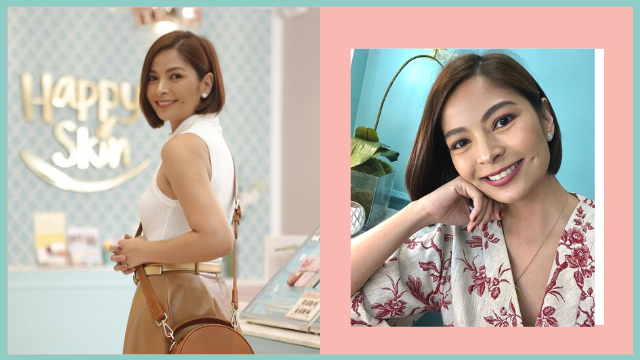 [UPDATED as of October 20, 2021] with a statement from CEO and co-founder of Happy Skin Jacqe Yuengtian-Gutierrez: 
Rissa Mananquil Trillo, the co-founder of Happy Skin, has announced that she is stepping down from her post as Chief Brand Officer of the beloved local beauty brand.
ADVERTISEMENT - CONTINUE READING BELOW
As a sign of her departure, Rissa shared a video of herself on Instagram taking off a gold pendant necklace engraved with the brand's name.
"Today is the real birthday of Happy Skin. Eight years ago, Happy Skin officially launched on October 18, 2013. I remember how Paolo & I put in our joint savings after we got married," she writes in the caption. "I later had this gold Happy Skin pendant made and even gifted replicas to my partners. From then on, I've worn it almost every day close to my heart as a reminder of all the hard work, purpose, and passion."
"Today is also the day I'm announcing my exit from Happy Skin. This is a decision I thought long and hard about. It takes a lot of strength to leave something I poured so much of my life into."
Explaining her decision, Rissa continues, "Shared values are so important. Doing a good job has always meant so much to me—not just a good job, but doing it with integrity. It never made sense to me to compromise what I believed in because that meant compromising my respect for myself, too."
While she did not identify the cause of her leave in detail, Rissa did admit that she consulted "some of the country's respected business leaders" before making her decision final. "Turning to them proved to me that no matter what generation you are from, right is right and wrong is wrong," she says.
ADVERTISEMENT - CONTINUE READING BELOW
Before starting the brand, Rissa was a model and beauty columnist with 15 years of experience under her belt. Happy Skin was born out of her desire to have makeup that doesn't irritate her skin—a concern that many other Filipinas resonated with.
"When I look back at my goals when Happy Skin started, I've ticked off everything on my list—to provide a solution to a problem Filipinas had been facing and empower them with skin-caring makeup, to fill the gap in the cosmetics industry with a local makeup brand that offered premium quality products at affordable prices, and to create a homegrown brand that Filipinos can be proud of," Rissa continues.
"I understand during a time like this, I'm in a privileged position to walk away from something that no longer aligns with my values. But it's time we all made better choices. Success to me is being able to check all the boxes in that list, but also knowing when to walk away."
ADVERTISEMENT - CONTINUE READING BELOW
"I'm so grateful for all of you who relentlessly believed in me and for always making me feel like I can do anything. I just finished one beautiful chapter. Now I'm excited to write a new one. From happy skin—to now happy heart and happy mind. [heart emoji]"
During Rissa's tenure as Chief Brand Officer, Happy Skin has collaborated with local celebrities like Heart Evangelista, Kathryn Bernardo, Liz Uy, KC Concepcion, and more. They've launched collections with brands such as Disney, Sanrio, and Havaianas, along with a product collaboration with Preview in 2015. She has also written about her entreprenurial journey in a book titled Read My Lips: What It Takes to Build a World-Class Homegrown Brand and received her Executive MBA degree fom the Asian Institute of Management in 2018.
With Rissa's departure, Happy Skin is left in the hands of her co-founder Jacqe Yuengtian-Gutierrez who stands as the brand's CEO. Jacqe is also the CEO and co-founder of BLK Cosmetics and Seoul White Korea.
ADVERTISEMENT - CONTINUE READING BELOW
"Though Rissa has not been working with Happy Skin since March 2020, we will always be grateful for her contributions to the brand," said Jacqe in an official statement to the press. "We wish her well on the journey ahead of her. 

Happy Skin will of course continue to fulfill its mission of elevating Filipino beauty and offering world-class products."

We wish you all the best in your future endeavors, Rissa!
Read her full post on Instagram here:
ADVERTISEMENT - CONTINUE READING BELOW
*With additional reporting by Patricia Melliza
This story originally appeared on Preview.ph.
Minor edits have been made by the Femalenetwork.com editors.
Load More Stories