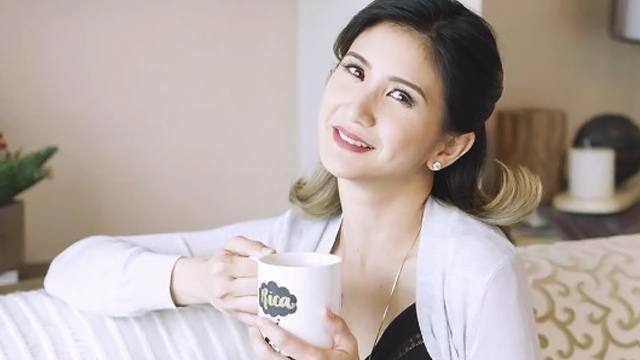 These days Rica Peralejo-Bonifacio isn't spending her days in the buzzing halls of ABS-CBN where she grew up working at age 12. No, Rica is now a legitimate blogger and has been so for the past five years. True to her career transition from showbiz to the world wide web, Rica's social media handles are unpredictable (you'll meet a dead end when you enter 'Rica Peralejo' on the IG search bar). In fact, she has gone to embrace her married name and made it her online persona: Mrs. Bo, featuring "books," "babies," and "boarding passes," according to her About Page. 
ADVERTISEMENT - CONTINUE READING BELOW
CONTINUE READING BELOW
Recommended Videos
As one of the speakers for the #WomenWill event on International Women's Day, Rica got to share her story during an exclusive interview with Cosmo.ph, who tied-up with Google for the event.
Right after graduating with an English Literature degree from Ateneo de Manila University in 2012, Rica finally had time for something that she had long been wanting to do: climb mountains. And climb she did! "Siguro each month, one mountain, ganyan," she said.
Not wanting to forget her mountain climbing experiences, Rica then started to blog: "For me, it was just a hobby—like an online journal." She was pleasantly surprised, however, with the attention her blog was getting: "I didn't even know you could earn from it—from blogging. These brands started to ask me, What if you could feature this? How much would your fee be? Parang ako, ha? Parang there's a way of turning this into a job."
ADVERTISEMENT - CONTINUE READING BELOW
So in 2013 Rica started out being more 'deliberate' in the things she'd post on her blog with her seeing a future in making a career out of it while affecting social change:
"In the beginning, it was just really a hobby. It was a journal—a personal thing. But I saw that it was a great venue to reach people about your own interests and use your influence as a woman and a mom."
Becoming a blogger isn't much of a surprise for those who know Rica's love for writing and technology. She's always been social media savvy, getting on the newest apps once they became hip: "Early adapter kasi ako. I'm one of those people who say, 'Ay may Twitter? Nasa Twitter ako agad! May Plurk? Plurk ako. Tumblr? Ay nandiyan ako sa Tumblr.'"
Rica's greatest realization in her five years of being a blogger is this: She is a one-woman show. She revealed that her years being an artista for big networks since she was a child has helped her hone her skills in producing her own content now that she's in her 30s.
"First of all, the transition from traditional media to new media has taught me that whatever the great big networks would do before when it comes to us talents, I could also do on my own na. 
ADVERTISEMENT - CONTINUE READING BELOW
"Today, I'm the producer, I'm my editorial team, I'm my writer, I'm my talent. I'm a one-woman show. And I didn't know—I was an artista as early as 12, so for more than two decades I would do the same thing over and over again. And I didn't know I could put into use whatever I experienced over those years in this 'new media.'"
She added, "I never thought that I would produce my own stuff. I was so used to being fed [information]. But this time, I actually have control. I'm my own network."
Don't get her wrong—Rica is still as baffled (her words) in her current situation as when she first started her blog in 2012: "It's so funny lang when they say it's your 'brand.' Parang I'm a jacket, I'm Forever 21. Parang ganun! It feels like that to me."
Rica's dreaming up of bigger things for her personal brand as Mrs. Bo. She's actually leaving for the States by the end of the week to brainstorm about where she wants to take the brand eventually. "I think more and more women want to get involved in what I'm doing, and I realized that [while] it's great to be a one-woman show, you also need a team if you want to achieve bigger purposes, bigger dreams. And these dreams are not selfish dreams kasi if that's the point lang I could just do it by myself.
ADVERTISEMENT - CONTINUE READING BELOW
But standing [up] for women, standing [up] for mothers, wanting to [promote] social responsibility—you need other people to do that with you. So now that I'm able to see like-minded women as I walk through this whole online career, I'm able to gather some force. And hopefully it comes to fruition one day that we are able to help the Philippines in some way when it comes to our social transformation projects," she said. 
***
To know more about Rica's blog, visit MrsBo.ph. 
This story originally appeared on Cosmo.ph.
* Minor edits have been made by the Femalenetwork.com editors.
Load More Stories