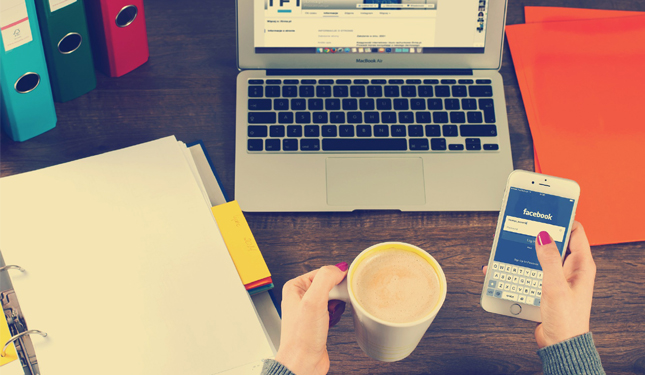 You're here because you probably have a solid business in mind. Or you already have a raket or side business, and it's doing well. Whatever is the case, you want to know what it takes to go legitimate. What do you need to be ready for? How difficult is the process? The good news is the steps to register your business are clear cut. You just need a huge amount of patience and to be detail-oriented when it comes to the paperwork involved. Hopefully, this guide will help make the process, if not quicker, then smoother for you. Good luck!

STEP #1: Register your business name. 
You need to do this with the Department of Trade and Industry (DTI). By registering with DTI, you are assured that your business name will not be used by any person or group anywhere in the Philippines. Hopefully, the name you pick isn't registered yet with DTI. You can't use it as well if it is identical or it resembles a name already registered with the Securities and Exchange Commission (SEC), Cooperative Development Agency (CDA), Department of Labor and Employment (DOLE) or any other government office authorized by law to register names. 

DTI requires four name alternatives. Check them against DTI's list of registered names here. Keep the following in mind when you're thinking of a business name:

Make it easy to remember Unforgettable, that's what you want it to be. It must be catchy enough to stick in consumers' minds.
Pleasant to hear A consumer should associate your company name with wonderful images or good feelings. You want to entice, not repel them.
Let it be pronounceable It pays to be clever, but not at the expense of name recall. If it's too complicated to say, people are likely to get it wrong.
Think of the long-term potential Pick a name that's flexible, meaning you can amend it easily in case your business expands in the future.
Come up with something suitable Witticisms or puns are attention-grabbers, but make sure your business will still be taken seriously.

Find here the documents you need to submit for business name registration. 

STEP #2: Decide your business structure. 
Will your business be a single or sole proprietorship, partnership, corporation, or cooperative? Each type has its own set of pros and cons.

Single proprietorship It's all on you. You have complete control over the business including all its financial obligations. Even the task of raising capital is yours alone.
Partnership Two or more people own the business, and each one has a say in decision-making.  But majority rules in cases of conflict. To avoid problems in the long run, especially if a partner wants out, a formal contract or bargain is a must.
Corporation There has to be five incorporators, and the same people will comprise the board of directors. The board holds all the power, but critical decisions may need to go through stockholders.
Cooperative It's a business or community organization that exists to serve its members, so it is not dominated by one group or entity. Control is split equally among everyone.

STEP #3: File the rest of the paperwork.
DTI is just the beginning of the government agencies you need to deal with to legitimize your business. Whether it's a single proprietorship or a corporation, your business cannot operate without registering with the Bureau of Internal Revenue (BIR), which will provide you with a business TIN (taxpayer identification number) and authority to print official receipts. Here's a handy guide for the filings you need to make as a future business owner.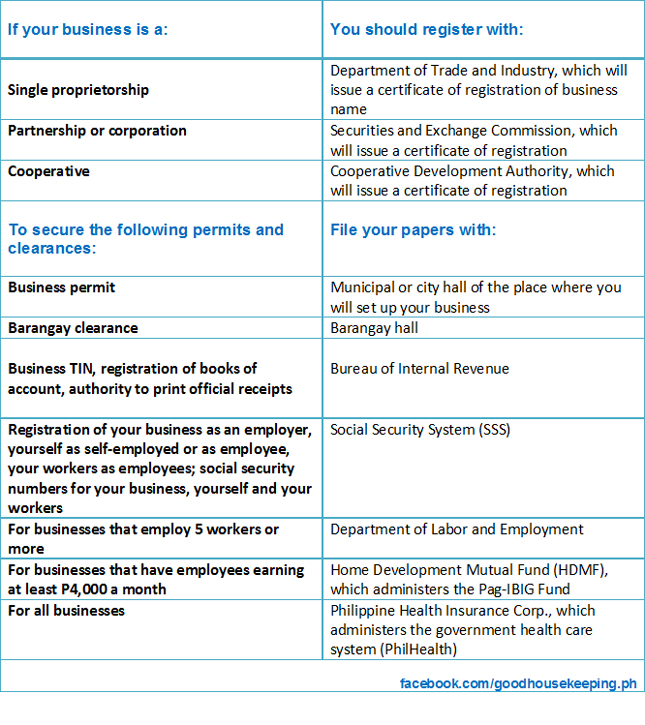 Sole proprietors may want to check out the Philippine Business Registry. It's a business registration portal that serves the DTI, BIR, SSS, PhilHealth, and Pag-Ibig. Technically, you can register your name with DTI or apply for a TIN with BIR in this website. But after we went through the online guide, it still directed us to the respective website of the concerned government agencies. It does have a useful FAQ section that includes all the required documents you need to submit. 

The agencies where you can do online transations are (just click on the names to go to the site):   
ADVERTISEMENT - CONTINUE READING BELOW
Download the latest Good Housekeeping Philippines emag at Summit Newsstand.
For iOS: http://bit.ly/ghmagapple
For Android: bit.ly/GoodHousekeepingPHandroid

Additional text by Leah Nemil-San Jose. A version of this article appeared in the April 2012 issue of Good Housekeeping Philippines. 

PHOTOS: Pixabay 
Load More Stories