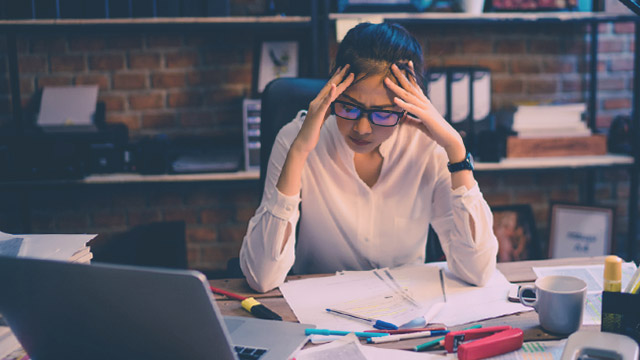 Being in your mid-twenties to your early thirties isn't easy. It's at this point that you start questioning your decisions: "Am I in the right job?" "Am I in the right career?" "Do I even know what I'm doing?" In fact, a recent survey commissioned by LinkedIn revealed that more than 60 percent of its respondents between 25 and 33 years old are worried that they're not earning enough. Fifty-three percent are "frustrated with their career options," while 54 percent are not even sure what to do next.
ADVERTISEMENT - CONTINUE READING BELOW
If you've been working in the same company for years and feel that your career is going nowhere, then you're no different from the 49 percent who feel stuck in a growthless job and the 46 percent who are missing their employer's support. The feeling of uncertainty paired with the belief that your life has no direction can lead to frustration, anxiety, and eventually, depression.
A Harvard Business Review article notes that quarter-life crisis can span years and often has four stages. First is the feeling of being stuck in "pretend adulthood," followed by a time of solitude brought about by separating from partners and leaving jobs. It's at this point that reflection comes in: bitter pills are swallowed, plans are reviewed and changed, risks are taken. Once this period is over, new hobbies and interests are explored, and new career paths are pursued.
While it seems pretty simple on paper, quarter-life crisis is anything but as it can be marred by a great deal of mental and emotional anguish; the good news is that once you've gone through it, you're more likely to lead a "more meaningful and happier" life.
According to a feature on Psychology Today, your quarter-life crisis is oftentimes needed to push you to a new and healthier direction.
"Despite their maddening disruption, quarter-life crises are a good thing," writes freelance journalist Caroline Beaton. "Amid endless uncertainty around who we are and what we want, crises can be a strangely comforting reminder that nothing is permanent, and the only solution is to keep striving."
So instead of pushing it away, it may be better to accept this period in your life and ride it out. To help you get through it, here are things you can do:
Quit if you feel like you really have to.
There's really no point in staying in a job you hate. Cut your losses and take a break instead; you'd be surprised at how letting go of something that isn't working can be a huge load off your shoulders.
ADVERTISEMENT - CONTINUE READING BELOW
Embrace being "lost."
Not knowing where to go can push you to question your initial direction and forge your own path. It can also lead to self-discovery and a renewal of interest in things that you thought you'd never go back to. Were you interested in crafts before you got stuck in your past accounting job? Then maybe now is the time to give it another go. Who knows? It may be the start of something good.
Do freelance work.
Of course, you'll still need to earn money. A side hustle (or two) can help keep you afloat. This is also a good period to take interesting career opportunities—take it from Jenie Gabriel, who took a sabbatical from her advertising career, chased a recruitment seminar in Singapore to teach English in Japan, and enjoyed every minute of it.
Know that it happens to everyone.
Quarter-life crisis is usually triggered by the want of something better and the search for your own place in the world. It pushes you out of your comfort zone and the experience can be very painful; however, if you allow yourself to go with the flow, you may just find yourself in the place you're meant to be.
ADVERTISEMENT - CONTINUE READING BELOW
If it's more than you think you can handle, you can always ask for help.
This phase is different for everyone, and there are those who have more difficulty seeing it through than others. If you feel that there's more to it than meets the eye, ask your family, your friends, or a specialist to help you through the ongoing transitions in your life.
Load More Stories