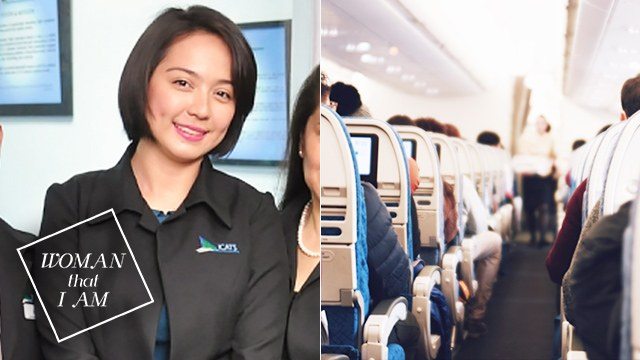 Princess Joy Garcia is a good peg for what every flight attendant should be—charming, poised, warm, and sincere. In fact, she had always wanted to be one, inspired by her grandparents who were Philippine Airlines flight attendants back in the '70s as well as by some of her relatives who were also in the industry. But something happened during her training that kept her childhood dream from taking off, and it led her to an unexpected path.
ADVERTISEMENT - CONTINUE READING BELOW
"It was in 2009 when I got in one of the local airlines in the Philippines," she shared. "During the training, I got hospitalized. Since then, nawalan ako ng motivation to fly."
She felt lost, she said, and she didn't know what to do next. It was during the height of a storm that she shared her frustrations with her mentor, the late Armie Guiao.
"Ms. Armie… came home from the States, [and] na-stuck kami sa second floor ng bahay ko during Ondoy. I was able to tell her that I don't know where to go na after the forced resignation I had. Siya 'yong nagbigay ng idea sa akin, 'Why not set up a flight attendant training school?'"
It was something that she had never thought of, and starting a business never had much of an appeal to her until that moment.  
"For me at first, I never imagined myself having a business eh, since I was a child, so parang nagulat ako – 'Really? Kaya ko ba 'yan?'"
CONTINUE READING BELOW
Recommended Videos
But it was the motivation to continue her dream in a different way and to help others achieve theirs that got her started: If she couldn't fly, she would help others gain their wings. With that, the International Cabin Attendant Training School (ICATS) was born.
As with any other business, ICATS had to be relevant, which is what 25-year-old Princess struggled with the most.
"I remember when I was being interviewed by Cebu Pacific Air… they asked me why I [enrolled in an] FA training school prior to applying for a cabin crew position when I [would] be going through same training [once] they accept[ed] me. True enough. [It's the] same training but [with] more specific [pointers regarding] the Cebu Pacific standard operating procedures.
"[It was the] same question I asked myself when I started ICATS: Why [would] FA aspirants need ICATS? How [could] ICATS help them achieve their dream of becoming flight attendants? I remembered my own journey. I can answer those questions on my own because I have been there! "
ADVERTISEMENT - CONTINUE READING BELOW
Armed with her experience and with the help of Ms. Armie and her friend Arthuro de Leon, ICATS launched their first batch of students in 2010 with only three enrollees. That did not deter them, and they continued to improve on their curriculum and their facilities as time went on.
When ICATS finally broke into the scene, they broke big.
By 2014, the school was getting a steady stream of enrollees, prompting them to transfer to a bigger location. Currently, they are now located at the East Tower of the Philippine Stock Exchange, boasting of classrooms and hygiene corners that can accommodate more students, as well as a fully-equipped replica of a plane's interior featuring Business and Economy Class areas for a more interactive training approach.
As ICATS celebrates its 7th year, Princess can only look with pride and satisfaction at the many aspirants that have begun as self-conscious students to full-fledged flight attendants for many of the world's major carriers.
ADVERTISEMENT - CONTINUE READING BELOW
"Whenever they get accepted, we utter a simple 'thank you' prayer to God," she said. "We in ICATS rejoice every time we see one student [make] it to any airline. And our hope is that they would be able to carry with them what they have learned in ICATS about L.I.F.E. (Leadership, Integrity, Faith, and Excellence) and they may be able to share this to the people they encounter."
While her own dream of flying around the world may not see fruition, Princess would not change anything about her life.
"I am happy [with] where God placed me and [am] looking forward to whatever His plans for me [are] in the future. And I am thankful and grateful for what I have become in the process.
"I realized that not all that we want we will get. Sometimes, God has another and better plan for us. We just have to really accept that reality and move on. But never stop your journey towards success. It made me more mature in life and more determined and strong to fight the good fight of faith."
ADVERTISEMENT - CONTINUE READING BELOW
And for women who feel that their unfulfilled dreams are the end of their journey towards happiness, Princess shared: "I know how it feels to be [at a] crossroad[s]. You don't know what road to take next or where to go next. My advice: whenever you find yourself in the middle of a crossroad—look at the CROSS first and not the road. It will sure get you to where you should be."
Load More Stories