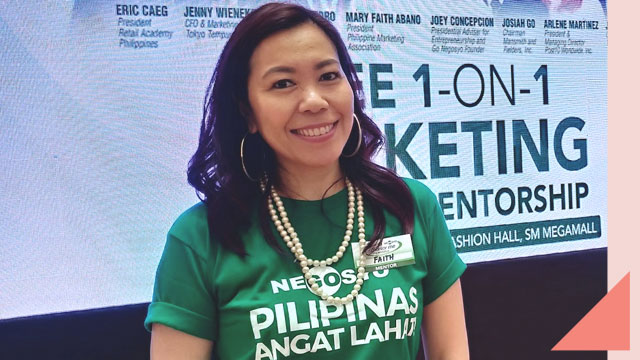 Starting your own small business may be exciting, but no one can deny that it's a lot of hard work. Aside from your big idea, there's a great deal of multitasking involved, and you'll need to cover not only production, but also marketing, sales, distribution, and administration, among others.
ADVERTISEMENT - CONTINUE READING BELOW
This is why the Philippine Marketing Association parterned with Go Negosyo to help your business-minded self get a more robust look at what it really means to start an enterprise. The Mentor ME on Wheels project brings together successful business owners, industry leaders, and would-be entrepreneurs for free one-on-one consultations on how to create a start-up: basically, you can just walk in, get seated, and have an expert give you a wealth of advice on how you create, improve, and grow your enterprise.
Female Network managed to speak with Phiippine Marketing Association (PMA) president Mary Faith B. Abaño during the event, and she shared a few tidbits of wisdom regarding being your own boss:
What do would-be entrepreneurs tend to lack or overlook when running their business? 
"Sometimes, when you're an entrepreneur, you're starting out, you start out with what you want and what you like, but you don't really see the bigger picture. Especially if you have a very small operations and you're very involved in it, hindi mo makita 'yong bigger picture... How can they expand and what direction they can expand, given what's happening in the market?
CONTINUE READING BELOW
Recommended Videos
"That's what they can get here, that in the bigger industry, how the Philippines is going, they can actually situate themselves."
What do most entrepreneurs need to improve on?
"It's really going to the next level. Finding their niche, refining their niche, refining their messaging... Marketing is really the fuel of your business."
What can this mentoring event give would-be entrepreneurs?
"It's really a lot of advice. It's really coming from our own experience as entrepreneurs and marketers. That's what we can offer because I realized that a lot of entrepreneurs… one of [the things] that is keeping them is their fear of making mistakes. You can get a lot of information—you have them in books, you have them online. The basics of marketing, they're everywhere! But, for them to actually have someone hold their hand and say, 'Okay I've done this before, you can do it.' That's what we offer."
ADVERTISEMENT - CONTINUE READING BELOW
Faith shares that aside from future efforts with Go Negosyo, the PMA also continuously offers lectures and seminars that anyone can sign up for. Interested in learning more? Visit the Philippine Marketing Association and Go Negosyo on Facebook.
Load More Stories