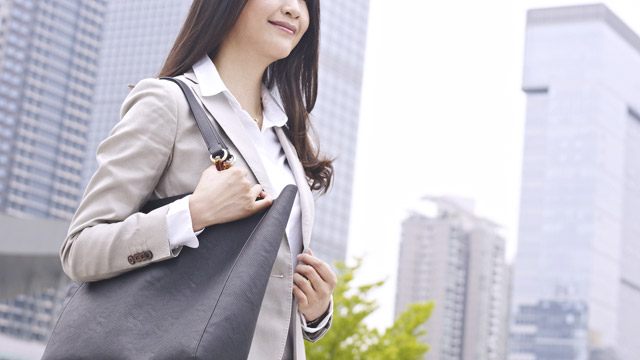 It's not easy to make a living. We all have to admit that. But for women who have found their niche, making a living can be rewarding not just mentally, but also financially. We talked with several Pinays who are making between P35,000 to just a little less than P50,000 per month about their financial practices. Honestly, they describe some really sweet scenarios that spell an ideal balance of work and play.
ADVERTISEMENT - CONTINUE READING BELOW
Ana, Corporate Marketing in Hospitality 
Aside from being an executive at a hotel, Ana also rents out a condominium on AirBnB for extra income. She uses the Wally app to help manage her savings of P5,000 and expenses. "Knowledge is power," she says, and dissuades the use of credit cards until completely necessary. "Buying things on installment or 'buy now, pay later' schemes means you still have to pay for it eventually. It's easy to fall into these traps and get yourself into debt." 
CONTINUE READING BELOW
Recommended Videos
Fixed Expenses: Ana lives in a condominium with her siblings and splits the household expenses equally with her older sister. The P30,000 she spends monthly go to rent, utilities, groceries, the salary of their household help, and their younger brother's allowance. She estimates that P4,000 goes to bills at home and sets aside P8,000 for her car and gas expenses. Groceries and food are allocated P5,000.
ADVERTISEMENT - CONTINUE READING BELOW
Personal Expenses: Ana spends P6,000 on what she calls her vanity purchases–mani-pedis, makeup, spa treatments. Since hotels provide free meals, she only allocates P1,000 per week for other food expenses. For traveling for leisure, Ana sets aside P4,000.
Aiie, Freelance Tech Industry Creative
Aiie is a freelancer that spends half of the year backpacking. When she's not traveling, Aiie lives with her parents. Every month, she saves anywhere from P5,000 to P10,000. "Don't give in to buying a venti mocha frappe just because you feel like you need it. Set up an account (preferably a passbook account) exclusively for an emergency fund and get insurance. Make sure you set aside a portion of your earnings to go solely into that. Better yet, invest in unit trust funds and make your money work for you."

Fixed Expenses: "Whenever I stay with my family, I always make sure I help pay the bills or the weekly grocery. It's not expected of me, but it's pakikisama and I do it out of kindness."
ADVERTISEMENT - CONTINUE READING BELOW
Personal Expenses: Health and fitness takes the top spot at P10,000 to P14,000 of her income. Aiie heavily invests in her Muay Thai gym time and diet. She gets to set aside between P5,000 to P12,000 a month, which she spends on budget hostels or AirBnBs on her trips. "To save a bit of cash, I also do some volunteer work for some of these accommodation places."
Lucy, Secretary at an International Organization 
Even more enviably, Lucy doesn't have to pay taxes. "I pay SSS and such voluntarily," she shares, "And my pension and insurance are automatically deducted from salary." Lucy saves P4,000 per month but brings baon, which also helps a lot. "Keep your credit spending down," is a piece of advice she could not stress more. "I wish I had established better credit earlier because I'm having a hard time getting a loan now. I keep on getting declined, even if my income is okay."
ADVERTISEMENT - CONTINUE READING BELOW
Fixed Expenses: She pays P12,000 per month to half of the rent and utilities of an apartment she is sharing with her parents. "I live far from where I work and commuting is very difficult because I'm out of route," she says, noting P4,000 for transportation budget.
Personal Expenses: Another P4,000 goes to her phone bill, hobbies, and interests like books, and an additional P4,000 on food.
Jean, Advertising/Marketing Planner 
Jean uses an old school method to save, but it's proven to work really well for her. "I have a mini pouch for my receipts and I list down my spendings in a little notebook that I bring with me everyday," she shares. "When I get my earnings, I allocate my money physically. I have this very tita habit of stapling my money and putting a label on them! Once they've been allocated, I pay my bills and deposit to my savings account. I make sure that my wallet contains only the money I'm allowed to spend throughout the week.  I thought that this practice will restrict me but the truth is, I feel more 'financially free' because I have a budget scheme that covers all bases - needs, wants, fun, growth." Jean's savings per month amount to P10,000.
ADVERTISEMENT - CONTINUE READING BELOW
Fixed Expenses: She contributes P4,000 to bills at home and sets aside P8,000 for her car and gas expenses. Groceries and food are allocated P5,000.
Personal Expenses: Jean spends about P2,500 for her phone per month and P5,000 to go out with friends, as she likes to relax and party. She retains a P5,000 miscellaneous fund that can go to savings unless she needs to repair her car or accidentally rips her contacts lens.
Akia, Consultant in Education
Akia is also an AirBnB host and yoga instructor when she's not consulting for an educational institution. Recently married, Akia stresses the life-changing expense of rent now that she doesn't live with her parents. To that, she advises, "Always invest so you are setting aside without really feeling it." Akia does just that with P18,000 going straight to savings and investments.
Fixed Expenses: Akia and her husband have a joint account from which they manage their P16,000 rent for a home outside of Metro Manila. Their phone and internet bills amount to P7,000 and groceries up to P12,000. "Learn how to cook because it is cheaper," she adds.
ADVERTISEMENT - CONTINUE READING BELOW
Personal Expenses: As a yoga instructor, Akia spends about P7,000 on gym and personal shopping per month. "I only use installment [using a credit card] on big purchases, such as my yoga training (which was about P120,000) and our new washing machine."
Load More Stories