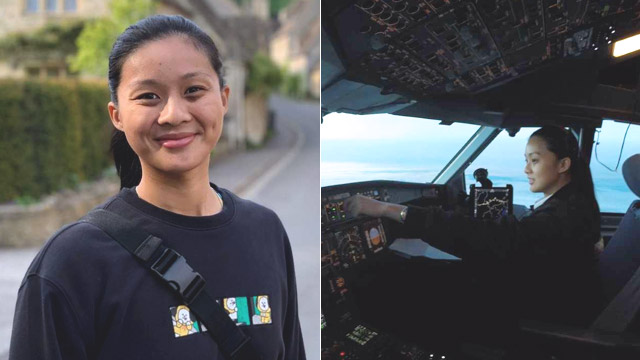 Most of us fall into one of two categories when it comes to flying: Either we hate it, or we're scared of it. Still, a select few actually love it enough to learn how to do it, and Veronica Limcaoco, one of the well-respected pilots of flagship carrier Philippine Airlines, is among them. 
ADVERTISEMENT - CONTINUE READING BELOW
"I was doing this talk one time with young girls and I asked them to raise their hands if they didn't know a girl can become a pilot, and I was shocked that almost everybody did," recalls Veronica. "But then I again, I thought the same way until college. I didn't know."  
Unlikely love affair
Veronica's love affair with flying didn't start as a life-long passion she has nursed for years. Neither did she dream of flying as a child, nor did she prepare for it in college. In fact, she took up Business Management, which pretty far from her current profession.
Not really having a clear career plan after school, Veronica carried on as any regular college student would, but her steely resolve and passion were already apparent in her hobbies. She was a member of the Ateneo De Manila University Lady Eagles basketball team and has always been interested in sports such as triathlon; however, a chance meeting with her cousin's husband became the headwind that pushed her towards a direction she never considered before.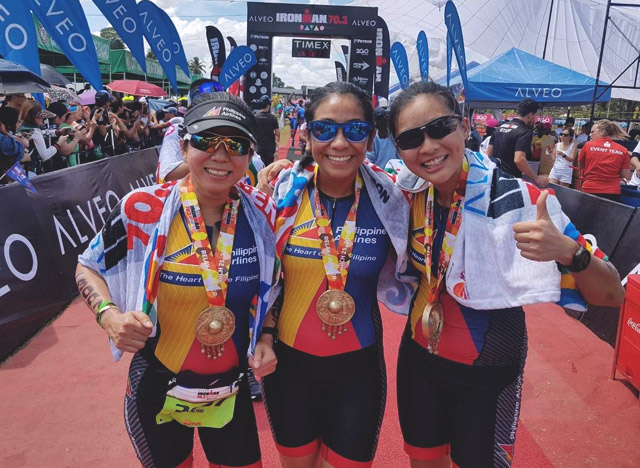 "We had a family dinner one time and my cousin's husband who's a pilot just mentioned that he had a lady pilot with him in one of his flights, and I was like 'wait, you flew with a girl?' And after that it hit me—why can't I be a pilot?"
ADVERTISEMENT - CONTINUE READING BELOW
Her parents had her back: "When I was a kid, I said so many things like 'I want to be firefighter, a policewoman, this, that' and they were always just like 'Go!'. And the moment I said I want to be a pilot, there was never a doubt. They were was just like 'Finish college and if you want to do it and we can support you, then we'll support you.'"
First flight
After graduating, Veronica left for the United States to begin her training, which required her to acquire three important licenses: private pilot, instrument rating, and the commercial pilot license.
"The private pilot license is the most basic. You can fly your friends, family, whoever, but you can't charge anything for it. With the instrument rating, which is for me the hardest, you're being trained to fly just by looking at your instruments. You literally have to put a hood on and just use your instruments. Then commercial pilot is what legally enables you to get paid to fly people around."
ADVERTISEMENT - CONTINUE READING BELOW
The training, Veronica says, takes an average of two years, but actually depends on each individual and flying school. She says she has a friend who finished it in just eight months. Anyone can take it no matter what background as long as an applicant is 17 years old and above (Philippine regulations).
"Private pilot license, you can get it with around 40 hours of flying, and that's coming from zero background (about flying). Instruments rating training would take around four to six months, then commercial pilot license would take around another four to six months."
What every pilot will remember though, says Veronica, is their first solo flight without an instructor.
"There's always a little celebration when you do your first solo (flight) because it's really a defining moment. For me, my co-trainees dumped me in a pool after," shares Veronica.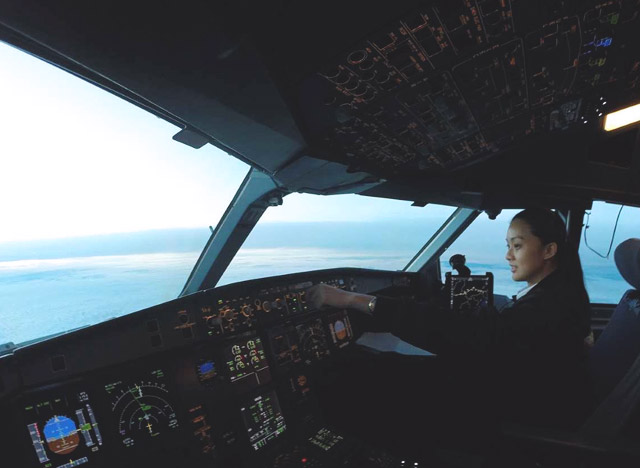 ADVERTISEMENT - CONTINUE READING BELOW
You fly what you pay for
While a lot of people believe that pilot training is much more complicated than it is, what people often get right is the cost.
"It's not cheap, because aviation is a per hour industry. The average number of flying hours (you need to get the three licenses) is around 200, and here in the Philippines, the current rate is around P10,000 to P14,000 per hour depending on the school," says Veronica. "It's actually cheaper in the U.S. because the gas prices are lower."
Landing her dream job
Having finished her pilot training in less than two years, Veronica went back to the Philippines aiming to get into Philippine Airlines. The licenses aren't a guarantee of a job, however, and she applied for the position just like everyone else. She also had to briefly become an aviation instructor while waiting for the call that would change her life. It came after less than a month.
ADVERTISEMENT - CONTINUE READING BELOW
"I wasn't even finished with my instructor training when PAL texted me to come in for my medical. So, I dropped everything—didn't even get my instructor's license—and went to PAL."
She then had to go through another seven months of training with PAL before she was able to fly bigger planes: a rigorous affair that saw her going toe-to-toe with other pilots, who were mostly male.
"I went through all the same trainings as the guys, but some did say 'Oh you had it easier because you're a girl and they were kinder with you.' I like to prove them wrong though, and the feedback from senior instructors is that girls at times perform better because there's this urge to do better. So, for me, I used what amounts to discrimination as my motivation."
More than a profession
Veronica has been flying professionally and commercially for more than two years, and if there's anything she has learned, it's that in aviation, your gender doesn't matter, and it's a message that she's now trying to help spread.
ADVERTISEMENT - CONTINUE READING BELOW
"Sometimes, people don't see past the gender, even if they should. Don't get me wrong, aviation is a tough industry to be in and it requires you to go all-in if you want to succeed in it. But if I did it as well as the ladies before me, then who's to say it's only for men?"
Aside from being a pilot, Veronica is also a part of Girls Got Game, a non-profit organization which helps young women rise from poverty through sports by organizing free camps and workshops. She's always happy to talk with anyone about how women (and men) can indeed be anything they want to be.
"Times are changing, it's getting better, but there has to be a more (accurate) representation (of women) in the society not just for female pilots, but female police officers, or female whatever. Even for males, what's wrong with a stay-at-home dad? Never limit yourself and what you can do based on your gender."
ADVERTISEMENT - CONTINUE READING BELOW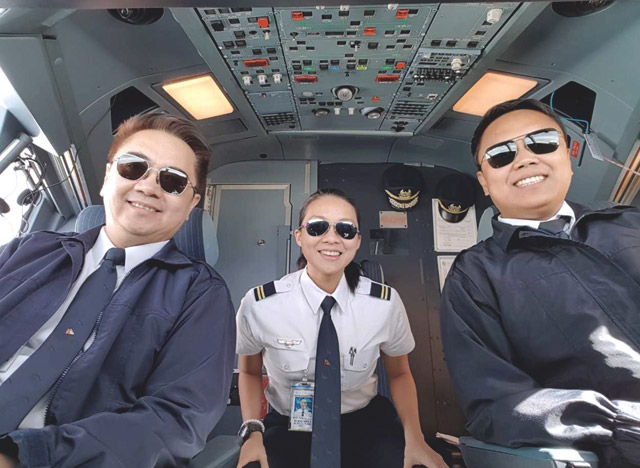 Load More Stories