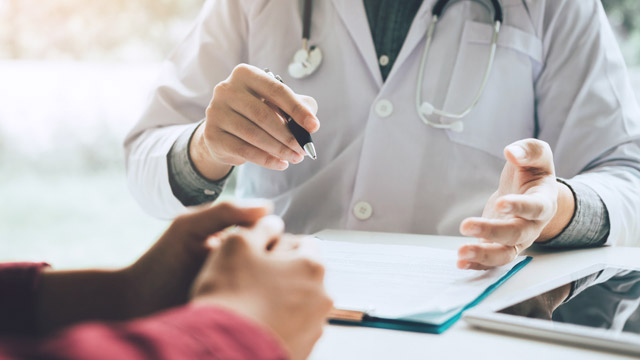 The new Universal Health Care (UHC) Act of 2019, or Republic Act No. 11223 aims to give ALL Filipinos healthcare coverage. It doesn't matter whether you are retired or not employed; in fact, you don't even have to be a member or a dependent of the Philippine Health Insurance Corporation (PhilHealth). However, the UHC provides basic healthcare coverage, which means there will be healthcare services that are not going to be free. That is when it still pays to be a PhilHealth member.
ADVERTISEMENT - CONTINUE READING BELOW
The agency offers a lot of benefits to families. For starters, qualified members' Maternity Care Package pay less than their actual total hospital bill when they give birth. Their babies are also entitled to the Newborn Care Package.
For hospital in-patient, the benefits include treatment for surgical cases (e.g., appendectomy, hysterectomy, mastectomy, vasectomy, and ligation) and medical conditions such as asthma, acute gastroenteritis, hypertension, pneumonia, dengue fever, typhoid fever.
PhilHealth members can also expect coverage in doctor consultation/well checkups, including blood pressure monitoring and counseling for lifestyle changes; laboratory tests such as urinalysis, fecalysis, chest x-rays, and complete blood count; and certain drugs and medicines.
Two types of PhilHealth members
PhilHealth benefits may not be handed as cash like the SSS maternity benefits, but it's a tremendous help financially. The Implementing Rules and Regulations of the new law have yet to be released. According to PhilHealth's frequently asked questions on UHC, there will be two types of members: Direct and Indirect contributors.
CONTINUE READING BELOW
Recommended Videos
Direct contributors

 

are PhilHealth members who pay the monthly premium contribution. These are the employees, migrant workers (OFWs), self-employed, and professional practitioners. Senior citizens who are members and have paid at least 120 monthly contributions and their qualified dependents are also considered direct contributors.
Indirect contributors, on the other hand, are members who have not make any monetary contribution to PhilHealth. These are indigent members determined by the Department of Social Welfare and Development (DSWD) and as mandated by the respective laws, senior citizens (Republic Act No. 10645) and persons with disabilities (Republic Act No. 11228).
Both types of members will receive the same essential health benefits, but direct contributors may receive additional benefits yet to be determined once the UHC's Implementing Rules and Regulations have been released. Hospitals and other healthcare facilities will also be required to set aside a portion of their budget and services (e.g., medicines and hospital beds) to accommodate non-members.
ADVERTISEMENT - CONTINUE READING BELOW
As a member, your PhilHealth monthly contributions will increase
Apart from the additional budget from the Department of Health (DOH) and other government agencies, direct contributors are also helping fund the agency to give every Filipino healthcare coverage under UHC. Similar to SSS contributions, a member's monthly PhilHealth contributions are shared with the employer. Self-employed, practicing professionals, migrant workers also have separate rates or computations for their contributions.
Employed members
Effective January 2019, a member's basic salary will see its PhilHealth contribution increase to 2.75%. Expect the amount to increase by 0.5% yearly. By 2025, PhilHealth premiums will be 5% of a member's basic salary and a ceiling of P100,000.
If your basic salary is P10,000 or below, your monthly premium will be P275—that's P137.50 from your salary and an equal amount from your employer. Your monthly share should be rounded to the nearest hundredths (two-digit centavos).
ADVERTISEMENT - CONTINUE READING BELOW
If you are thinking of dropping your PhilHealth memberships and just avail of the free basic health services, the law has already imposed penalties for those who will miss their contributions, according to Esquire Philippines. "Employers and self-employed direct contributors will be required to pay all of their missed premium payments with an interest, compounded monthly of at least three percent for those employed and a maximum of five percent for self-employed individuals."
Kasambahays
The Batas Kasambahay (Republic Act No. 10361) mandates employers to shoulder the PhilHealth contributions of their kasambahay if his or her basic salary is less than P5,000. The kasambahay is required to pay her equal share if his or her salary is P5,000 or more.
Individually paying members (IPMs)
PhilHealth contributions of the informal sector or the self-employed members (freelancers), practicing professionals (doctors, lawyers, artists, etc.) and even volunteer members are based on their monthly income as well. For those earning P25,000 and below, their monthly PhilHealth premium is P200 while their yearly premium is at P2,400. If their income is higher than P25,000, their premium is at P300 monthly or P3,600 yearly.
ADVERTISEMENT - CONTINUE READING BELOW
Migrant workers (OFWs)
Yearly PhilHealth contributions of land-based overseas workers (OFWs) or those under the Overseas Workers Program (OWP) are P2,400. Sea-based OFWs, such as seamen, cruise ship employees, on the other hand, are based on their monthly salary, similar to employed members.
You can still apply to be a PhilHealth member
Even with the UHC in place, you can still apply to be a member and direct contributor of PhilHealth. All you need to do is register via the agency's online registration facility or by personally filing the application in one of its branches. To complete your registration, you'll be required to pay the annual PhilHealth contribution of P2,400.
As a PhilHealth member should have paid at least nine months of contributions within the year before the first day of your hospital confinement. Of the nine monthly contributions, at least three contribution payments should fall within six months before the first day of confinement.
ADVERTISEMENT - CONTINUE READING BELOW
New PhilHealth members or those who do not have nine months worth of membership contributions yet are required to pay at least three months of premium contributions within the six months before hospital confinement to avail of PhilHealth packages.
Keep up with your PhilHealth contributions.
Employers take care of PhilHealth contributions of their employees. Employers are assigned a PhilHealth Employer Number (PEN). PENs that end with 0 to 4, employers should remit payments every 11th to 15th of the month following the applicable period. Employers with PENs ending in 5 to 9 remit monthly contributions every 16th to 20th of the month following applicable period.
Unlike employed members, IPMs and OFWs can choose to pay their premium monthly, quarterly, semi-annually, or annually through any accredited PhilHealth collecting partners nationwide, such as Bayad Center and BancNet member banks.
When paying monthly or quarterly, the deadline is the last working day of the month or quarter for quarterly. If you're paying for August, the deadline is the last working day in August. If you're paying for April to June, the deadline is the last working day in June.
ADVERTISEMENT - CONTINUE READING BELOW
For those who opt for semi-annual payments, the deadline is the last working day of the first quarter of the year you're paying for. That's the first payment in March and the second payment in September. For annuals payments, the deadline is the last working day of the first quarter month, which is in March.
You can quickly check your PhilHealth payment contributions online.
You need to register online on PhilHealth's online Services Portal (www.philhealth.gov.ph/services). Click Electronic Registration, fill in the information required, and click submit. You'll be asked to activate your account first by clicking on the link sent to your email by the PhilHealth Member Information System.
Once you've activated your online registration and logged in, head to Member Static Information page and click on Premium Contributions. It will show you a summary of PhilHealth contributions and member contribution history..
This story originally appeared on SmartParenting.com.ph
ADVERTISEMENT - CONTINUE READING BELOW
* Minor edits have been made by FemaleNetwork.com editors
Load More Stories