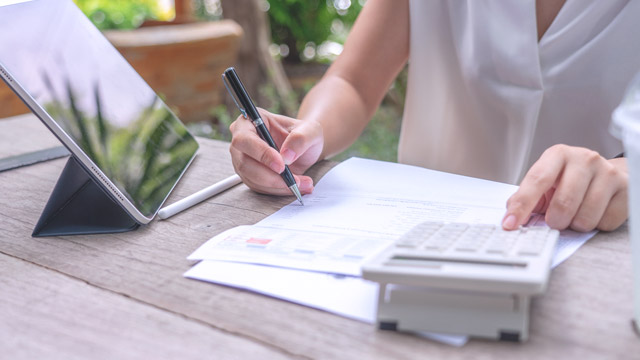 At some point in your life, you'll probably get a loan, and it's not necessarily a bad thing, as these can help extend your financial capabilities as well as make it easier for you to deal with important but heavy expenditures.
ADVERTISEMENT - CONTINUE READING BELOW
But before you even think about getting one, it's important to know what exactly a personal loan is. A personal loan, according to The Economic Times, is an "unsecured loan" taken from a bank or a financing company; this means that unlike car or home loans, this is "not secured by any asset" (in local colloquial terms, walang mareremata), and is only based on one's credit-worthiness. That being said, personal loans usually have higher interest rates than car or home loans, because institutions perceive them as riskier than those that have actual collaterals they can claim in case you can't pay.
The trick for getting the best deal is by first "shopping" around for rates that won't devour you when it comes to interest. Of course, in the end, you'll be paying more than what you initially borrowed, but the amount shouldn't be too blown up that you're already paying double of what you borrowed.
If you're looking for a way to easily compare rates, online service Moneymax is a good way to get you started. Of course, it's also better to do your own research by asking around, but it's a pretty good starting point, especially if you're too busy to inquire with different lending companies.
Moneymax, which is known for offering car insurance assistance, has just celebrated its fifth year in the country. For personal loans, it is currently partnered with Citi, Tala, Global Dominion Financing Incorporated, and SB Finance, so you can already compare four offers from different institutions in one go.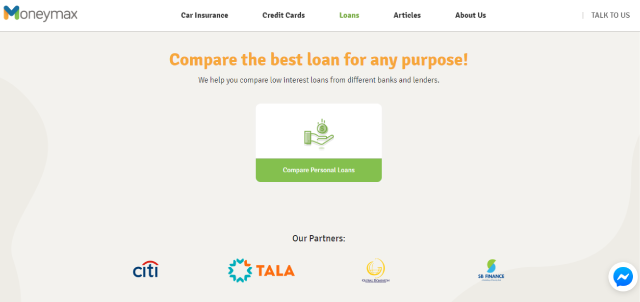 ADVERTISEMENT - CONTINUE READING BELOW
The process is pretty simple: the service will ask you a few questions regarding your finances, but don't worry, nothing is final until you pick a specific loan institution.
The information required will help Moneymax check if you can pay for what you're planning to borrow, as well as provide you with a breakdown of payment, inclusive of interest rates.
ADVERTISEMENT - CONTINUE READING BELOW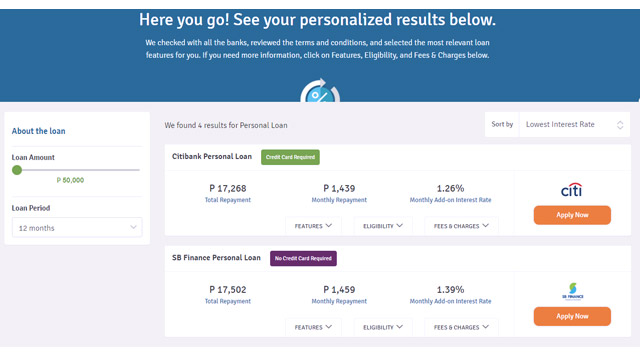 Should you find a deal that's agreeable, the site will then connect you with the loan provider of your choice. 
Think of Moneymax as your researcher when it comes to loans—it helps you collate information so that you'll be able to make an educated choice. Of course, it's still up to you to pay on time. To avoid being buried in interest due to late payments, you can try to:
ADVERTISEMENT - CONTINUE READING BELOW
Pay up the same day every month.
In short, make it a habit. Set a reminder in your phone's calendar, and do your best to pay before the deadline so that should something happen to your chosen bank's system (like if their online site crashes just when you need to pay), at least you can attest that you've cleared your bill for the month well within the given time frame.
Save up for it in advance.
One way to make paying off debts easier is by budgeting for it a good month before you need to pay your installment off. For example, you need to pay P1,439; set aside the exact amount a pay period prior to your deadline, or if it's a bigger amount—say P6,000—half it per quincenas. Set aside P3,000 for each pay period prior to your deadline. This way, you won't be rushing to shell out so much, and you have enough breathing space to move your budget around.
ADVERTISEMENT - CONTINUE READING BELOW
Do your best not to get another loan while you're still paying one off.
Unless it's for something very important (like a family emergency) try your best to pay off one loan first before getting another. It can be very easy to fall into the blackhole of borrowing, so unless you really, really need the cash, focus on borrowing only what you can easily return without sacrificing your comfort and lifestyle.
Load More Stories