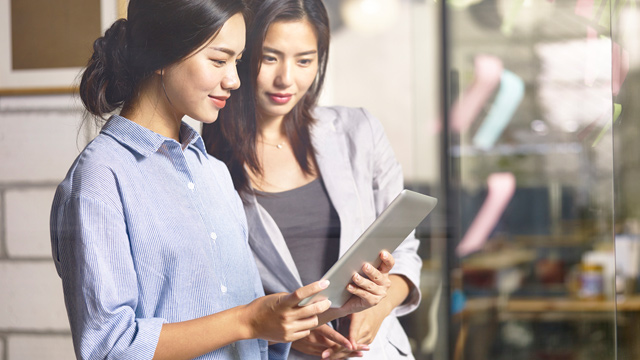 When it comes to job hunting and career shifting, we know that most applicants in their 30s still prefer to browse the job vacancies of established companies. After all, these are institutions that have been around for decades and are still running, so they must be successful, which means you'll probably be successful there too, right? Not necessarily. While we're not going to contest that working for a traditional company can provide a sense of security, there's also something to be said about working for one that's still growing.
ADVERTISEMENT - CONTINUE READING BELOW
Cosmo.ph sat down with Mae Del Mundo, the Recruitment Coordinator of Canva Philippines, a tech startup that originated from Australia. They launched in Manila in 2014 with only eight people on the team; now, at close to 100 employees, they are still growing. So why should you consider working for a "startup" company like Canva Philippines?
Startups want the best of the best, and they acknowledge that in order to do that, they have to be transparent about their expectations and goals. Mae said that as early as the interview process, they give applicants challenges as a way to introduce the prospective employee to the kind of work they do at Canva: "We test the applicant's skill set and not just the technical stuff. We look for leadership, passion, resiliency, and adaptability. We love giving challenges because it gives the applicant a glimpse of what is expected."
In their mission to empower the world to design, Canva doesn't have a strict set of rules for their employees: "More than rules, we have a common goal, and we make sure everyone works towards that goal. Of course, there are guidelines, but we're not limited to dos and don'ts." They operate under a "minimum viable structure." What does that mean? Mae explained, "There's no hierarchy. There are no middle managers. The founders set it up that way so you get to push projects super fast. While you have to keep your mentors and other point people in the loop, you don't have to go through layers and layers of approval to pursue an idea."
ADVERTISEMENT - CONTINUE READING BELOW
Though startups promote freedom and fluidity, like many things, it always sounds easier than it actually is, and Canva Philippines isn't afraid to admit that. That's why they've perfected a transition process to ease employees into the company's culture. Whenever there's a new hire, he or she is introduced to the company through an on-boarding planner: "You know the ins and outs of the company so you know your value and impact. There's visibility. You learn what other teams are working on. You're also assigned a mentor who'll work with you on your specialty."
The best thing about startups, though, is that they embrace diversity. Team collaboration is big (and necessary) but they also understand that some people prefer flying solo from time to time: "We empower our employees to get their work done, implement their own strategies, and hit the goals." This is also where their office structure comes into play: "There are a lot of spaces for different uses: meeting rooms, Skype rooms, couch rooms. We accommodate how each person prefers to work. Within teams, we promote psychological safety. It helps those who want to work alone but would also be productive if the team was composed of people they were comfortable with."
ADVERTISEMENT - CONTINUE READING BELOW
Here come the real perks, though: "To avoid work burnout, we have internally funded clubs so we can bond through mutual interests. We also have team funds that we can use if we want to watch a movie or eat out together. On top of that, we're very generous with leaves; we have 20 VLs; and 10 SLs, some of which you can use if you have to take care of someone."
At the end of the day, your career path is up to you. If you see yourself working for a big, corporate company, go for it. We're just letting you know that you have more options than you think, and the experience might be more than worth it. 
This story originally appeared on Cosmo.ph.
* Minor edits have been made by the Femalenetwork.com editors.
Recommended Videos
Comments
Load More Stories