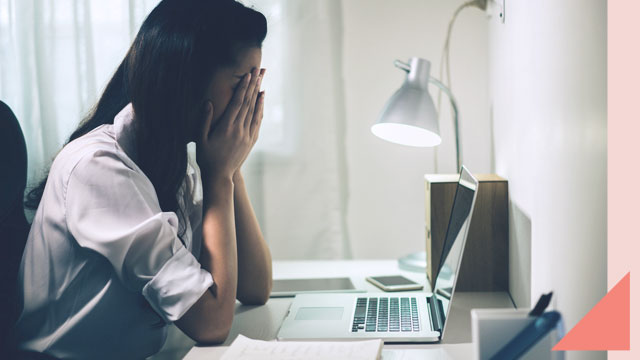 You've probably been at that point when your task list is overflowing with things you haven't even touched yet and everything is due at the end of the day. You make false starts, not sure which deliverable is more important, and in the end, you just feel like curling up into a ball and crying.
ADVERTISEMENT - CONTINUE READING BELOW
It's okay to cry at work. Sometimes you need the release. But if you want to avoid reaching that point, you may need to take another look at how you're using your energy.
Professor of Psychology and Marketing Art Markman, PhD explains in an article on FastCompany the reason why you're overwhelmed: "...Performance on a task gets better as you have more motivational energy to work on it—up to a point.
"Eventually, as you energize yourself more, your performance goes down. That is what happens when you're feeling overwhelmed. You have so many things going on, that it is hard to concentrate on any one of them, and so you get less productive."
According to him, the key is to hold your energy back just enough so you can sustain it and remain at your peak longer. "The first thing you need to do if you're actively feeling overwhelmed is to calm down." And in order to calm down, it's important to know how to breathe properly: Breathe in, belly out; breathe out, belly in.
Clinical psychologist, author, and public speaker Dr. Belisa Vranich shares the importance of correct breathing in a TED Talk. "The vagus nerve is a nerve that goes back to your head and goes throughout your whole body," she explains. "It wanders throughout your whole body, picking up signals to tell your brain how to feel. When you're breathing vertically (chest expands, shoulders lift upon air intake), the vagus nerve automatically puts you in a stressed out, fight of flight mode."
The key is to breathe horizontally, or through your diaphragm. When you do this, the vagus nerves tells your body to relax, and you feel calmer, enabling you to efficiently use your energy and to focus more. 
Once you're calm, here's what you can do:
List everything you have to finish. Just tally everything regardless of importance or deadlines.
Categorize your tasks. Now, you can fix everything into columns. Which tasks can you quickly start on which will keep rollling while you do other things? Activate those first so that they're already moving in the backgroud, and then turn your attention to high-priority tasks you can finish within a short period, after which address high-priority tasks that take longer to complete. The point is to push things off your plate as efficiently and quickly as you can. 
ADVERTISEMENT - CONTINUE READING BELOW
Once you've started on something, it's easier to keep on going. If you suddenly find yourself getting aggitated again, go back to belly breathing and repeat the cycle. When you manage your energy, you manage your efficiency, and you feel less overwhelmed by everything that you need to do.
Load More Stories