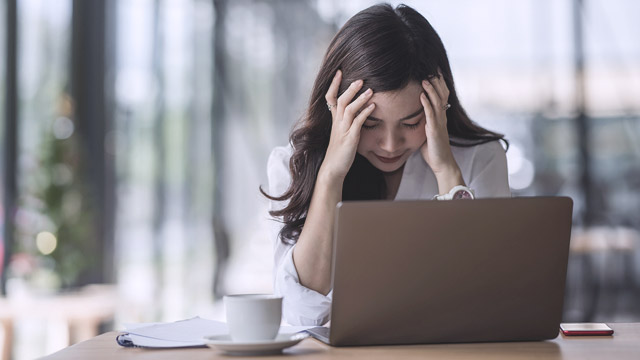 Overthinking can be the worst—your brain is running at 120 kph and there seems to be endless mental chatter about "what if's" and "what will I do's" that you don't have solutions for. This especially happens when you've got a lot on your plate, and the worrying thing about it is that overthinking tends to spill to your personal life, and this can trigger higher stress levels and even anxiety attacks.
ADVERTISEMENT - CONTINUE READING BELOW
If you're aware that you're an overthinker, then that's a huge part of the processes down—this can help you catch yourself when the mental chatter begins. Here are a few more tips that can help throttle those runaway thoughts.
1. Distract yourself.
It may seem funny, but it actually works. When you catch yourself overthinking, get up from your cubicle and try walking around. Talk to your colleague, or even just get yourself a cup of coffee—anything that can help veer your attention away from too much thinking. This will give you the chance to step away from all those thoughts and hopefully get you to relax a little.
2. Think of the best (not the worst) that could happen.
Many people have probably tried to ground you by asking "What's the worst that could happen?" But sometimes, this will only trigger even greater anxiety.
There are times when your mind can be O.A. It paints the nastiest picture of possible outcomes to paralyze you with fear. But if you train your mind to focus on positive results, then you'll be able to function better, so instead going for negativity, think of all the great things that can happen to you if you play all of your cards right.
3. Don't dwell too much on your mistakes.
It's easy to overthink when you've made a mistake—you worry about what happens next, and your thoughts go haywire because you're scared, feeling guilty, feeling ashamed, or all three at the same time.
Instead of dwelling on your mistakes, accept the fact that shit happens even to the best people and focus on solutions. Doing so won't only distract you and reinforce positivity, but it will actually yield workarounds to your problems.
ADVERTISEMENT - CONTINUE READING BELOW
4. Do your best to stop being afraid.
One common reason behind overthinking is fear, and turning that emotion down is easier said than done. The unfortunate thing is, the more you internally panic, the more you train your brain to revert to this negative emotion, and the more stressed you become.
Hit the breaks on fearfulness by thinking of things logically and putting them in perspective. Ask yourself, is there really anything to be scared of? "Remember that your emotions will interfere with your ability to look at situations objectively," says author of 13 Things Mentally Strong People Don't Do Amy Morin on INC. "Take a step back and look at the evidence. What evidence do you have that your thought is true? What evidence do you have that your thought isn't true?" Objectivity can help ease your fear of the future.
5. Be kind to yourself.
Overthinking can be mental and emotional torture. Amy Morin notes in another article on Forbes that research has found that focusing on your gaffes "increases your risk of mental health problems. And as your mental health declines, your tendency to ruminate increases, which can lead to a vicious cycle that is hard to break."
ADVERTISEMENT - CONTINUE READING BELOW
Don't allow overthinking to tire you out and harm you. Know that you deserve better than that. It's hard, but focusing on a brighter outcome may just make it a reality. Bet on the good, and you'll find yourself slowly working towards that... you'll eventually prove your negative thoughts wrong.
Load More Stories